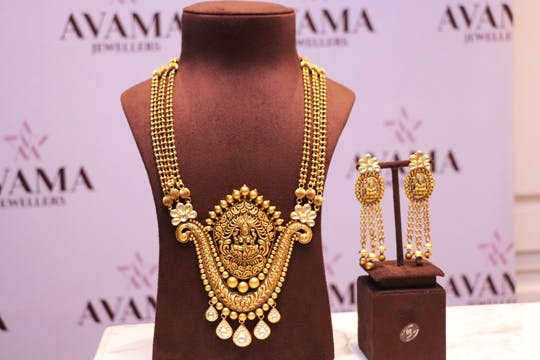 Temple Motifs To Heirloom: This Label's Fine Jewellery Is All You Need For A Standout Wedding Look
Shortcut
All that glitters may not be gold, but then all that's gold will not get you the 'wow' factor if the designs aren't standout ones. Light and flimsy items are good for the everyday, but when it comes to grand occasions like weddings, receptions and anniversaries, nothing comes close to traditional Indian jewellery. And in case you're looking for a place to look for standout pieces, then head over to Avama Jewellers in Vardaan Market.
What Makes It Awesome
It's your day to razzle and dazzle and stun every one gathered in the room. Of course, you don't want to look like a clone of another bride. So, when trousseau to make up, everything is done specially why leave your jewels aside? Skip the usual designs and pick some fantastic traditional and heirloom Indian jewellery pieces from Avama Jewellers for that standout look.
A not-so-frequent thing to find in this part of the country, Avama could be your best place to lay your hands on some stunning temple jewellery. An ancient jewellery craft inspired by the magnificent temples of India, Avama's range includes necklaces, bangles, chokers, earrings, rings, cuffs and mangtikas that bear motifs of deities and intricate patterns borrowed from Indian architecture. Reflecting the architectural brilliance of Indian temples, the pieces are carefully crafted to sport an antique and standout look. Deities like Ganesha, Laxmi, Nataraj, Shiva to traditional animal motifs like peacocks, elephants and more - these will genuinely add the exquisite touch to your ensemble, any given day!
Temple jewellery aside, they also have pieces that are inspired from the Mughal era. Ornate polki sets to heirloom pieces made with precious gemstones like rubies, emeralds, diamonds, pearls and others, these are perfect to amp up your wedding look.
Avama also specialises in bespoke jewellery that's made keeping in mind your taste and preferences.
What Could Be Better
Prices will tank your bank, but that's a given for most gold ornaments. Prices start at INR 70,000 here.
Pro-Tip
Not just for the ladies, Avama has Indian jewellery pieces for the men too. From broaches to turban pins, cuffs, rings and even bangles - there's an exclusive collection for the groom to pick, too.
Comments