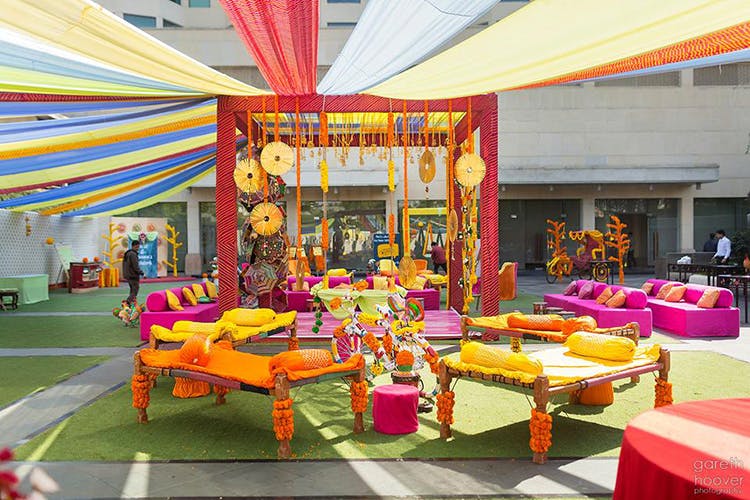 6 Best Banquet Halls In Kolkata That Are Perfect To Take Care Of The Big Day
Planning a wedding, an annaprasan or a big birthday bash? These standalone banquet halls are where you should head for a classy and fuss-free experience.
6 Ballygunge Place Banquet
The banquet is located on the second floor of the flagship outlet of 6 Ballygunge Place. Oozing old Bengali grandeur from the checkered floor, it can accommodate 100 to 120 people making it perfect for cosy gatherings. The rooftop area makes for an ideal winter outdoor setting. Their partner catering service Savourites is among the best in the city with authentic Bengali dishes as well as indulgent continental favourites.
60 Chowringhee Banquets
Get set for a big fat party – this classy banquet can house up to 1,000 people. With in-house parking, back-up power generators, a complete stage and sound system, both your guests and party organisers will be amazed at the convenience. The veg and non veg rates start from INR 1,100 and 1,200 respectively and they do not allow outside caterers.
Pradhan Banquet
This 700-seater venue comes complete with carpeted floors and lavish interiors. It has a paved outdoor seating area as well, perfect for the cooler months. They provide a private room for the bride and groom so they can fix any last-minute wardrobe malfunctions!
Middleton Chambers
This banquet hall just off Park Street has classy décor with carpeted floors and wood-panelled walls. The main area can hold up to 180 people but the best part is you can add extension areas depending on the number of guests you have. They get bonus points for having an overhead projector and Wi-Fi.
PC Chandra Gardens
With huge parking capacity and sprawling attached lawns, this is slowly becoming the go-to place for big celebrations. The Gardens can literally hold thousands of people. They also provide décor (you can customise this or use the standard ones provided) and seating.
Mewar
Sparkling white floors and a grand entrance makes Mewar one of our favourite places for weddings (the gateway is perfect for the baaraat to enter). They have parking on premises which is one less hassle for your guests. Their team is experienced in handling decorating and catering which makes the organiser's job a lot easier. About 700 people can fit in to this veg-only banquet place, and the price per head depends on the menu chosen.
Comments