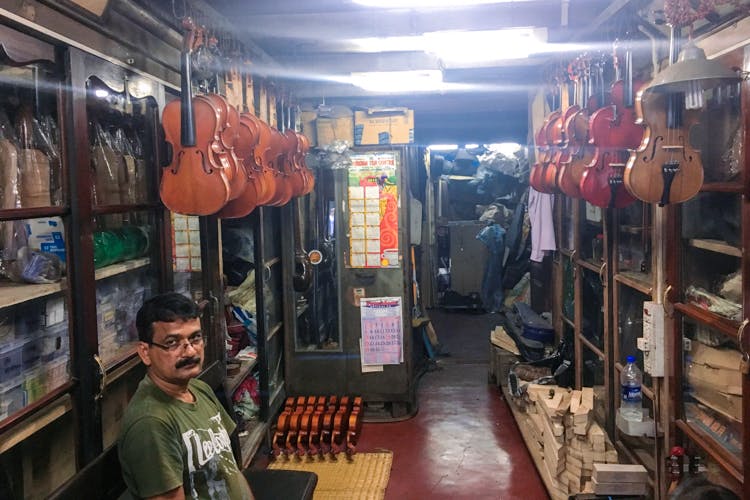 Chimney Soups, Old Violin Shops & Bicycles: Head To Bentinck Street For All Things Classically Kolkata
Head to Bentinck Street for a taste of Kolkata – from ancient music shops to factory outlets selling goods at 50% off.
Age-Old Chinese Shoe Shops
Bentinck Street is littered with leather shoe shops that have been around for generations. Run by Chinese families, these men's shops are unique because they can customise your shoes to whichever size you need them to be. They specialise in handmade leather shoes – in some shops, you can see them making the shoes if you go to the back of the store.
K. C. Das
Just before you turn into Bentinck Street, on Esplanade East you'll find the main outlet of K. C. Das. The air-conditioned eatery has super-efficient staff, a small seating area to enjoy your snacks, iconic roshogollas and singaras, and they're one of the mishti shops that will give you a bill!
Paradise Cinema
Want a taste of classic movie theatres? Visit one of the city's oldest movie theatres, Paradise cinema. A single-screen theatre, it's been around since 1943. Now you can even book your tickets online, although they only show one movie at a time. Tickets hover around INR 100! Super bonus: there's plenty of place to park your bike right in front of the cinema hall.
Factory Outlets
Bentinck Street is strewn with factory outlets of all the major brands – Nike, Reebok, United Colors of Benetton, Raymonds, Khadims, Levi's and more. If you walk from Esplanade past Paradise cinema, majority of the outlets will fall on your left. They are all well-stocked and you'll get discounts as high as 50%. The stock may be a couple of months old but it's all still in top-notch quality.
Sunnies & Shades
Broke but desperate for a pair of shades? Bentinck Street will come to your rescue. Look down the footpath and you'll see vendors selling aviators, retro-style shades and classic sunnies – and they start at just INR 50. Depending on your bargaining skills, a pair of aviators will set you back between INR 100 and INR 200. The ones with darker and hardened glass will cost you a little more.
Eau Chew
You'll find this eating joint (which has been around since 1927) diagonally opposite Hotel Broadway in an ancient building over a petrol pump (the steep flight of stairs to the joint can be a little unnerving). Don't be discouraged by the dilapidated state of the building this iconic restaurant is in; it is one of the best Chinese restaurants in the city. Eau Chew's chimney soup is synonymous with authentic Chinese food in Kolkata – a piping hot bowl of broth with an egg freshly cracked over it, it'll feed at least four people. If you love pork, this place will be your heaven (you can't not try the spicy Fried Roast Chili Pork). The Josephine Noodles (named after the owner of the restaurant's wife) is another classic.
Cycle Paradise
Want to buy a cycle, buy a cycle part, get your cycle repaired or anything cycle-related, Bentinck Street is where you need to head. Apart from the big Hero cycle showroom, there are numerous smaller shops which stock cycles for beginners and children to adults and professionals (there's even something called a cycle museum!). You're sure to find something in your range, the cycles start at INR 3,000 and go up to INR 30,000 depending on the quality you're looking for.
Music Shops
Violins, guitars, drums, harmoniums, flutes -- you'll get every classical and western musical instrument on Bentinck Street. Towards the Lal Bazaar side of the road, you'll see a row of musical shops (some bigger, some smaller) making and selling the instruments. In the older shops, the instruments are actually being made right in front of you and it can take up to a few weeks just to make one instrument. They range from INR 400 to INR 400,000 depending on the quality you're looking for.
Broadway Hotel
Looking to spend a night in the middle of the business district of the city? Broadway is where you need to go. Extremely accessible from all parts of the city (it's located just opposite Chandni Chowk Metro Station), Broadway is one of the few hotels in the busiest part of the city. Rooms start at just INR 1,000 for 24 hours and are fully equipped with Wi-Fi, TV, a restaurant and other services.
Comments