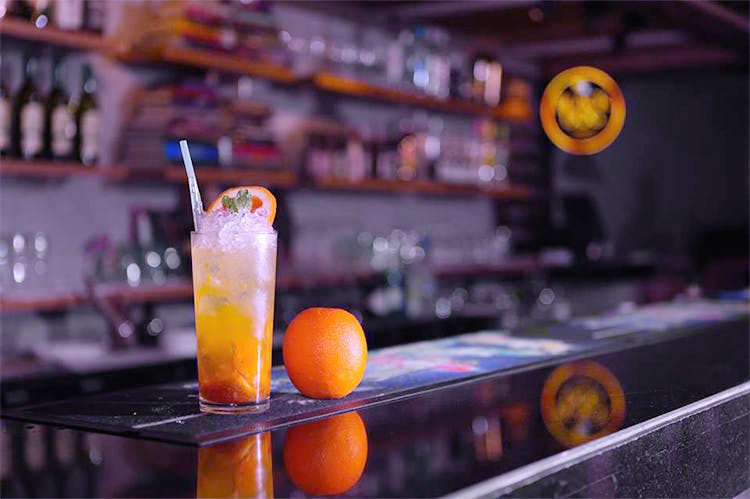 It's Lit: Here's Where We Go To Get Tipsy On Awesome LIITs In Kolkata
Long Island Iced Teas or LIITs are not just Sheldon Cooper's but our fav drinks as well when we need to get real tipsy real fast and here are the watering holes we hit to do just that.
The Grid
Yowza! Definitely our go-to place when we need to get high, Grid has perhaps the most potent LIIT in the city. The bar is packed with millennials chilling to old school music and, more often than not, they'll be holding an LIIT for dear life. The best part? Since Grid works like a stock market, the prices of the LIIT fluctuate as well so you can (if you go drinking on Monday afternoon!) get a drink for really cheap.
Café Mezzuna
Oldie but a goodie, Mezzuna's LIITs still pack a punch. If you're up for some major throwback to your nascent drinking days, hit Mezzuna for LIITs. You can ask them to adjust the coke and ice ratio depending on how strong you like your drink.
Hoppipola
Hoppi makes everyone happy. They have all the fun stuff – giant jenga, karaoke nights, cheap booze and a great LIIT. Order a pitcher of LIIT and they'll give you a long glass with tons of bendy straws so you can all drink from the same one. You can get their 'Long Island Ice Freeze' for just INR 199 Power of 9 (PO9) menu.
Chilis
Chilis has one for one all day on Mondays and Tuesdays and from 4 pm to 8 pm on Wednesdays and Thursdays so if you're looking for somewhere to get drunk post-work, you know where to head. If you want your drinks even more potent than normal, these guys are so confident about their cocktails, they'll actually bring all the bottles to your table and make it right in front of you (they really take customer satisfaction seriously!). We recommend getting a pitcher if you're really in the drinking mood – it works out to be much more reasonable than buying by the glass.
Monkey Bar
If you want to walk home in a straight line, we recommend you don't get an LIIT at Monkey. These guys mean business and their LIITs are not for the faint hearted. You can choose from the classic, Beamer and Bourbon (made with Jim Beam!) LIITs. Grab an LIIT and head to their outdoor smoking area (our favourite part of the bar) where you get an incredible view to go with your drink.
TGI Fridays
Move aside regular LIITs, TGI Fridays has a list of fun, colourful and flavoured ones which really spices up the drinking experience. If you want a drink on the sweet-sour side, the Blackberry LIIT is the one you should go for. The Ultimate Electric LIIT is another great option – bright blue in color, it looks great on a Boomerang. They use both Smirnoff and Grey Goose in their drinks so make sure to use the menu description before choosing.
Gabbar's Bar & Kitchen
A Bollywood themed restaurant and bar located in Ho Chi Minh Saran, Gabbar's Bar & Kitchen is where you will get a variety of LIITs along with an awesome ambiance. We suggest you try the Lambi Race Ka Ghoda Extra 'Long' LIIT or the Zindagi Na milegi Dobara-inspired 'Longest' LIIT. They also have an LIIT called Dekho Magar Pyaar Se!
Comments