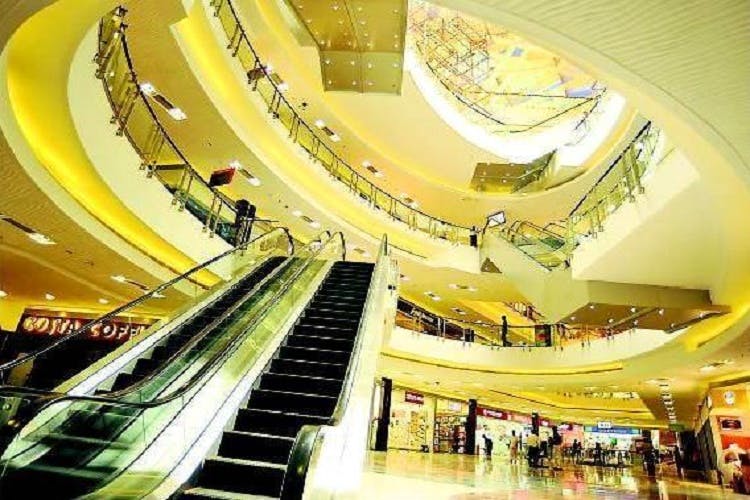 The Best Malls In Kolkata For An Evening With Your Squad
Planning for a day out with your gang but the rains are being a downer to the plans? Films, shopping eating out or spa date--whichever be your plan, modern malls have a fix for all of it. So, hesitate no more and set out with your squad seven best malls of the city of joy and a have a field day of fun and enjoyment.
Quest
Hands down one of the best malls in Kolkata, Quest is also quite beautiful in terms of its interiors, which explains why you're bound to see tons of people clicking selfies inside. Food, movies, shopping – Quest offers it all. You will find some of the most premium brands here, including Burberry, Gucci, Michael Kors, Jimmy Choo and Steve Maden. And, you'll also find an assorted variety of food options for every budget range from Pizza Hut, KFC and The Coffee Bean & Tea Leaf to Yauatcha , The Irish House, Chili's, Bombay Brasserie and Serafina. Most importantly, if you love watching Hollywood films, INOX here tends to screen Hollywood releases, which most other theatres within Kolkata do not. Favourites: INOX, Yauctcha, The Coffee Bean & Tea Leaf, Lifestyle, Chemistry, Accessorize, Michael Kors, ROYCE' Chocolate, Jimmy Choo and Steve Madden.
Acropolis
Unlike Quest Mall, which showcases more premium brands, Acropolis offers a decent selection of affordable brands ranging from ONLY, Vero Moda, Global Desi and Jack & Jones to Marks & Spencer, AND, Shoppers Stop and Prapti. You'll also find options for little ones, such as Giny & Jony and Little Shop as well as ALL for special sizes. You can easily spend an entire rainy day at Acropolis – if you get tired with shopping, head to Timezone for some games, or Cinepolis for a movie or Hoppipola for a few drinks. In terms of food options, there's Asia Kitchen, Chili's, 6 Ballygunge, Domino's, KFC, Subway, Vaango, and our absolute favourite – Auntie Anne's and Cinnabon! Favourites: Auntie Anne's, Cinnabon, 6 Ballygunge, Hoppipola, Chili's, Marks & Spencer, Shoppers Stop and Prapti.
Mani Square
Mani Square is a nice, cosy mall with select options. Want to shop? They've got Westside, Metro, Bata, Planet Sports, Little Shop, Fooba Wooba, Cott Counter, Toy Planet, Giny & Jony, Arrow, Blackberrys, Van Heusen, Chemistry, AND, W, FBB, Fab India, Prapti, ALL, Ethnicity, eZone, Apple – Sysme, The Body Shop and more. Want to sit and read a few books? They've got Starmark. Looking to catch a movie? There's Cinemax and a 7D theatre. Looking for some fun and games? There is Scary House & Demon Jungle and Amoeba. Want to catch a few drinks? There's Hoppipola. Everything is going for Mani Square, minus the food court. There is only so much excitement options like McDonalds, KFC, Subway, Swirls, Cream & Fudge, Baskin Robbins, Machaan and The Noodle Story can offer. Favourites: Westside, Planet Sports, Toy Planet, eZone, Apply – System, The Body Shop, Starmark, Hoppipola and Baskin Robbins.
Forum Courtyard
What's nice about Forum Courtyard is that it is quite peaceful compared to other malls. You'll find a nice mix of brands not available at many other places within Kolkata, such as Cottonworld, Promod, and Amrapali, as well as Forest Essentials, Guess, Colorbar, Charles & Keith, Shoppers Stop, Aldo and Bombay Dyeing. The newly launched Usupso has joined the club too. And, INOX is here to the rescue, when all fails and you want to recline back and see a film. Food options are a handful – but you can try Oh! Calcutta, Cafe Mezzuna, TGIF, Biscotti, Pizza Hut and Subway when the munchies strike! Favourites: Cottonworld, Amrapali, Shoppers Stop, Aldo, TGIF, Mezzuna and Oh! Calcutta.
South City
The renovation has almost come to a close, and South City is back to being its awesome hangout spot. Sephora, Vero Moda, Hunkemoller, Starbucks, Sotch & Soda, Nautica, Chumbak, Harley Davidson--the list of our favorites is long, and there's plenty more stores to open and jump right into it. We can't wait for Zara to open, and Muji to come. There's Eye Catchers for a session of pampering, and Starmark to binge on books and craft supplies. Favourites: Only, Gap, Starbucks, Sephora, Shopper's Stop and Pantaloons.
A.C. Market & B.K. Market
A.C. Market and B.K. Market are not exactly malls, but they both offer excellent bargain finds for quick and easy, guilt-free shopping. Both of these indoor markets are located within walking distance of each other on the same road – Shakespeare Sarani. A.C. Market offers a nice mix of both western and ethnic options, while B.K. Market offers excellent variety when it comes to shoes and bags and western attire. You will also find trendy accessories from the streets of Bangkok at B.K. Market for prices that will make you beam with joy. Favourites: Shoes. Accessories. Bags. Need we say more?
Comments