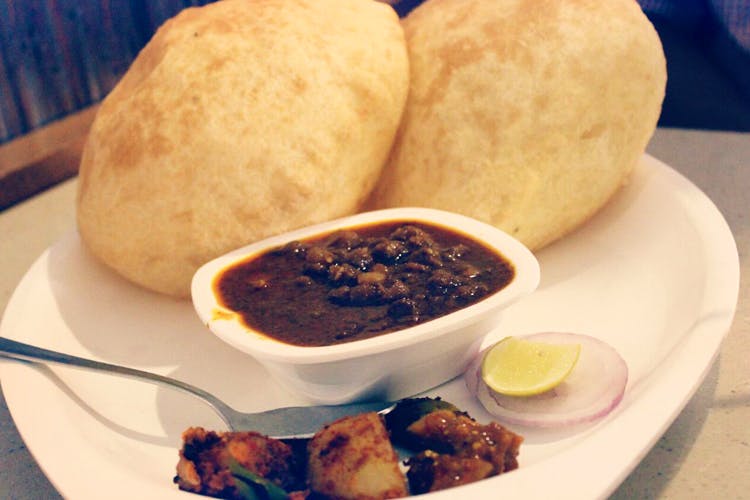 Craving For Delish Chola Bhatura? Here's Where You Should Head
Most of us would agree that there cannot be a more kickass combo than Chola & Bhatura. The soft but huge bhaturas with chickpeas in a spicy gravy is comfort food (we're craving it already!). So, if you love this Punjabi wonder dish as much as we do, then head to these restaurants that serve some of the best chola bhaturas in the city.
Cream Centre
Located in the lane opposite Forum Mall, Cream Centre is known for its soft but huge Dilli-style bhaturas with spicy and flavourful chickpeas gravy. Make sure to take a friend along. The bhatura is so big that you won't be able to finish it all alone.
I Love Haldiram
This place, without a doubt, serves one of the best chola bhaturas we've had. Their Signature Chola Bhatura is made in pure desi ghee and is all kinds of awesome. It's quite cheap too and a must-try whenever you visit.
Mission Cafe
Another favourite when it comes to chola bhatura is definitely Mission Cafe. It's a must visit for all you die-hard fans of this Punjabi wonder dish. The restaurant has several outlets across the city so hit up any one of them for appetising chole bhature.
Anand
This iconic restaurant is famous not just for its South Indian food but also for its hot and piping chole bhature served with onions and lime. You may find it a bit oily but, hey, the taste is all that matters right? It's the perfect gravy with the right mix of spices and we're sure you'll love it!
Amritsari Haveli
Hit up this place for Punjabi style chole bhature. This is where you get that traditional plate of steaming hot bhaturas with chickpeas in a dark brown gravy. It's a small joint in the PC Chandra Jewellers lane. Keep a watch or you might just miss it.
Bombay Shiv Sagar
Located in the same building as Pantaloons on Camac Street, Bombay Shiv Sagar serves a huge portion of this dish enough for 3-4 people. The bhaturas are so huge that you can't even imagine two people finishing it. So, make sure you take your gang along.
Urban Village
Located in Diamond Plaza in Dum Dum, Urban Village is known for its chola bhatura. It's just a food takeaway and delivery joint that serves vegetarian food. They serve two bhaturas with a generous amount of the chickpeas gravy along with onions, green chilli, lime and pickle.
Ridhi Sidhi
An oldie but goodie, Ridhi Sidhi opposite Shri Shikshayatan College serves a delectable plate of this famous dish. All you college-goers, make sure you visit this place and try their chola bhatura. Trust us, you'll not be disappointed. Medium-sized bhaturas with a lot of chickpeas gravy - what more do you need?
Kwality
This iconic restaurant in Park Street does up the dish really well. The chickpeas, though a little dry, is very flavoursome and has our heart. The bhatura is huge and you might just be able to finish it off all by yourself if you're really hungry. And when you have onions and green chillies to go with it, you won't need anything else.
Balwant Singh Eating House
No list on Punjabi food can be complete without a mention of Balwant Singh Eating House. How can one leave out this famous, iconic place in Bhowanipore? They serve one of the best chole bhaturas in town and you just can't miss it! It is heavenly and soul-satisfying.
Comments