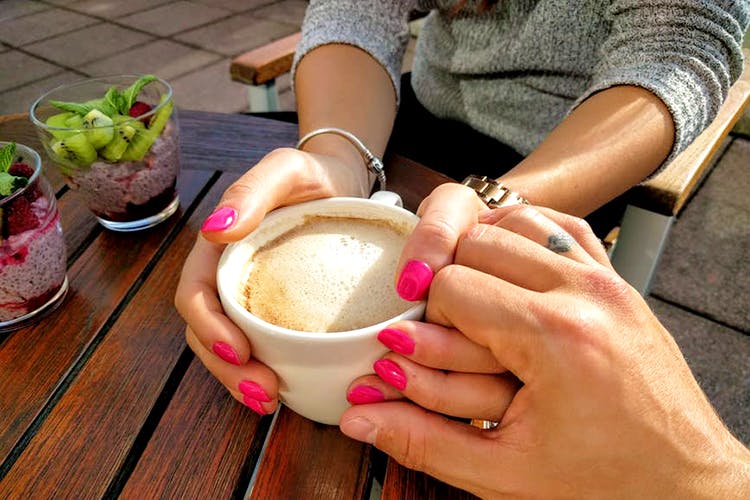 Bookmark These Places For Your First Dates
Quick glances, a smile, tense moves and a whole lot of anticipation. Yes we're talking about first dates. As much as it's important to like the person you're about to meet, the ambience plays an equally important role. Here's a curated list of some of the best places that will set the perfect mood for all those mushy first dates.
Cafe Drifter
If you're bound by a tight budget but is desperate to win her over in the first meeting itself, we recommend dropping by Cafe Drifter. For some quality time take a seat by the long window and don't miss out the ephemera stacked along the sill. Try their sandwiches, burgers and desserts, all under INR 250. If you're in a playful mood, there's also a corner stacked with board games and if your special one happens to be a bookworm then there's an entire wall dedicated to browse from.
The Salt House
We've always been a sucker for open-air places. Cool breeze, candle-light dinner and whiff of palatable food - get to experience all this and more at The Salt House. Located in Shakespeare Sarani, this rooftop hub is perfect for both daytime and late night dates. Their outdoor space is straight out of Pinterest and forms a perfect backdrop for Insta-worthy pictures (don't miss out on mushy selfies to make your squad green with envy!) From creamy pasta, wood-fired pizza to even healthy options, the food here will still satisfy both your belly and soul.
8th Day Cafe & Bakery
If you're about to date a coffee-addict, you better make a list of the places serving best caffeine in town. And don't forget to bookmark this cafe. Make your date try their Nitro Coffee and we bet this is unlike any other cold coffee they've ever tasted. Their Butter Coffee, made with unsalted butter, coconut oil and coffee, is equally enriching. As they say a lot can happen over a cup of coffee!
Wise Owl
Located at Hindustan Park, the laid-back terrace at Wise Owl is one of the nicest rooftop terraces we have in the city. It's perfect for those endless adda sessions on a cosy monsoon evening or a chilly afternoon. Don't forget to order their lip-smacking starters, gigantic burgers and juicy steaks - to add some 'hiss' to your romantic evenings.

Ozora
If you're a Shah Rukh by heart and can't wait to serenade your Senorita with the Kolkata skyline in the backdrop, we bet this is where you should be. Hanging lights, a rooftop pool, a lounge and insane views of the city skyline - come on nothing can be more romantic than this. Who knows your first date might turn out to be the golden day of your first kiss as well! (Ahem!)
Click here to know more.
Comments