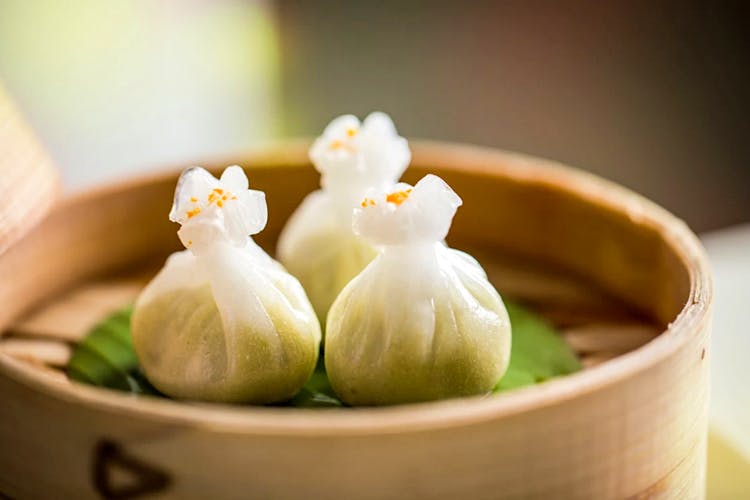 Foodie Alert: Top 9 Restaurants In Ballygunge For Your Gastronomic Indulgence
Ballygunge area has a host of good restaurants that will take care of all your food cravings. Be it Chinese, Oriental, Mughlai or even Bihari cuisine. Here's a handy list of our top 10 restaurants in Ballygunge.

K-19
Tucked away in a quite locality of Ballygunge is the all-day dining restaurant at Radisson Kolkata - K19. This place offers an extensive choice of vegetarian and non-vegetarian delicacies. The cheerful vibes of this place are sure to get you in an upbeat mood. Dining with your bubs in tow? The cherry kid's corner with fun food ranging from popcorns to macaroons and zuzubs will ensure they have a fun time too. Try the lavish Sunday brunch here and you won't be dissapointed. With free-flowing booze and the bartender's special Spanish Sangria's coupled with a sumptuous spread, brunching here is an absolute delight.

Mamasan
If Oriental Street is on your mind, head to Mamasan to get a taste. Located a few yards down from 6 Ballygunge, with conspicuous Oriental influence, Mamasan is good for a family dine out.
Indonesian, Malaysian, Vietnamese, Cambodian, Korean, Japanese - the influences are many, and the dishes come with a refreshing twist. The tangy Vietnamese Goi salad and the spicy Colombo Chilli is as good as the Osaka Train Station's Mushroom and Tofu soup (popular Osaka old serve) for starters. Team up the spicy Sichuanese grilled eggplants with Pattaya Night Market's Dumpling Soup (comes loaded with noodles, momos and tangy lime infused broth) for a hearty main course. Wash off the palate with their lemon, ginger and kaffir lime spritzer or indulge in their homemade chocolate pudding to end on a sweet note.
Litti Express
You'll find Littii Express just near the new Rang De Basanti Dhaba outlet on Ballygunge Circular Road. An all-veggie joint, they serve up traditional Bihari grub (litti chokha included!) at very affordable prices. Both healthy and homestyle as well as indulgent and carb-laden items are up for grabs. Start with patakha fries – a fun sweet and sour twist on regular french fries, it'll make your desi taste buds very happy. Want something a little healthier? Try the Begusarai – a steamed rice flour delicacy, it comes in a momo basket and is all the flavour without the calories. The litti comes with and without ghee and you can get either the masala chatpata one or just the regular variety. Choose from their range of chokhas to go with it – aloo, begun and more. Wash it all down with a glass of masala coke, lassi, bel sharbat or sattu and you're good to go.

6 Ballygunge Place
Housed in a 100 year old bunglow, the flagship restaurant is a must-visit even you are in Kolkata for only a day. Go for the buffet or a-la-carte orders, and you would not be disappointed. Since festivals are on round the year, you get to choose the season's special treats too – like the ilish festival, jamai shashti, poila boishaskh and even pithe puli. They have outlets in other parts of the city as well. They also have a small, thali-only restaurant.- 6BP Thali which offers set thali options in veg, fish, chicken, mutton, ilish, and chingrir malai thali. There are combo deals focusing on quintessential Bengali faves like luchi –alur dom, kosha mangsho and mangsher or morog pulao. You can order more items on a la carte basis depending on your choice.

Spice Kraft
Attention Food Enthusiasts! Craving for some innovative as well as delish continental food? Head to Spice Kraft. Situated near Hazra law college in Ballygunge, the dishes served here are as creative as their names. Sample this: Dajaj Chermoula, Bacardi Linon infused Tandoori Chicken Sausages, Stir Fried Squid Rings, Murgh Zarka Tikka, Baked Fish Wellington, Alfredo Penne Pasta and Barry Callebaut Swiss Chocolate Mousse. You get the drift.

Azad Hind
There are four outlets of Azad Hind but you'll find the Ballygunge Circular Road outlet (the most iconic one!) just off Rainey Park. The food here is almost as famous as the original MF Husain artwork hanging behind the cash counter. You'll also find a row of cars parked with hungry (and tipsy) people waiting to get their hands on Hussain's Special Butter Chicken, Dal Tadka and piping hot butter naan. Want a lighter option instead of heavy curries and masala-laden food? Try the reshmi kebab and thank us later. On special occasions, they're open till the wee hours of the morning but every other day they're open till about 2 am! Super bonus: They serve everything very fast with practically no waiting time.

Yauatcha
Late brunch or a good-sized lunch, this Michelin star restaurant is fitting for an indulgent affair. Sitting inside the Quest Mall on Ballygunge, Yauatcha provides a unique dining experience, offering authentic delectable dimsums with a contemporary influence as well as wok dishes and other small eats. The concept is a modern interpretation of the traditional Chinese teahouse featuring a wide range of Chinese, Indian, Japanese and Taiwanese teas. Also known for its handmade petit gateaux, macaroons, Yauatcha's desserts will wow you like no other. Revel in its gorgeous ambience, unmatchable presentation, over-laid with a veneer of snootiness so that you do not dare to ask for a doggy bag, the menu clearly stating that left-overs cannot be taken out. Not that you would need to because the food is delicious and served in small portions.

Eat Good Food
Eat Good Food has an amazingly varied menu — with an assortment of detox juices and smoothies to be had with wholewheat pancakes, baked potato wedges and baked pita chips, wholewheat pastas, and baked potatoes loaded with healthy ingredients like spinach. Their menu indicates the calories per dish, so you can calculate what dishes are most suitable for your diet plan. Eating healthy has never be more tempting. Don't miss the Banana with Amaranth Muesli, Skinny Omelette, Hummus & Veggie Sandwich, Egg Pizza and Pancakes.

Nawwarah
Located bang opposite Quest Mall, this vegetarian nawabi-style restaurant has long queues outside its doors every evening. We highly recommend you go early or make a reservation. Colourful upholstery, mosaic mirrors, bright lighting and detailed ceiling add to the grandeur of the restaurant. Don't miss out on taking a picture with the antique swing set before you leave. The Nawarrah platter comes with an assortment of delicious kebabs. Get your hands on the molecular desserts which look and taste incredible.
Comments