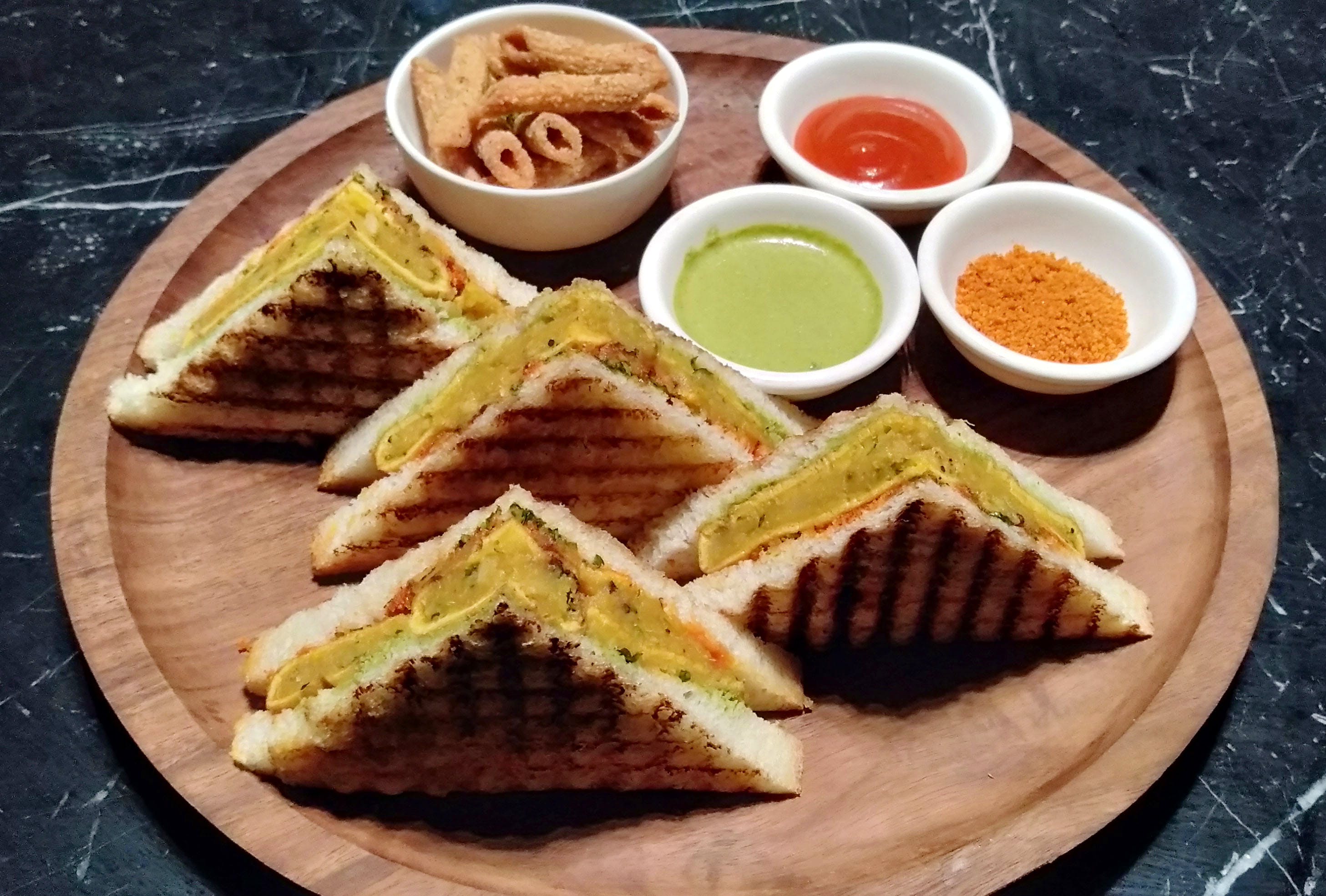 Head To These Places In The City For Some Of The Best Sandwiches
Sandwiches are comfort food. Plus, there's a lot of room for innovation. Whether it's the good ol' grilled chicken cheese or fusion variants, a good sandwich is enough to cheer you up and satiate those mini-hunger pangs. We've jotted down a list of 10 places serving the best sandwiches in town.
My Big Fat Belly
This cafe offers amazing sandwiches under their Signature Big Belly Witches section. Grab a Super Corny Sandwich (French loaf with American corn, bell peppers, olives, jalapenos, mayo, tabasco and cheese, served with fries) or a Murg-E-Azam that's got chicken tikka, hari chutney mayo and cheese served with kurkure and fries.
Hondo's
This cafe on Prince Anwar Shah Road serves a wide selection of sandwiches and is one of the best places to go to for American cuisine. Go for the Mushroom and Cheese Sandwich that's got fresh mushrooms tucked in a bed of cheese and mashed potatoes. You must also try the XXL Mogambo Sandwich.
The Bikers Cafe
Opt for their Classical Cuban Sandwich (the good ol' ham and cheese) or Mediterranean Grilled Vegetable Sandwich - Arabic bread filled with marinated and grilled zucchini, bell peppers and tomatoes, topped with feta cheese, pesto mayo and garlic aioli. Thank us later!
8th Day Cafe & Bakery
How can we not mention this American cafe when talking on sandwiches. All their bagels are prepared in-house and combinations will leave you wanting for more. You cannot leave without trying their signature specials - Grant's Sandwich (a protein-packed sandwich named after the owner Grant Walsh), The Aubergine and The K-Town, curated as a tribute to the oh-so-amazing food in our City of Joy!
Flurys
Even though the quality of food has gone down a bit here, their sandwiches still pack a punch. The Cheese Tomato Sandwich is a must try and so is the Open Sandwich filled with loads of shredded chicken, ham, tomatoes, grilled bell peppers and cheese, served with a fried egg. Do take a bite of their heritage tea sandwiches.
NV Stores
This quaint cafe on Lindsay Street serves over 40 varieties of sandwiches. Choose your choice of bread and filling and watch them work their magic on it. Their bestsellers include chicken tikka, chicken cheese and egg sandwiches. Best part? They'll make it right in front of you.
The Chaiwala
If you are craving for a quick but delish bite, then The Chaiwala is the place for you to go to. They serve the best grilled sandwiches in town. Whether it's Spicy Cheese, Pork Pepperoni or All Meat Club S/W, you'll find the crunchiest ones here. You just can't leave without trying their Smoked Pork and Bacon sandwich.
Cafe ICanFlyy
Serving a host of veg and non-veg options, some of their specialties include Chicken Tikka Sandwich and Hummus and Egg Sandwich. Vegetarians must opt for Paneer Tikka Sandwich. But, if you're craving the good ol' ones, then take a bite of their Classic Grilled Cheese Veg Sandwich.
The Salt House
We know prices are on the higher side but, trust us, this place is not going to disappoint you. Choose from their in-house breads (oatmeal, multi-grain and sourdough) and lots of filling options available here. We'd recommend the smoked salmon, cream cheese and arugula bagel as well as the grilled cheese, hummus and sun-dried tomato pesto tartine. Their signature club sandwich is equally yum.
The Bakery - The Lalit Great Eastern
If you're willing to splurge a bit (actually, quite a bit!), then go for the Monte Cristo sandwich at The Bakery inside The Lalit Great Eastern hotel. It's a heritage chicken sandwich with cheese between a French toast! It's expensive but soul-satisfying. You can also try the Croque Madame - a traditional French sandwich filled with ham and a fried egg. All the sandwiches are served with potato wedges and house salads.
Comments