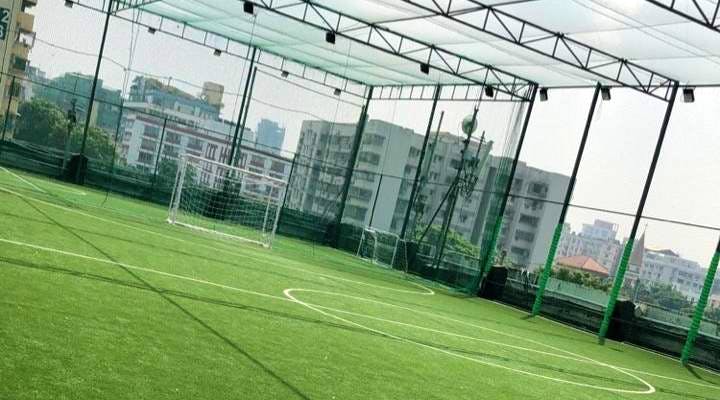 Book Your Slot At Extraa Time & Experience Real Life Fifa
What Makes It Awesome?
Even a decade ago playing football on an artificial turf or on a rooftop ground was something that no player looked forward to. Artificial grass was essentially rough plastic and felt as harsh on knees and joints as playing on a rough dirt field. However, in recent years, modern technology and designs have enhanced its look and quality dramatically. Extraa Time has organised its ground with FIFA approved astro-turf at the rooftop of the building and has used the space with loads of creativity. So, if you think roofs are only for eateries and bars, you should go and check out extraa time's rooftop field, arranged for sports and other activities. Get trained or just practice or plan to organise a match at Extraa Time's rooftop ground while sipping on a cup of coffee at its rooftop café. This place has got a perfect sports ambience. ExtraaTime has FIFA approved astroturf, floodlights and bleachers, arranged at the top of the roof. The roof is covered with a high-dense net to protect equipment from falling down and it has a security camera from each side. Extraa Time, gated at 2/1 Russell Street, next to gangaur, Kolkata- 700071, connects to both maidan and park street metro station. This place has state of the art facilities to improve your game and is perfect to practice day and night, without blending age and gender. This place contains separate spaces for different games like cricket, football or badminton. Get yourself trained on FIFA style football at our laliga coaching. Not just sports, their yoga classes also creates an attraction towards the place. This is the first ground ever in Kolkata where you can play badminton without any membership. Just move your back and reach this place to get all these activities in your bucket. Extraa Time organises summer camps for the kids collaborating with Sportling club. This is totally a new venture and is quite a massive event for the kids. Kits for all the games are available at the venue and are provided to the gamers. So no worries about carrying heavy bags. Another attractive point is the sports-themed café, situated on the rooftop, with a proper view of the city of joy. What we love the most about this place is the facility to organise any kind of sports match on the rooftop. Plus the astro-turf filled ground gives a proper FIFA feel. This is a perfect place for people who work on the day time and wants to play after work hours. Check all your sports activities under one roof at Extraa-Time's ground and play like a pro. Pro tip: Open on all days from 6 in the morning till midnight. All kind of activities are available depending upon age and gender. Slot bookings can be done over the phone or over the website or at the venue itself. Charges are made on an hourly basis. Rates are lower during the daytime than in the evening.
Comments