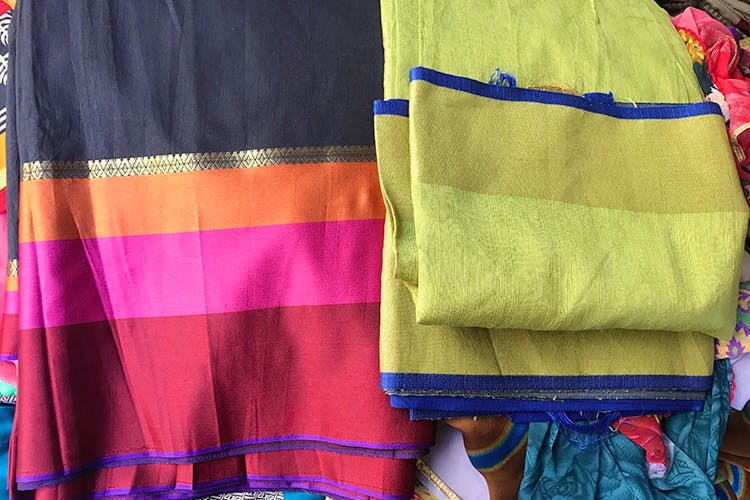 Pick Up Bengal Sarees At Affordable Rates From These Places
Looking for six yards of Bengal style? Whether it is tangail, dhonekhali, Murshidabad silk, gorod, jamdani or others, these are the best places to pick up the famed sarees made in Bengal. And the prices won't bust your wallet.
Tanti
This tiny shop's claim to fame is that it has seventeen different types of sarees in stock - from tant to jamdani, they have quite the range. This is a pocket-friendly store (located close to the Kwality bus stop in Salt Lake sector 1) and a great place for stocking up. Prices rage from about INR 590 to INR 5,000.

Balaram Saha
Started in the early 90s, this shop has grown to become an integral part of every saree hunter's quest. Pick up a classic Bengal tangail saree famous for its airy weightlessness and transparency. Or a dhonekhali with crisp and smart stripes. They look great worn with contrasting, embroidered blouses. Prices start from around INR 500.

Meera Basu
A Meera Basu saree is an integral part of any Kolkatan's wardrobe. Her exquisite style and taste in sarees is what puts her collection in a different league. Her store opened its doors to the city in 1979 and since then, it has been a hub for muslin, mooga silk, katan silk, kota silk, kora, tussar, dhonekhali, tangail, dhakai and cotton kantha stitch sarees. Price on request.

Triangular Park
The tiny stretch in front of Triangular Park on Rashbehari Avenue has some of the biggest saree brand names from our grandmother's generation. There's Bhojraj with a curated stock of south cottons, gadwals, crepes and chiffons, Vashdev Tolaran with gorgeous silks, Asha Bros and Priya Gopal with mainstream Bengali sarees and the three-floor Adi Dhakeshwari with saress from all over India at reasonable prices. If you are in a hurry and want to pick everything without having to move around much, hit this area.

Rashbehari To Gariahat
Start walking from the pavement before Deshapriyo Park crossing and head on to Gariahat crossing - along the way, you will find everything you could possibly need for festive shopping. This stretch will beat a mall hollow any day. Apart from shops for fabrics, readymade blouses, petticoats and kurtas, this area is known to house the who's who of Kolkata saree shops. From the unassuming (yet so old that it's almost a heritage shop) Vijay Stores which packs a punch with some of the best tangail, dhonekhali and chhapa (printed) sarees, Manjusha showroom (diagonally opposite Lake Mall) which is the state-owned handloom store, to Kala Mandir (near Gariahat crossing), the grande dame store, Kanishka (off Gariahat main road, near Dover Lane), Trader's Assembly, all the Basak stores, Taant Kutir and much more. Take a day off and just walk from one end to the other, we guarantee that you won't have to go anywhere else. And it's all seriously affordable.

Comments