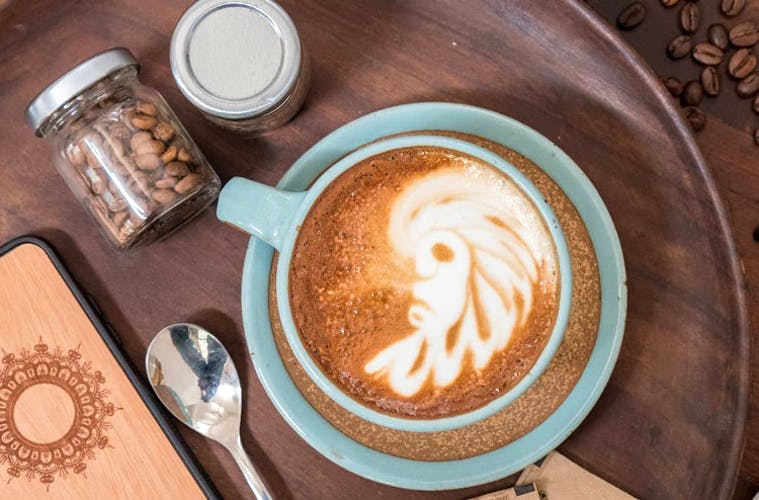 Peeps! Check Out These Places To Catch Up With Your Gang After A Tiring Day
Tired after work or bored of the day's college lectures -- these places in the city can get you high on energy and can be your fave chilling spot!
What's Up
Sitting on the 6th floor on Southern Avenue, What's Up Cafe is many a people's favourite chilling spot. Head here after college and sit back for hours gossiping with your gang. Spread over two floors, the lower floor has indoor seating upon entering. It then opens to a beautiful open rooftop space. If you want your private space to have hookah, move to the upper floor, which is relatively smaller and air conditioned (it's our fave little spot). The hookah is a little expensive but there are a lot of flavours to choose from. You have to try the bruschetta pomodora or the chicken roulade if you are going for appetisers. For mains, their Italian delicacies are worth trying. Order the Shepherd's Pie or the Hungarian Goulash if you want to get yourself filled to the brim.
Roastery Coffee House
The old canteen of Calcutta South India Club has been replaced by Hyderabad's well-known Roastery Coffee House. Situated on the ground floor of Calcutta South India Club, Roastery Coffee House is having a menu second to none in this city. (they have 15 pages dedicated just to coffee!). The ambience takes you back to the French Colonial era with bright yellow walls and dimly lit interiors. But our fave spot has to be the outdoor area, with vintage chairs and chessboard tile flooring. The house has an array of scrumptious food (breakfast, Italian, Continental) to go with the variety of hot and cold brew coffee. Do not miss out on their signature Cascara that is served both hot and cold. You have to try the Cold Brew Cascara, which is sun dried husk of coffee cherry brewed in cold water for 24 hours!
Mavericks Cafe
Bhawanipur people, head to Mavericks Cafe for filling thalis, sandwiches, maggie and soda shikanji. Among their thaalis, try their Italian thaali which includes four slices of mini pizzas, pasta, two garlic bread and brownie with vanilla ice cream. The pizza is thin crust whereas the pasta is given in pink sauce, topped with shredded cheese.
Cafe HQ
Superhero and comic book lovers can now rejoice because Cafe HQ is a superhero-themed café in Mudialil. With wall frames, lights and even table covers, you will only see Batman, Joker, Spider-Man and Hulk around you. Even their dishes are named after superheroes. Superman Burger, Hulk Burger, Juggernaut Burger (this one is difficult to finish), Thanos Steak and Justice League Pizza are some of the offerings which you can choose from. Also, do not leave without ordering their Dark Phoenix Freak Shake.
Sienna Cafe
Probably south Kolkata's most favourite café, Sienna has two outlets, in Hindustan Park and Park Street. The Hindustan Park is the first one, and it has a store as well. This place is everything that a café needs to be, to put up those glamorous pictures on Instagram. Our personal favourite? The spaghetti pesto cream pasta! And if you are in a mood to shop, browse through their jewellery, sarees and handicraft items.
The Daily
The Daily is Deshapriya Park (in the same lane as Maharaj tea stall) is the perfect spot for millennials. Minimal décor adorns the interiors and they also have a fauxe outdoor section with a glass enclosure. Opt for the Matcha Latte or Matcha Green Tea (if you don't want the milk) served hot in bespoke cups sourced from grassroot potters from different parts of the country. The Pork Belly slow-cooked for 48 hours served in a brioche with apple slaw and bourbon maple glaze is another must-try.
Comments