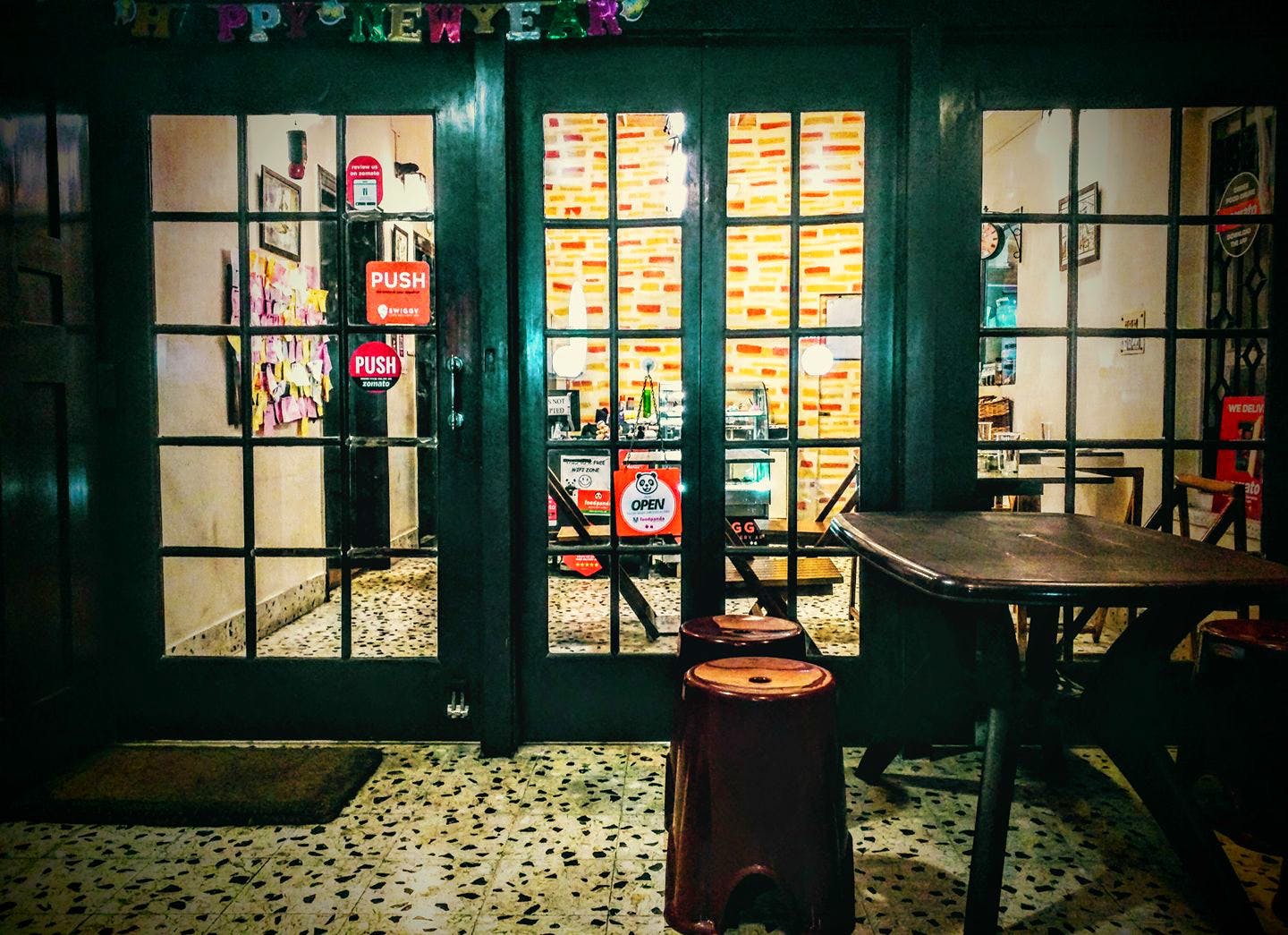 We Found These Cafes in Salt Lake That Are Just Perfect For Chilling Out With The Gang
Salt Lake's been seeing a whole lot of cafes come up in the last few months. Here's a quick guide to cool cat places clustered around the area so you're never too far from caffeine, chatty afternoons and a cheery vibe.
Terminal 11
This place has a great vibe as soon as you enter. With a mini stage for open mic events and live music, pops of neon green and a bookshelf full of books, Terminal 11 should be on your must-visit list when in Salt Lake. Located near water tank #5 it's a great spot to unwind for a few hours. While their specialty coffees start at around INR 150+ their pizza's range from INR 390 – 525. The must try is the Irish coffee and their margarita pizza, which is made fresh.
Calcutta 64
This tiny café near City Center 1, is gaining a lot of popularity. While seating might be limited, their service is quick and the food, sumptuous. What's even cooler – it doubles up as an art exhibit space. So, if you like their décor, you can literally take it home! I couldn't stop myself from picking up a painting. Their food is reasonably priced, with tea and coffee offered at INR 40 – 50 and pastas ranging from INR 120 to 160. I really liked the Pasta in Pink Sauce and the Swiss Pie.
Courting Coffee
The name is as cute as the place. They have floor as well as table seating, and are stocked with books and board games. I did notice that they attract large groups of co-workers and friends because of their dedicated space for brainstorming and friendly banter. Look out for the handpainted kettles and colorful artwork strewn around the café. You can also pick up some of the goodies on your way out. Easy on the pocket, this little café offers hot beverages starting at INR 60, and the entrees cost about INR 110. I found their Peanut butter and Banana Smoothie and Waffles drenched in Chocolate Sauce really good.
Le Coffee Crème
This one is a photo lover's paradise! The walls are decked with beautiful photographs. Large and spacious, Le Coffee Crème is a fantastic place to come decompress, do some creative work or even brainstorm while you enjoy a cuppa! Their extensive menu has a variety of cuisines to pick from, prices start at around INR 110 and can go up to 400. Do try the Special Chocolate Crepe and the Caramel Latte.
Bakers Nest
This quaint little place is just what Salt Lake was missing. You walk in and you're reminded of the old Hot Breads on Sarat Bose road from the '90s. The entire café smells of freshly-baked bread that makes you want to order everything on their menu. It's located on the ground floor a house. Don't miss the tiny garden in front which adds to the charm of the cutest café in Salt Lake! Prices here are relatively lower than other places in the area, with teas and coffees starting at INR 50, going up to a maximum of INR 150. The baked goods range between INR 30 – 275. My faves – their Exotic Darjeeling tea and the Baked Alaska.
Pappu Chaiwalla
This place is where you go when you just want a cup of strong tea or coffee. It's the colorful old-school milk can wall that people are fascinated by. Each can is painted in a unique pattern and doubles up as a great selfie backdrop! The only downside is that they don't have indoor seating. If you happen to bring your car, they will happily bring your food to you. Overall, it's a great place to make a pit stop at before you end your night out with friends. Quite pocket friendly, the average price of a cup of tea is INR 25 and a little snack to go with will cost you about INR 50 -100. I'd order the Pappu ki Chai and Mutton Keema Bun.
Comments