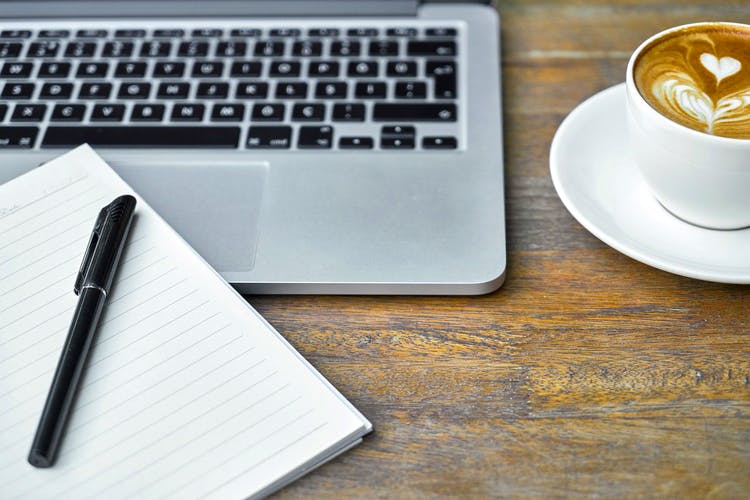 Digital Nomads, Hit Up These Cafes For Free WiFi And A Great Cuppa
Always on the lookout for a nice cafe to work from - something with a nice vibe, good food and tea/coffee? We need these quite frequently and have been around the city looking for the perfect place to work from with WiFi and a great cup of joe. These are our recommendations.
Artsy Cafe
This is a spacious cafe with blue and yellow accents is centrally located below the Minto Park flyover stretch. The Vietnamese coffee is quite good here - they use one of our fave local brands, Blue Tokai. The seating is mixed - some low sofa kind of arrangements, a few high-backed lounging chairs and wooden chairs and tables. We prefer the seats by the windows - they are a tad more isolated than the rest. In between work, you can browse the art on walls. and the shelves full of books and the stationery and accessories on sale. Ask about their special co-working packages.
Deshaj Store & Cafe
Cosy interiors, wooden salt and pepper shakers, a nice assortment of tea, coffee and snacks, free WiFi, plus a very calm and quiet atmosphere makes Deshaj a great place to work out of. And, if you have some quick shopping needs to take care of, well, there is a store stocked with clothing for both men and women, as well as home decor and gifting options.
Chai, The Tea Lounge
Although coffee begins at INR 250, the experience you'll have working at this beautiful tea lounge at Vedic Village Spa Resort is worth the pocket pinch. And where else will you get to try Kenyan coffee or Ethiopian Yirgacheffe coffee, with infused blueberry and chocolate flavours? Normal speed WiFi is free of cost, but if you have any special internet speed needs – in case you have huge files to transfer – there is an additional cost.
The Lighthouse Cafe
This cafe-cum-bookstore is also a visual arts space centred mostly on photography. It's quiet so you can get a lot of work done here. And you will be surrounded by gorgeous artworks, upcycled furniture and bare brick walls. The look is minimalistic and aesthetic, very Scandinavian. They serve specialty coffees like chemex, espresso and cold brew as well as regular favourites of espresso, lattes, cappuccino and macchiato. The best part is they feed you well and they leave you alone.
Courting Coffees
If you live in Salt Lake, Courting Coffees is a decent everyday workstation option. A selection of books, a tea, coffee and hot chocolate range with starting prices ranging between INR 60 to 90, there is no pressure to constantly keep ordering nonstop.
8th Day
This popular all American cafe has two branches - one near the old Alliance Francaise building and another opposite Vivekananda Park. We've worked out of both and loved the light-filled interiors. The former one is bigger and has two sections. The coffee is great here as is the food - they have excellent bagels with cream cheese, American shakes, wraps, giant cookies and cupcakes. Avoid going in the evenings as it gets chaotic with the noise touching serious high levels (we have noticed that people in Kolkata have no clue about how to converse in public spaces!).
Cafe Drifters
This one also has two branches - one near Vivekananda Park and another near Baghajatin station We have tried the former one. Take a seat by the long window and work away, pausing to only browse the interesting ephemera stacked along the sill, including sketches and scribbles. The outside seating area is also quite nice on days that have less traffic. You can smoke there. The coffee is old style - nothing great. But the food is quite good - try the pies and sandwiches.
Sienna Cafe
This cosy café filled with blue ceramics and quirky accents like a mirror-filled wall and a menu on a scroll of brown paper is very popular. It's best to come here around 11.30am to get a good seat. They may not have a huge variety of coffee but the quality is good as they get the powder and beans from brands like Halli Berry and Blue Tokai. Don't miss out on the store attached to the café where they sell their own brand of clothing, jewelry, ceramic bowls, plates and votives, bags, and notebooks.
The Cafe Store
This charming place serves luwack - one of the world's most coveted and most expensive coffees made from the processed coffee beans that passes out as poop from a civet-like animal. This Balinese cuppa is a rare delicacy that is popular world over. with bright colours and large windows. Once inside, plonk yourself down at one of the window-side seating areas. Although, short on space, the cosy interior and the winding wooden staircase to the upper floor makes you feel like you're in some hill station cafe.
Comments