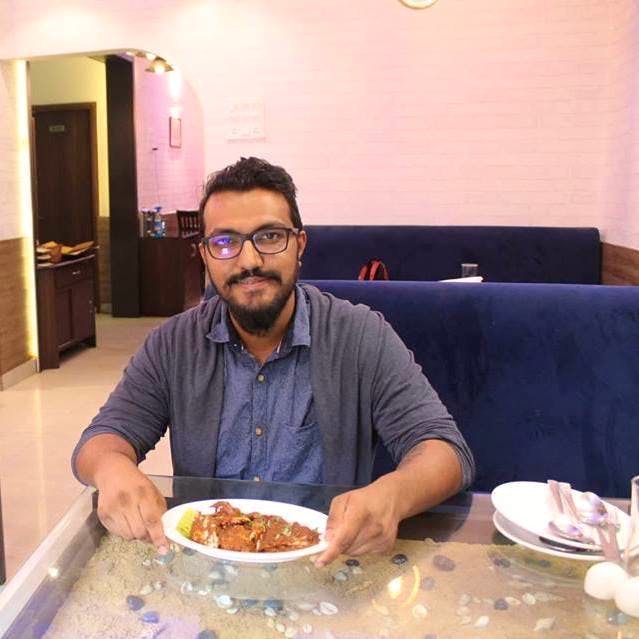 #ChefWalk: Coastal Macha's Piyush Menon Reveals The Secret Behind His Goan Crab XecXec
When in Coastal Macha, our fave thing to do is of course scarfing down a plate of the popular Goan curry crab xecxec with their tender appams. Aware of our crazy love for it, Coastal Macha's owner Piyush Menon did the holy reveal behind this dish for us! And we of course had to share it with you.
Crabby Crabs For Grabs!
It's a gory take of stink, scales and blood, but the sprawling gut of Gariahat Market has some of the freshest fish in the city. Piyush took us to SK Dey's stall inside the market. Ask for Joydeb in case Mr Dey is not around, and they will bring out the freshest and creepiest crawling crab for you. Piyush prepares his dish with sea crabs (known for their sweet flesh), which are available between the months of September to March. Not so readily available in all of Kolkata markets, you can place your order a few days ahead with SK Dey for these crustaceans, and he will arrange it for you. Otherwise, you can also use mud crabs that are available round the year.
Whole Spices
Piyush is a self-confessed sceptic when it comes to packaged ground spices that are readily available in the market. He prefers to buy his spices whole and then ground then for his use. For whole spices he hits us Ganesh Bhander in Gariahat market to bag the freshest packs. Coriander, cumin, pepper and cinnamon bark are some of the ingredients that he will use in the curry.
Located just at the mouth of the Gariahat Market (enter and then right), ask Deepak in Ganesh Bhander loose whole spices. Check the coriander seeds for a greenish tinge and egg-shape. The cumin must have a bit of the stem attached to it, and when rubbed within palms must give off a strong aroma with no green or black soot coming off it. For the peppers get a mix of black and brown (Malabar and Thalassary) ones for a good heat balance. And opt out from picking the rounded sticks of cinnamon for your curries.
Flower For Flavour
Whole spices aside, one of the seminal things that brings flavour to this curry is the use of a typical Maharashtrian flower spice. Known as stoneflower or dagad ka phool, don't be fooled by it's dull greyish mustard colour. Not a stretch to say it looks almost like a stone-carved flower, this one has a dry withery look to it. But take a sniff of it and you'll notice the distinct woody aroma that it gives off. Rarely available in the city, Piyush buys them online for his use. You can do the same, but remember to fry it before use.
Chill For Chillies
One of the other important ingredients that is critical to get the actual flavours of this typical Goan curry is the use of a type of chillies that come from Karnataka. Commonly referred to as bedgi or byadgi chillies, these red peppers are distinct in their flavour and heat from the usual one. Deginitely more potent in flavour, these give off a very mild heat when used in curries. Piyush gets them online or sources them from Karnataka when he is travelling. Order them online for hassle-free delivery and then dry roast and de-seed them before use (as Piyush suggests).
Bring All Together
It hardly took ten minutes to get this tasty dish done! With all the ingredients put together, Piyush dry roasted the spices before blending them in a mixer with desiccated coconut. Once the spice paste was ready, he boiled the crab, while frying onions and ginger garlic paste in oil in a different pan. Then he added the spice mix to it and tempered it with salt and slight water before putting in the crabs. Once it all comes together he serves it up with a garnish of coriander leaves.
Comments