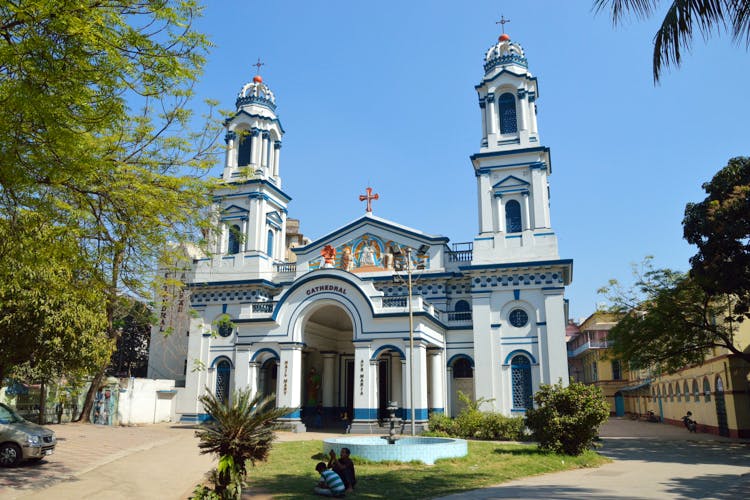 8 Glorious Churches In Kolkata You Must Visit
Yes, St Pauls Cathedral is the most well-known place for midnight mass during the yuletide season. But there's many more churches you may not know about. We scoured Kolkata for the most quaint and soul-stirring searches you need to visit.
Holy Rosary Cathedral
Also known as the Murgihata Church or the Portugese Church, this majestic cathedral dates back to 1799. The church boasts of sculptures of the Stations of The Cross and a gorgeous exterior view.
Carmelite
Midnight mass at this cosy chapel is known for its breathtaking beauty and simplicity. The chapel itself is very small with limited seats (it looks like something out of a tiny European village). If you are going for mass, you need to head on there early if you want a seat at all — the chapel seats very limited people.
The Church Of Christ The King
One of the largest churches in the city, Christ the King is conveniently located in Park Circus. The church can seat hundreds of people in its majestic setting. They have Christmas masses at midnight as well as through the day on Christmas (and not just in English, you'll find masses in Bengali, Hindi and other languages as well). Super bonus points for having parking on premises.
Assembly Of God Church
If you're interested in a lively, interactive session, you need to head to this Park Street church. The English Christmas mass is held on December 24 at 9:30 am and on the 25th at 8:30 am (sorry, there's no midnight mass) in the Main Sanctuary at 125 Park Street. Each service can take approximately two hours so be prepared to spend a considerable amount of time there. Check out their Facebook page (yes, the church has one) for more.
St Thomas' Middleton Row
Another beauty just off Park Street, St Thomas' is awesome. The high ceilings, paintings on the wall, majestic altar and grandeur are awe-inspiring.
St Andrew's Church
One of the city's oldest (if not the) oldest churches, St Andrew's will take your breath away with its simplicity. Founded back in 1815, the church is steeped in history. You'll get tons of information on their website.
St Xavier's Chapel
St Xavier's College premises also boasts of an ancient quaint chapel. Enter from the Park Street gate and admire the nativity scene set up outside before heading in. The chapel hosts a midnight mass with an impeccable choir. The carol singing starts at 11:30 pm followed directly by the mass at midnight.
St Pauls Cathedral
The most popular place to visit on Christmas Eve, St Pauls Cathedral literally takes your breath away. It's probably not the best idea to head there for midnight mass though (if you're looking for a solemn, undisturbed affair) — the cathedral is absolutely full at the time and is frequented by hordes from the media and politicians.
Comments