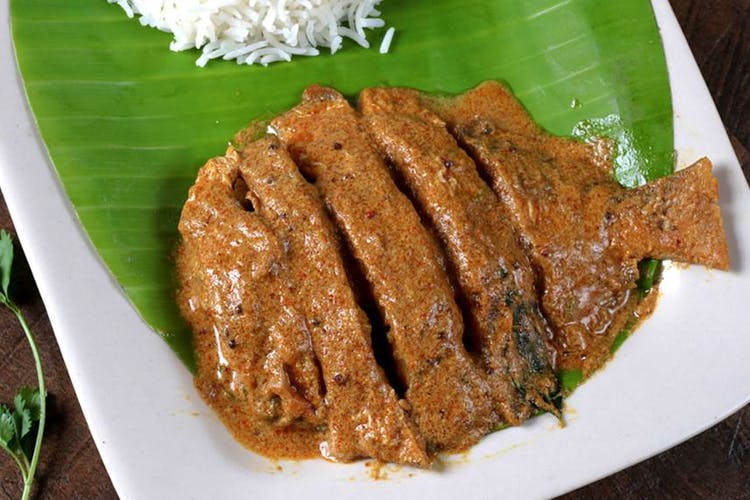 From Kozhi Roast To Squid Koliwada: These Restaurants Serve The Best Coastal Food In Kolkata
Mangalore, Kerala, Goa and more: get a taste of the salty sea at these coastal food restaurants in Kolkata – you won't miss dosas anytime soon.
Coastal Macha
As if the name doesn't say it all, Coastal Macha is all about surf and sea. With Mangalorean, Goan and Kerala-style food, their seafood dishes are to die for (think Prawn Ghee Roast, Goan vindaloo and Kerala-style Malabar curry). They're also one of the few places in the city with a coast-inspired dessert: the tender coconut pudding is a coconut-y smooth and light pudding which will cleanse your palette as you finish your meal. The multi-coloured boat figurines on the wall, sand and seashells under the glass table tops and general blue hue give you the vibe of being right on the beach. Take a look at the ceiling lights – they're light bulbs surrounded by traditional jhuri baskets – it doesn't get more creative than that.
Tamarind
One of Kolkata's iconic South Indian food restaurants, Tamarind is known for their appam and stew. Step into what feels like a traditional South Indian cottage complete with wooden furnishings, traditional water glasses, woven place mats and welcoming staff. If you have a weakness for Chicken Chettinad, you'll be a happy foodie here. Along with that, some of the classics they serve are Malabar Curry and Coorg Chicken Fry – south Indian non-vegetarian food for the win!
Ammini
With natural light flooding in and fresh South-Indian style curries on the stove, you'll be reminded of your trip to Kerala. Served on a banana leaf with appam, the Kerala-style stew tastes of the ocean. Kozhi Roast and Mutton Olathede (packed with spice, the soft dry mutton curry will melt in your mouth) are must tries. Go early so you get place to sit: the restaurant is small and fills up fast around lunch time. You can even take the card of the owner and contact her before your next visit and she'll be sure to keep extra helping of their famous mutton stew aside just for you.
Fusion Fantasea
Can't get the squad trip to Goa out of your head? Fusion Fantasea serves you food that'll take you right back to Goa without you having to book a flight. It's really interesting that each floor has its own theme and vibe: the ground floor has a fun under-the-sea feel whereas the floor above has a more under-stated tribal-themed décor, the second floor is a pirate-theme complete with ropes and sails, and the topmost floor is mainly for hookah. As the name suggests, it's a seafood paradise: Squid Koliwada, Chettinad Fish, Prawn Masala Fry and even octopus – you name it, they have it.
Pappadam
One of the newer kids on the Southern Avenue block, Pappadam is a place you visit for the food and little else. The Kerala Chicken Dry Roast, Kerala-style mutton stew are South-inspired dishes that are truly representative of their traditional versions. The Goan style Fish curry is a coconut-bonanza and testimony to all things 'ocean'. If you're really hungry, get the mutton platter which comes with appam and their classic mutton stew and is a full meal in itself.
Pro Tip: they take a while to serve the food so you may want to go before you're hungry; they'll give you enough time to build up an appetite.
Bombay Brasserie
Let Bombay Brasserie's menu give you a culinary journey while never leaving the comfort of your armchair. The Red Hot Fish curry is all about well-seasoned fish cooked (as it is traditionally) with kudampuli in a manchai or clay pot. Taking a leaf out of the classic prawn ghee roast, the mushroom masala roast takes the humble button mushrooms and tosses it in a South Indian, country-style masala. Think an overload of spices ground to balanced perfection. The minimalist, sophisticated interior of Bombay Brasserie and impeccable service are the lime on top of a fried fish.
Monkey Bar
You'll find coastal food in the most unexpected places but Monkey Bar's Goan and Kerala-style dishes go surprisingly well with their hard-hitting cocktails. Kerala-style beef fry (served with uthappam and coconut chutney), traditional prawn ghee roast, Pandi curry and rice (made with tender spicy pork and served with coconut rice) and Goan Chorizo Pao are the interesting blend of traditional and modern making it a fun addition to your meal. With the gorgeous view and the un-put-downable drinks, you're sure to have a memorable meal.
Surfire
A kitschy cool restaurant near Kalighat, Surfire takes you on a tasty ride to coastal beaches of Kerala, Tamil Nadu and Goa. Try the deliciously tender Thattukada Mutton (aka roadside mutton) with their paratha or go veg and binge on the crispy Karuva Pillai baby corn as a starter. Tamil Nadu's special ghee roast chicken will leave you craving for more. The spicy Goan pork vindaloo and the butter-garlic crab is best complemented by their plain appam, but you can also request for an egg appam if you want something more substantial. If you're looking for something light, try their Goan chorizo dosa (this spicy tangy sausage really had us hooked!) or the deep-fried masala idli that will definitely tingle your taste buds.

Comments