Coffee Panacotta, Mocha Ice Cream & Espresso Martini: Get Your Caffeine Fix at These 4 Restaurants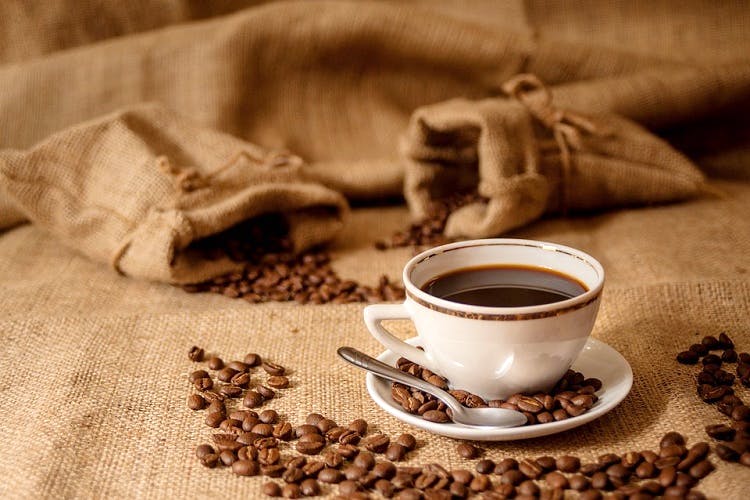 Ten-Second Takeaway
Caffeine lovers alert! Satisfy your coffee addiction at these restaurants in Kolkata.
Coffee Panacotta At The Food Storey
Debating whether you should have dessert or coffee? Have both! Try Masterchef-worthy smooth textured and wobbly Panacotta infused with a punch of coffee.  The Food Storey serves the most indulgent continental food. You'll love the natural light flooding in and the white-themed décor.
Coffee Cocktails At Monkey Bar
As if we need any more reason to go back to Monkey Bar, they also give us classy cocktails that are spiked with just the right amount of coffee. Dive in to Mad Men which is an adventurous combination of whiskey, coffee-orange shrub, tonic and rosemary. The Not So Vanilla is a deadly combination of Absolut, espresso, vanilla, cream and cinnamon which will also knock your socks off. Order snacks off their Beer Mrkt menu – the cocktails pair perfectly with it.
Filter Coffee at Ammini
This hidden gem serves traditional South Indian-style filter coffee. Ammini is a small restaurant with bright yellow décor and a giant glass window that lets the sunlight stream in. Very popular during lunch hours, their filter coffee is a must-try after your meal. Don't expect it to be too sweet, it is on the stronger, bitter side.
Coffee Ice Cream at Mama Mia!
The city's favourite chain does a couple of plays on coffee ice cream. Our favourite is the Coffee Toffee Sundae which, like their traditional sundaes, is loaded with multiple scoops of ice cream, generous douses of sauces and sprinkled with toppings. The café mocha biscotti is a not-too-sweet option coffee-lovers can try.