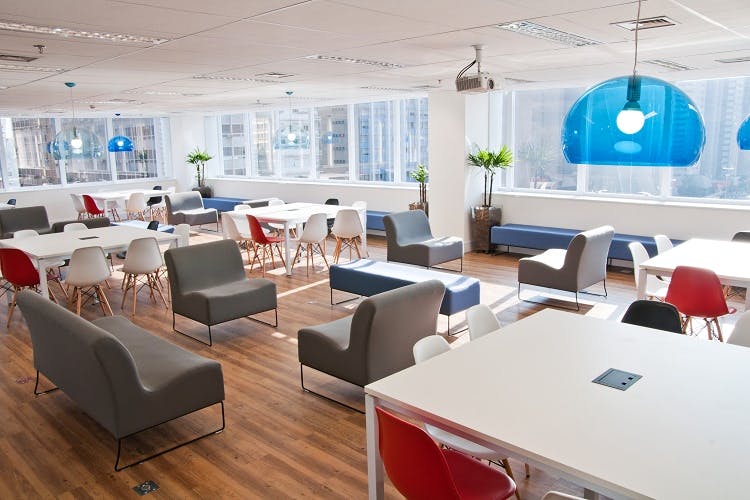 Sick Of Office? Head To These Coworking Spaces For Coffee, Wi-fi & A Desk
Don't have an office, or just bored of regular mind-numbing cubicles? Whether you're a freelancer or entrepreneur, here are five places in Kolkata where you can rent a desk, an office or simply collaborate and listen with others.
Easy Daftar
Their spaces in Salt Lake and Park Street provide options for open desk, dedicated desk, and private cabins and sofas. They have super-fast WiFi and informal meeting areas. Don't have a laptop? They will rent one to you and also provide full IT and admin support. If you feel peckish, they have a meal-at-desk option. Costs are INR 3,500 upwards. Students and women entrepreneurs get a discount.
Nwook
Nwook offers work and study spaces by the hour across four different locations in the city some of which are amazing. We would love to pull up a chair at the Nwook at What's Up Cafè on Southern Avenue with a lovely view of the Lake; and at the one located in The Park which is by the poolside lounge. All their outlets have WiFi, AC, beverages, sockets, and meeting rooms. Cost per hour starts as low as INR 50. It's the diversity of the community at their spaces that's stimulating and offers a strong community atmosphere.
Regus
Part of a chain, Regus has workspaces that are on the premium side in four different locations in Kolkata. They have lounge areas, lockers, printing and scanning facilities. Open spaces with dedicated desks are offered alongside conference rooms and private offices for individuals, teams and those looking to network.
SmartWorks
SmartWorks has spaces across India. In Kolkata, they are at two locations in Salt Lake. They don't just give you a space their support services are genius – if you need help with delivering documents or depositing a cheque, they have a gofer on call. They have an in-house receptionist, and a cafe which lets you order and gets the beverage to your desk. There's even a receptionist if you need to make an impression on clients. They can tailor-make their packages based on individual needs – for start-ups to designers and even sound recorders.
MakersLoft
This amazing 2,000sqft space is open, collaborative, inspiring and stimulating. It is actually a maker space, the very first one in East India so you'll be surrounded by interesting people – from artists to students. They have hi-speed WiFi, a coffee and tea machine, and a fantastic ambience with lots of cool stuff around. Whenever you need a break from work, just head over to any of their workshop areas and check out all the exciting stuff people are up to – the LEGO room, the wall with amazing tools for DIY projects, the natural textiles space, 3D printers, and many more.
Motherland Studio
Friendly atmosphere, open and flexible seating arrangement, WiFi, a fully-equipped kitchen and a stunning view - what else do you need. A venture by the owners of organic clothing brand Brown Boy, Motherland Studio offers a shared and communal setting for work. They also provide the space for workshops and events.
Comments