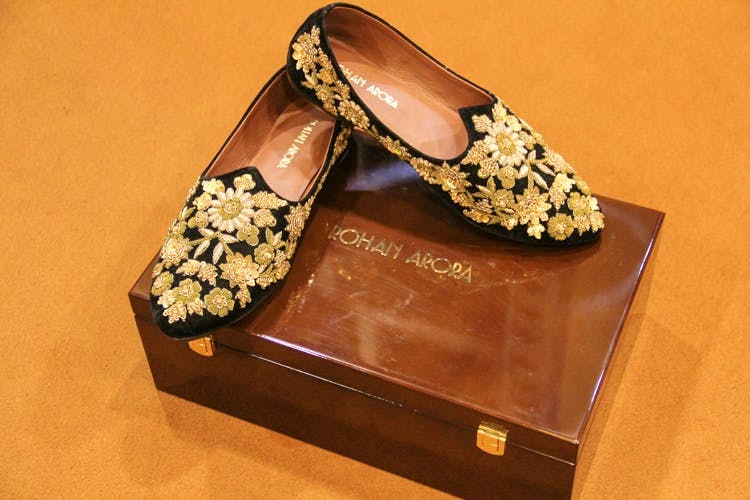 Bookmark These Bespoke Shops To Own Shoes As Per Your Choice Of Design, Style & Even Size
Time to up your shoe game by several notches. Let your heels make some noise cuz you might be the only one in the city to flaunt that pair. Check out these shops in Kolkata that design bespoke shoes as per your required size, design and style.
Around Always
Getting hitched? How about getting your fiance's name stitched on a pair of juttis. It might look cheesy but hey it's your big day after all. Located in Salt Lake, this designer studio lets you customise shoes according to your preferred choice of embroidery, fabric, colour, heel size and type. So unleash your imaginations and let your shoes do the talking.
Sen Fo & Company
This 81-year-old quaint Chinese shop on Bentick Street specialises in making custom-made leather shoes, especially for the giant feet. It's one of the few shops that stocks shoes and sandals in sizes 11 to 14. Starting at just INR 700, these shoes are extremely long lasting. Also if you wish to strut around in those red loafers or white boots, they abide by your colour preferences as well.
Rohan Arora
A good pair of shoes can make or break a look and that is where Rohan Arora's eponymous label comes into play. Spread across three rooms, the flagship store of Rohan Arora in Ballygunge is no less than a treasure trove. From chappals, wedges to juttis (mojris, nagras) and even formal lace-up, there's a perfect pair awaiting every feet. You need to keep a month's time in hand as every customisation takes adequate time and effort.
Hamlyn Grande
Bookmark this shop if you're looking for bespoke embroidered shoes that are stunning to look at and super light on your feet. Located at Metro Plaza, the shop specialises in custom-made handcrafted shoes for both men and women. From wedges, juttis, loafers, sandals to boots, all can be customised to your preferred look and size.
Diapro
Did you know wearing a poor quality shoe can actually cause nerve damage and disrupt blood flow? Located in Beniapukur, this store designs shoes for diabetic patients and targets pain management as well. These can also be custom-made as per your choice of colour and size. Next time your mom complains of that knee pain, you know what to gift her.
Comments