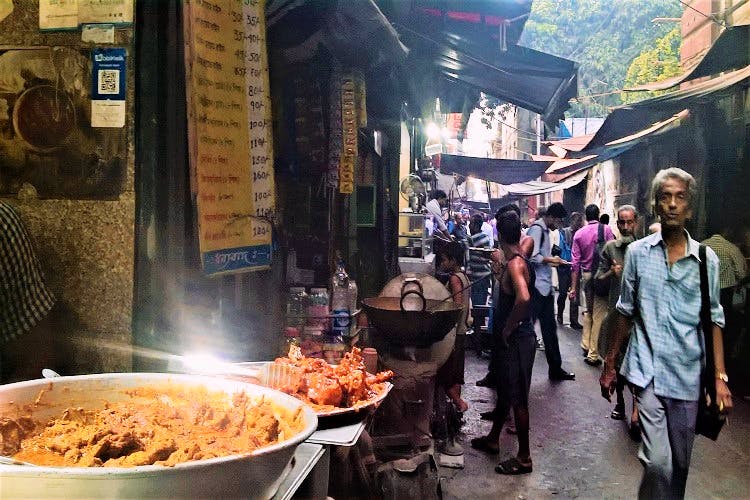 Gordon Ramsay Loves This Iconic Street Food Lane In Kolkata: Check It Out Now!
For decades, the food joints on Dacres Lane have served up delicious breakfasts and lunches for office-goers, shopkeepers and the babus of Writers' (that is, before the government HQ shifted to Nabanna). Even Gordon Ramsay had set up a stall here for his TV show. Here's a rough guide to the street.
Khichuri And Telebhaja
The first stall on your left when you enter James Hickey Sarani will be a jolly gentleman who sells fresh hot khichuri with spicy vegetable fries as a side for INR 30. The hot batter-fried vegetables are a perfect monsoon appetiser.
Fish Fry And Rezala
Walk straight from the khichuri stall and you will come across ChittoDa's Suruchee Restaurant famous for the fish fry and mutton rezala. An entire meal will not cost you more than INR 250.
Lassi
Follow up your meal with a good drink – walk backwards to the entry of the lane and somewhere in the middle you'll see a young boy selling lassi. At INR 25 a glass, this is probably our favourite lassi in town. Creamy, sweet and salty, it freshens up your tastebuds.
Puri-Sabzi
You'll also find stalls selling freshly fried puris with a tangy side of vegetables. A plate of this wonderfully filling snack is just INR 25.
Mango Juice
The lane next to James Hickey Sarani houses a juice stall famous for their magnanimous serving of mango juice, garnished with cherries and cashews. Don't miss this.
Comments