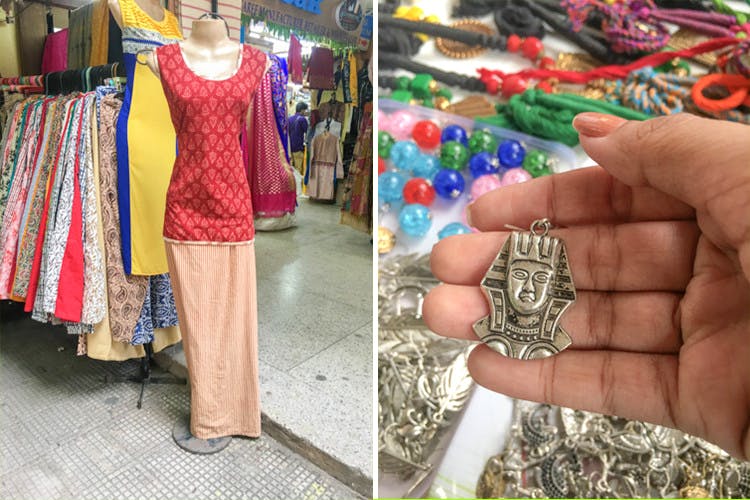 Wraparound Skirts, Readymade Blouses, Quirky Home Decor & Ittar: This Place Has It All
Looking for something nice to wear to a wedding or party? Need a perfect gift for someone? Doing up your room? Whatever your need, this place has it all.
Cool Tops, Wraparound Skirts & Palazzos
Dakhinapan is a treasure trove if you are looking for clothes under a budget. Most of the state emporium stores stock clothing that is specifically designed and crafted in that region. For instance, at the Gujarat and Rajasthan emporiums, you will find find flared ethnic dupattas, skirts and tops with mirror work; the Biswa Bangla showroom has new-age kurtas and tops in the finest mulmul and linen, the Tamil Nadu emporium on the upper floor has the most amazing dupattas, and so on.
Apart from the state emporiums, several small shops around the complex stock tops, kurtas and bottoms at budget prices. We like the stiff at the shop next to Dolly's Tea Shop on the ground floor (opposite Gurjari) – it has blockprinted and ikat palazzos and wraparound skirts starting from INR 500.
Several shops here sell readymade blouses. Near Tamil Nadu emporium, you will find a shop selling these gaamchha blouses in cool checks, stripes and prints. Aranya on the upper floor, and Samrat on the ground floor also sell blouses.
Men, Pick Up Ikat & Handblock Shirts
Men, fret not. You have much to choose from in this complex. Try the handblock shirts at Madhya Pradesh emporium, the linen ones at Biswa Bangla and at Boyanika, pick up excellent quality shirts and kurtas with the distinctive bomkai and ikat weaves. These start from INR 700 — if this was Fabindia or some place like that, the prices would have been double or more!
If you are looking for kurtas, most state emporia have a great collection.
Sarees & Fabrics
The state emporia also stock fabulous sarees with weaves and craftwork specific to the regions. Our favorites are the Muga cottons and silks in Assam and the cotton ones in the Andhra Pradesh and Tamil Nadu emporiums.
Ethnic Jewelry
This place is thick with stores selling jewelry. Outside Samrat on the ground floor is a small stall selling these fab junk jewelry pieces (starting from INR 30). And how cute are those paper mâché boxes? You can pick one up to store your newly-bought rings.
Home Decor Needs Covered
Looking for a housewarming gift or perhaps something special for your home? Dakhinapan has a huge variety of home decor items under one roof. From intricate brass pieces to chairs, tables, side cabinets and shelves, you can pick up everything here. They also have a range of home furnishings like bedspreads, table linen, cushions, curtains, rugs and dhurries, lamp shades and wall hangings.
Kitchen Crockery
The ground floor has several crockery stores next to each other where you can pick up colorful cook and serve (and oven-proof) casseroles, plates, bowls, tea sets, glasses and coasters. Some shops also stock the Tree and Borosil range, cookers, knives and spoons, etc.
Cosmetics, Essential Oils, Papad & Tea
Need to stock up on toiletries for a trip or for an upcoming shaadi? Deepak Stores has them all. If you are looking for something more natural, head to the emporiums from the south – Tamil Nadu, Andhra or Kerala – and east (Biswa Bangla). They have fragrant essential oils, sandalwood sticks and powder, soaps, attars, and face packs.
Have An Iced Tea & Sandwiches
Once you are done with all the shopping, head to Dolly's. This independent tea café with cane chairs, cosy paper lampshades and boxes and canisters of tea is a favourite hangout place for young and old. They have a huge variety of cold and hot teas on the menu. The ginger thus is perfect in summer, and the hot teas are best for winter months. Pick from a range of snacks to go with your drink — we love the shrimp cutlets and ham sandwiches. It is also a tea boutique where you can pick up amazingly fragrant Darjeeling leaves. Dolly is a former tea taster and has handpicked the stock here – from silver tips, green tea and first flush to white tea and handrolled varieties. The best part is the packaging – you can choose from velvet and zari pouches or pick up a pre-packed one. The more premium varieties of tea can cost you INR 1,000+ for just 100gms!
Comments