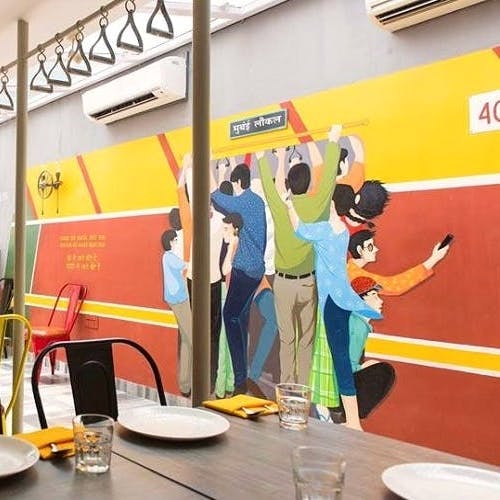 Lunch Inside A Tram Or Dine In A Jail: 9 Themed Restaurants That Will Light Up Your Insta
If you want something different, head to these creative themed restaurants in Kolkata which stand out with their impeccable décor and attention to detail (and they serve awesome food too)!
Saptapadi
Every Bengali movie fan has to visit Saptapadi. Based on the 1961 film featuring Uttam Kumar and Suchitra Sen, you will get major feels at this restaurant. From the softly playing background songs, traditional crockery and serving dishes and wooden furniture to the pictures from iconic Bengali movies that hang on the wall, the attention to detail is incredible.
Kaidi Kitchen
Ever heard of a luxurious fine-dining jail? Kaidi Kitchen is exactly that. You can enjoy your meal surrounded by prisoners and jailers (the staff is dressed in prison threads) inside a jail cell complete with dim lighting, stark walls and handcuffs dangling from the ceiling! You can even ask for their private dining area – which is just like a jail cabin.
Fly Kouzina
Welcome aboard Fly Kouzina for delicious airline food – for a change! This themed restaurant will give you the experience of flying in an aircraft while staying right here on the ground. An automated gate opening system, airplane seats, boarding passes with your table number and moving visuals on the windows will  make you feel like you are dining sky-high!
Tram Deepo
Shouting distance away from Quest, this café tries to capture what is quintessentially Kolkata – the joy of a tram ride. Be seated in a wooden coach for your meal. We love the little touches  – from the tram lines drawn on the floor to the sketches of the city's iconic places on the walls.
Blue Nile
Step into ancient Egypt complete with a giant mural of Tutankhamun, hieroglyphics on the walls, frescoes depicting Egyptians gods and goddesses and a gold theme running through the restaurant. Feel like (and be treated like) ancient Egyptian royalty… you won't be running away from your history books after a visit to this beautiful place.
The Royal Bengal Tiger Café
Focused on spreading awareness about 'saving the tiger' this themed restaurant is a tribute to the national animal of India. They have tiger paintings and pictures on the wall and tiger-themed cups on sale. We love the life-size tiger guarding the entrance!
Mumbai Local
For all those missing Bandra, this restaurant brings your Bombay favourites in one place. The dishes have a contemporary twist and are served in a quirky way. Don't miss out on the tributes to Mumbai sprinkled around the place – local trains on the walls, old newspapers and posters and iconic images of the Sea Link and Bollywood heroes.
Kouzina Marine
Kouzina Marine, as the name suggests, will lock you up in a submarine and take you for a faux ride underwater. Dimly lit with dark interiors and an industrial decor - you'll can surely imagine yourself underwater with all the detailed props that make up this restro. For a spot on experiential dine out, the entire space is decked in crafted rust iron sheets and huge nuts and bolts to replicate the inside of a submarine (not that you and I will much know the difference, but it matches up to the images films have shown us).
Kouzina Mining
Located in the heart of Salt Lake, very close to City Centre 1, is another Kouzina branch - Kouzina Mining. True to its name, it'll feel like dining in a mine. Dimply lit, wooden furniture and filament lamps - even their music goes well with the theme.
Comments