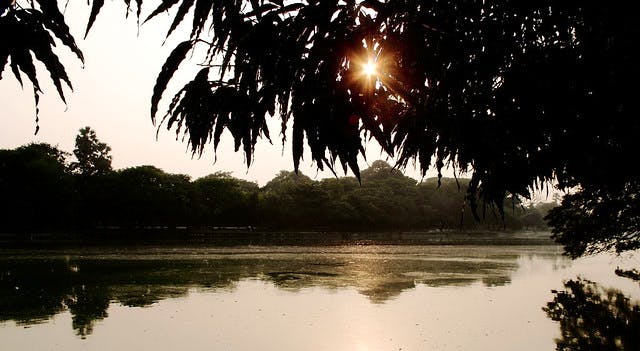 Parks To Tag Along Your Furry BFF
We all love our pets immensely don't we? Hence, we're suggesting, taking them on a walk once in a while to these parks won't hurt much!
Deshapriya Park
Located near Priya Cinema, Deshapriya Park is open to public and there's a paved pathway built around the playground for people to sit and relax under the shade of trees. You can take your little puppy for a walk through the pathway or you can let them go bananas by running in the open field.
Vivekananda Park
With a road cutting from between and dissecting the park into two halves, there are two playgrounds on either side. Vivekananda Park in Southern Avenue is located in one of the most peaceful neighbourhoods of Kolkata. You can easily take a walk with your Retriever and show her around. Your pet can also goof around with local groups.
Rabindra Sarobar
Rabindra Sarobar covers a huge expanse, ranging from Tollygunge railway station near Mudiali to Dhakuria. You can enter from the Mudiali area, the CRC entrance or from the Golpark side. But if you ask us, we would choose the CRC area, simply for the wide road with the the huge canopy, surrounded by the playground on one side and the lake on the other side.
Jodhpur Park
If you are living near South City Mall, Jadavpur or Selimpur, then Jodhpur Park is your best option for you to take your pet for a tour of nature. Jodhpur Park is situated in a quiet locality and has a small pond just beside. You can enjoy a serene evening while watching the sunset. A perfect date with your pet, isn't it?
Citizen's Park
Erstwhile Chaplin Park, Citizen's Park has recently been restored and renovated. You surely won't be able to recognise the place if you revisiting after a long time. The park now has proper seats, vintage street lamps and slides for children. Perfect environment for your doggo!
Comments