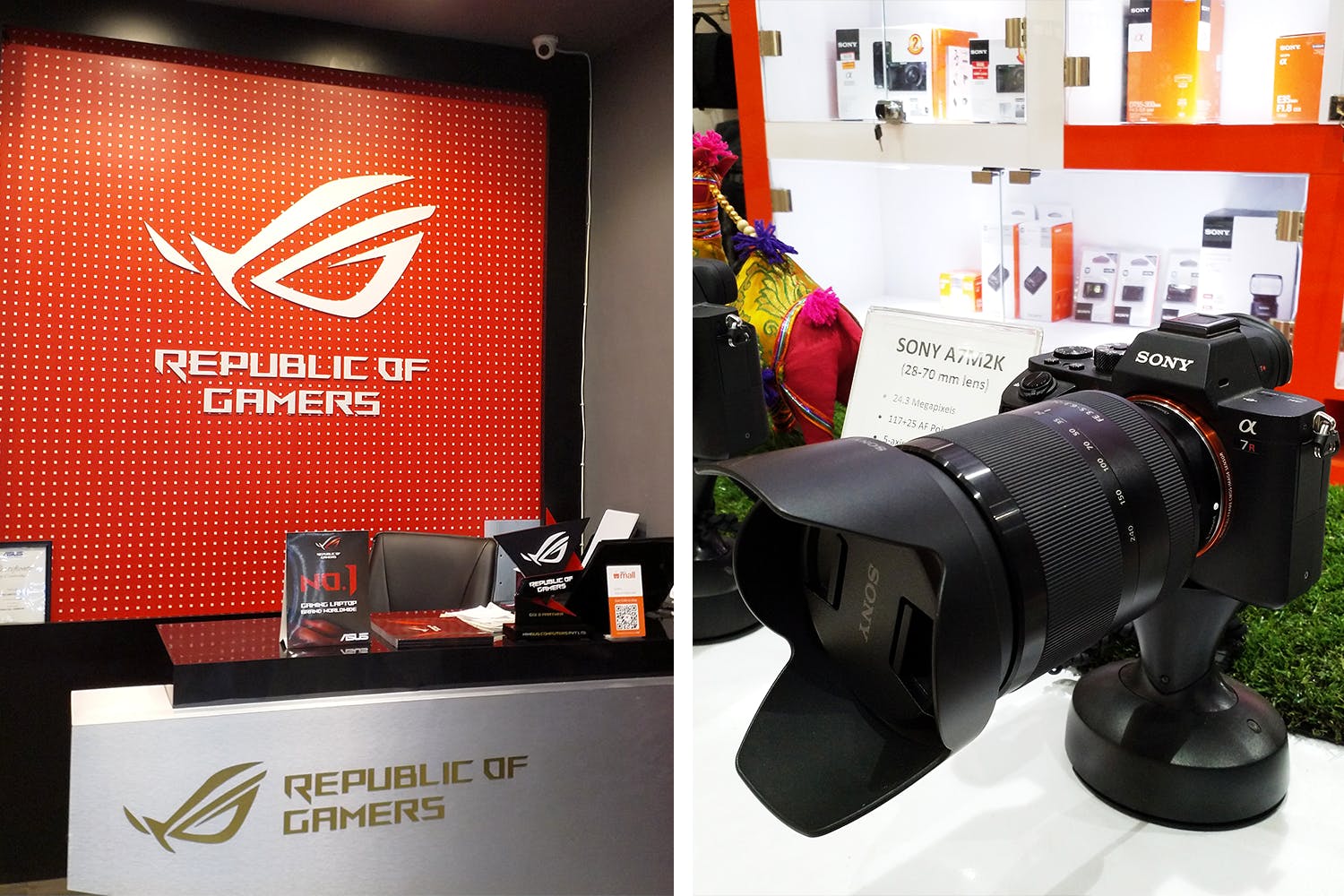 Get Great Deals On Gadgets, Cameras & Home Appliances At E Mall
E Mall located on Chittaranjan Avenue is the ultimate place for electronics. From washing machines to phone covers – if it is electronic related, you will find it here. The best part? Everything here comes with a discount.
All Your Gadget Needs Sorted
HP World to Samsung to Gionee, E Mall has several standalone stores where you can buy a phone or laptop from your favourite brands including a brand new Motorola and Mi store. The latter has in stock the Redmi Note 5 Pro – often these stores have models which are not available online. Then there are generic stores like Mobile Network and Laptopia which sell different brands under one roof. An individual Apple store is coming up soon.
Laptops and phones are never complete without their accessories. Check out stores like Zebron which stocks phone covers, hard drives, earphones, laptop covers, security software – basically everything that your gadget needs to be fully functional. At Zebron, we also found the Instamax Fuji Polaroid cameras (INR 6,000) in different colours.
Get Your Gadgets Fixed
On the 2nd floor, E Mall has mobile and laptop repair shops. Depending on the damage, they take about 2-3 hours to fix your phones for a cost of INR 1,000 and more. They can also fix your laptop in a few hours. Trust them with your gadget, hand it over, have a look around the mall and take it back after they have made it as good as new. The IT arena in E Mall also has two shops where you can get your laptop or phone fixed or even buy a new one. Look for SRM Maxim, Cellcom, both on the 2nd floor.
Turn Up The Base
On the 1st floor, right next to the IT arena is Infotech. This store has any speaker that you need. They play music at all times, so you cannot miss it. From portable speakers to home theatre, this store has a lot in store for you!
Ezone
There is an Ezone branch on the second floor – an all-encompassing store which stocks everything from washing machines to mixer grinders to Apple iPods and cameras. They also do laptop repairs.
Attention Gamers
There is a standalone store of Republic of Gamers. This is the only ROG store in Kolkata. For those who don't know what this is, ROG is an ASUS brand formed for the sole purpose of delivering the most innovative hardcore hardware for truly dedicated gamers. Many products come with the ROG label – PCs, laptops, headsets, keyboards, mice, graphic cards, monitors, motherboards, sound cards and solid state drives.
Lights Camera Action
Photo enthusiasts, look out for the  Cam-Arena store which stocks tripods, Tamron lenses, Sony and Panasonic cameras, adapters and a host of other things. You can go to them with any camera-related emergency. They even host one-day workshops and photo walks. You can get all the information here.
Anything Else?
Other than these electronic shops, you can have some fun and go to the astrologer on the 2nd floor. Right next to the astrologer is a tattoo and piercing store, in case you feel adventurous.
A store called Brands right opposite these two sells all kinds of bags, wallets, phone covers and pouches. Leather laptop bags start from INR 3,000 and they have a few funky canvas laptop bags as well which start at INR 1,200. They offer a 20% discount on the prices.
After all the scouting around, you can cool off at the revamped Café Coffee Day!