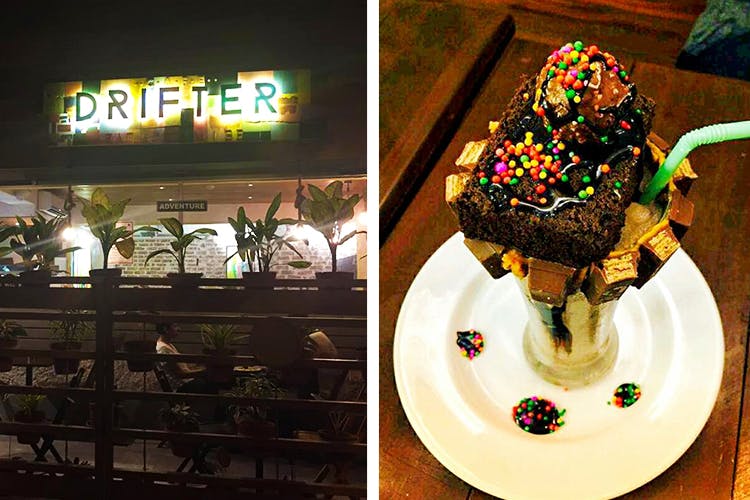 Head To Cafe Drifter For Delicious Cutlets, Dimer Devils, Board Games, And Free Wi-Fi
Shortcut
The burgers and fish fry are good, but what's even better is the place itself.
What Is It?
A charming café near Vivekananda Park that we chanced upon – the jaunty window awnings in green and white stripes caught our eye. Some of the food here is good, some not. Give the pies a miss – they are tiny and come in those store-bought, dry canapés cases, with far too much white sauce. A plate of the homemade ravioli with spinach and nuts, however, is good stuff, straight off the bat. As is the Meat Lovers Burger and the Baked Cheese Topped Prawn. If you want something lighter, try the Kolkata-inspired section which has Egg Devils, Fish Fry and Chicken Cutlets. Finish off with dark coffee and a cupcake.
Why Should I Go?
The cafe is really nice to sit in. Take a seat by the long window and browse the collected ephemera stacked along the sill, including sketches and scribbles done by guests. The walls are blue-green – one is done up like a blackboard, another with interesting photos.
So, We're Saying...
It's a good place to white away an afternoon – a corner along an exposed wall has shelves stacked with board games and a few books. And they have free Wi-Fi.
Comments