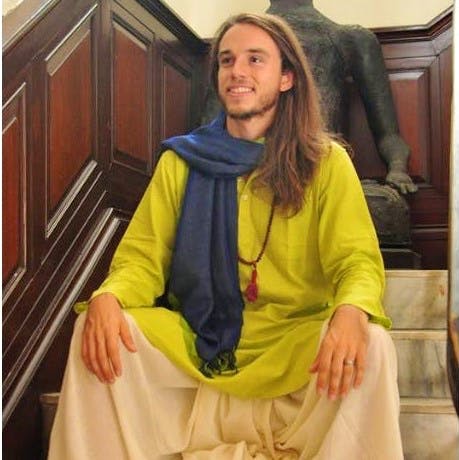 Men, These 7 Kolkata Labels Are Perfect For A Festive Wardrobe
Tees and denim definitely don't cut the deal for pujo. And the usual shirts and chinos have bored you long enough. This festive season, if you're aiming to upgrade your style and get a fresh new look then these stores and labels in Kolkata are a must check.
145 East
Redefine your look this pujo with the humble gamcha. No, we're not talking about the usual red and green gamcha garb, but about aesthetically designed uber cool looks that will definitely make you stand out in the crowd. Handcrafted, organic and sustainable, 145 East's collection boasts of a unique blend of comfort and style. Check out their applique jackets, quirky dhoti pants, sarongs and shirts.
Byloom
Indigo is on the rise in the fashion scene, and keeping with the trend, Byloom has a whole new range of shirts and kurtas dyed in blue. Team it up with their multi-coloured khadi cotton dhutis (available with both plain and intricate borders) and stunning jackets (they are styled with an interesting semi-Mandarin collar) for a complete 'Bangali Babu' style. For a more casual look try their white cotton khadi shirts that come with tiny embroidered details in blue and white. There are also Byloom's signature multi-coloured solid kurtas to pick from if you are looking for a distinct look. Prices of the shirts and dhotis start at INR 900, and the jackets at INR 2,400.
Parama
Get high on Bangaliyaana with Parama's gorgeous hand-embroidered dhutis. Ideal for Kolkata's sultry humid weather these stunning pieces can be teamed with long or short kurtas or the usual panjabis for a fab look. Parama's creations have a distinctive ochre and gold borders with intricate embroidery showcasing some atypical Bengal motifs (like fish and lotuses) and/or geometric patterns. The quintessential Indian paisley in red and green also makes for a stand out print.
Aranya
If you want to stay cool and comfortable and still dapper then go get your shopping done at Aranya. Pick their kantha panjabis (adorning simple kantha lines and none of the ornamental designs). Or you could pick their handloom cotton panjabis that come in muted pastel colours for a subtle look. The handspun linen shirts with Mandarin collars are perfect for the evening. Or team up Aranya's short kurtas with their dhotis that come in a range of pastel colours.
Tantuja's Baluchari
Linens, khadi and khesh aside, this pujo amp up your glam factor with Tantuja's baluchari range of men's wear. A traditional silk saree from Bengal with rich intricate motifs taken mostly from Indian mythology, gorgeous Baluchari silks can now be a part of your closet too, men! Crisply tailored trousers, jackets, ties and even shoes, these opulent attires are perfect for special occasions.

KSR
Sustainable and eco-conscious fashion that is both climate-friendly and smart, KSR's collection of menswear is a definite check out. Pick her signature 'Dolinman' khesh shirt or kala cotton shirts (pockets are open for customisation) and team it with the indigo trousers or signature wrap skirts. Accesorise the look with a pop colour khesh trouser or one of the quirky new patchwork neckties that she has launched this season.
Protha Purush
Skip the stuffy collared shirt and the stodgy stiff look because singer Lopamudra has recently launched menswear label Purush featuring lightweight kala cotton shirts that come with interesting block prints. Their natural dyed Kotpad shirts (made from fabric that comes from Odisha) are a great way to add some vibrant colours to your wardrobe. Keeping comfort at the core of things (you'll certainly want this with pandal hopping and whole-nighters on the list), Protha's range of shirts come in solid colours, prints, patterns, stripes, checks and motifs - something to fit any occasion. Prices start from INR 900.

Comments