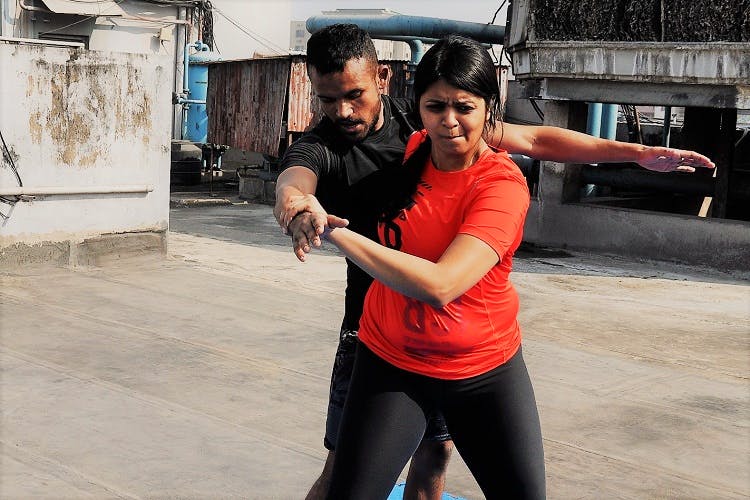 The Fight Club: Join These Self Defence Classes For A Knockout Workout
Kung fu, judo, karate – it's all very been-there-done-that. Instead lose weight, pick up self-defense skills and punch your your way out of the prison your life has become with these classes in Krav Maga, kickboxing, MMA and Muay Thai.
MMA
If you've been watching Kingdom on Colors Infinity, you will know what MMA or Mixed Martial Arts is all about. A full contact sport that combines techniques from a host of fighting styles — Brazilian jiujitsu to Thai kickboxing, it has become a martial arts craze all over the world, and now in Kolkata. If you join up, you will get to learn basic self defense skills like how to strike, wrestle, grapple etc. It can be a dangerous sport though, what with all the choke holds and kicks. 360 Degree Sports has several different programmes for amateur fighters, pros, women and kids. Choose whatever fits you. They have two studios – one at Exide crossing and the other at Jadavpur. It's not the freshest smelling gym, but there's a lot of good sparring and grappling.
Kickboxing
Learn to roll with the punches at the city's kickboxing classes. They will have you sparring like a pro in no time. And they are a great workout too. Yo can try 360 Degree Sports which is affiliated to the Kickboxing Federation of India. Rush Fitness has kickboxing at its Rashbehari Avenue gym. And so does Solace in Sunny Park with its Reebok Certified studio.
Krav Maga
This one is an Israeli street-style martial art with intensely aggressive hand-to-hand combat. You can pick up this form of fighting used to train the Israeli military at Solace gym in Sunny Park. You will learn to concentrate on escaping from choke holds and grabs as well as the proper way to punch, elbow, knee and kick an attacker.
Muay Thai
Thai boxing – also known as Muay Thai –  is like regular boxing but with kicks, knee and elbow strikes thrown in. Think Lara Croft. Take it up at Alfa Omega Combat Sports or Taponomics.
#LBBTip
All gyms offer one free trial class, so do avail of them to see what you will be getting into, and if the style suits you.
Comments