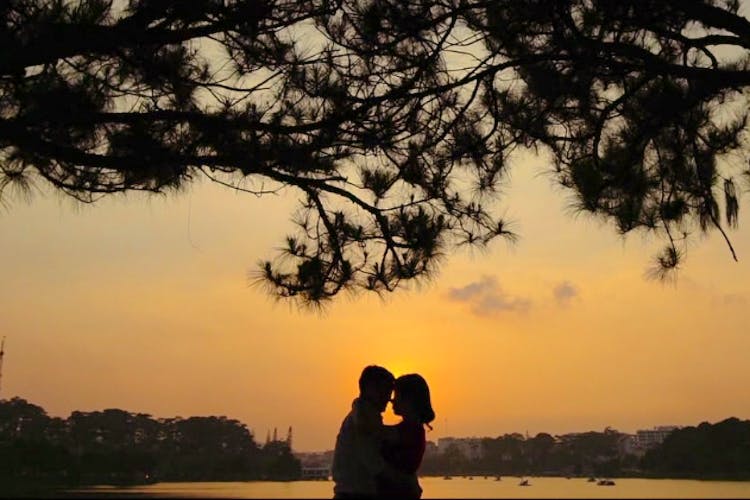 Go Mushy With Your Fiancé, Check Out These Five Offbeat Pre-Wedding Locations
Pre-wedding, the word needs no description, with trillions of mushy pictures of couples flooding our IG feed almost everyday. From Victoria Memorial, Maidan to Princep Ghat, the places have almost become synonymous to pre-wedding shoots with the same old boy twirling the girl or staring at one another like the world's coming to an end.
So if you also wish to capture mushy moments with your fiancé but is bored with the same old locations, we recommend checking these five offbeat locations that will make for perfect pre-wedding snaps.
North Kolkata
Move over plush surroundings, check out the narrow lanes and bylanes of Hedua and Hatibagan that form perfect backdrop for couple pictures. Take a cue from the black and white pictures of yesteryear filmy couples. Check out the area opposite Vivekananda College that is also filled with bright-coloured buildings. Just stop being conscious and too filmy and let the lenses capture the real you.
Mullick Ghat Flower Market, Howrah
While you might find this place a bit chaotic but trust us the colourful blossoms will add to the beauty of the pictures. Carnations, sunflowers, bundle of rose and of course garlands of marigold make for an Insta-perfect backdrop! You will also find slum kids roaming around, we recommend taking them in the frame and let all the laughter do the talking.
Kumartuli
How about posing alongside Maa Durga or Mahishasur? The traditional potters' quarter, where thousands of idols are crafted to perfection every year, is also an ideal photogenic spot. If you're having a winter wedding we recommend dropping by this place just before Durga Puja when idols are put to shape. As this place epitomises Bengali tradition, you and your partner can also opt for traditional look.
Smaranika
Uphold the essence of Calcutta at Smaranika Tram Museum. While tram has often been a favourite prop in most Bollywood films shot in Calcutta, it's time to take the filmy route and capture some memorable shots here. How about flaunting a traditional aath poure sari with a red blouse, as your man gives you company looking dapper in dhoti-panjabi.

Godrej Waterside
This commercial area has a hidden spot which is perfect for a couple shoot. Amid rows of corporate buildings there's a vast pond along the area that is absolutely photogenic. Come here with your partner during sunset and let the natural light enhance the look of the photo shoot.
Ask Debina a question