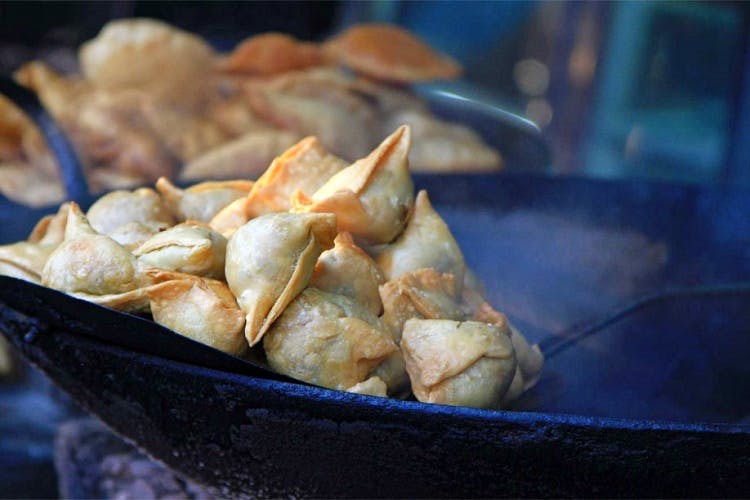 PiG Out At These 5 Iconic Food Joints In Kolkata For Under INR 200
Kolkata is known for a lot of things, but burning a hole in your pocket is not one of them. So here is a trail through the lanes and bylanes of the city with some of the most iconic food stops of the city filling your taste buds all in just INR 200!
Chinese Breakfast at Tiretta Bazaar
Wake up early, and by 6.30 am make sure you reach the famous Tiretta Bazar near Poddar Court and Central Metro Station. It closes by 7.30 am on weekdays and 8.30 am on Sundays, so make sure to not be late! Hosted by authentic Chinese cooks and food sellers, you cannot give this a miss. Start the food trail with the juiciest chicken stew dumplings and the vegetable dumplings (if you'd prefer vegetarian) for just INR 60!
Chai and Jalebi at Sharma Tea House
What is breakfast without some chai? After the scrumptious Chinese breakfast, come straight to Bhawanipur, to the Sharma Tea House. Conclude your breakfast with a steaming cup of their chai and hot jalebis – both for INR 10 – and kick start your day!
Lunch at Anadi Cabin
For lunch, head out to Anadi Cabin at Jawaharlal Nehru Road in the New Market Area. The Moghlai Paratha for INR 46 is stuffed with duck eggs, and is served with a side of fresh salad and hot aloo sabzi, thus providing a deliciously filling and affordable lunch!
Evening Snack at Dakshinapan Phuchka Stall
When in the land of phuchka, do as the phuchka-lovers do. Come straight down to Dakshinapan Shopping Complex and just outside the gates you'll find a feisty couple selling a range of richly flavoured phuchkas – spicy and sour, sweet and sour, or the plain sweet phuchka. Served with rich tamarind water and/or sweet chutney, these crispy aloo-dum filled phuchkas is our absolute favourite! A plate is for INR 20 only.
Dinner at Hot Kathi Rolls
Conclude your food trail at the buzzing downtown of Kolkata- Park Street. Hot Kathi Rolls is THE place to go for rolls, situated right next to Asiatic Society. The soft and fluffy paratha along with the juicy filling will melt in your mouth, and will leave a lingering aftertaste of the gastronomical fulfillment of the day.
Chicken Kathi Roll/Paneer Roll – INR 50
Ask Moyurie a question