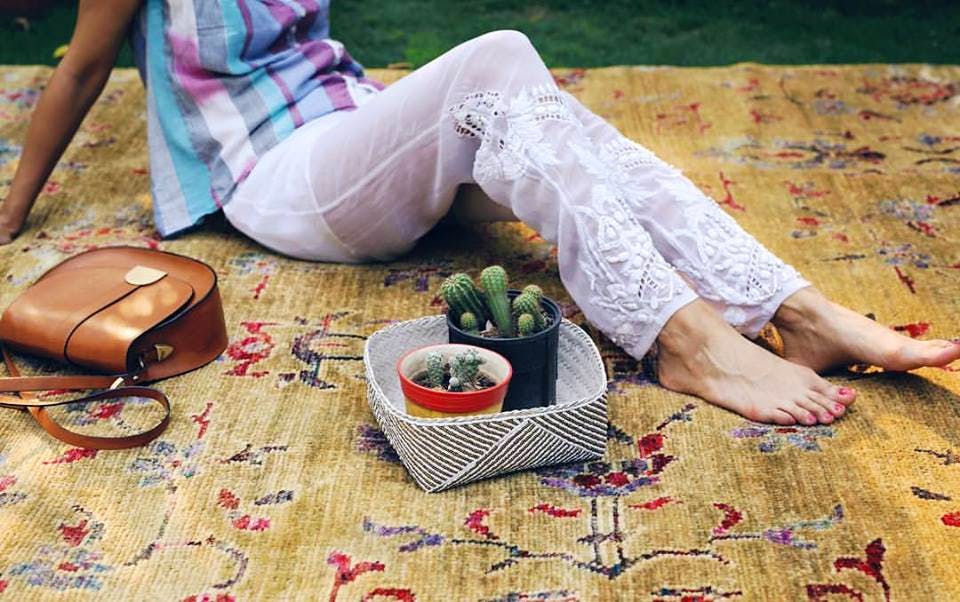 Furniture To Fashion: These 9 Ingenious Indian Brands Are Saving The Planet
Unless you have been living under a rock (which also happens to be a super sustainable living practice if you think about it ;-)), the deplorable condition of waste management in our country cannot be ignored. Here are 9 Indian brands that see shimmer in the dust while creating snazzy products from absolute waste material.
LataSita
LataSita is a fashion brand that turns worn sarees into gorgeous one-of-a-kind pieces. If trunks full of sarees handed down from your Grandma and Ma have been gathering dust in one corner of the house, you might want to take them to LataSita, who will help you change the nine yards into trendy and wearable fashion. It's like reintroducing the fabric into your life in a new form but with its emotional value intact. You'd still be proudly wearing your grandma's Benarasi only a bit differently though.

LataSita also recycles the scrap cloth left behind after finishing each piece. When they can't do so, they donate them to Goonj, an NGO that makes sanitary napkins for underprivileged women out of the scraps. They are also trying to work with a recycling facility in Kashmir that turns cotton waste into fluff for stuffing in mattresses and quilts.
Our Pick: Handsome bow ties made out of vintage brocade and silk sarees.
The Retyrement Plan
The Retyrement Plan brings together a passion for design, sustainability and comfort in exquisitely hand-crafted furniture made by repurposing waste from urban jungles. The brand's highly skilled weavers use cane frames, textile waste rope and used tyres from repair shops to create charming seaters. Using material that has been retired after its primary use, translating traditional textiles, and using art as inspiration for mood boards, the label is weaving magic one piece of furniture at a time.

Our Pick: A truck tyre woven with a Phulkari inspired colour palette transformed into a single seater.
Mishcat Co
Mishcat Co is both a design house as well as an interior consultancy, with the aim of introducing you to a whole new world of upcycled rugs. Each carpet at Mishcat Co is meticulously upcycled specifically from leftover sari scraps. A lot of hard work goes into ensuring that these carpets are not your run-of-the-mill factory carpets that are being produced in bulk, because unlike most, the label has its own network of local weavers and artisans who give life to to their colourful imagination. The result? Carpets that celebrate their inconsistencies which cannot be replicated by a machine or for that matter, even by hand––truly making them one of a kind.

Our Pick: Ikat Khoya carpet in hues of teal and tangerine with pockets of the perfect crimson.
Cornucopia
Cornucopia recycles memories that are too special to be thrown away. If you have been holding onto old clothes either due to nostalgia or dislike for wastage then turn to this startup to transform them into beautiful patchwork quilts and blankets. The more worn-out a garment, the more memories attached to it, like a gift from a loved one or a funky outfit at a family wedding or the sound of laughter (and cake stains) on a little one's dress at her first birthday party - memories make it difficult to discard them. Cornucopia helps transform any old clothing into aesthetically pleasing patchwork quilts, baby blankets, and bed covers. Making you look at your precious possessions in a new light and minimise wastage.

Our Pick: Godhiwala patchwork quilt, made out of cool quotes and graphics cut out from old t-shirts.
Blue Made Green
Blue Made Green, as the name suggests, makes that old, worn-out denim pair reusable again in the form of new and innovative products. Cashing on the durability and fashion quotient of good ol' denim, the label uses minimum new resources to create new designs. Their products include backpacks, laptop bags, handbags, sling bags, denim skirts, jackets, frocks, aprons, organisers, cushion covers, and even bedspreads. We loved their very innovative daily-use shopping bags that everybody can (and should) use. One comes with a Velcro attachment that can be used to roll up the bag into the shape and size of a small spring roll! While the other (also made of fabric) has an empty wheat flour (atta) packet as the lining to make it waterproof and easy to clean.

Our Pick: Denim patchwork multipurpose pouches that are spacious and quirky looking.
Rimagined
Rimagines sells upcycled products across various categories such as furniture, fashion, accessories, jewellery, stationery and home decor. It's like a one-stop-shop that lets you be environment friendly in your daily life, be it your wardrobe or your kitchen. The brand also employs under-privileged women, teaching them to skillfully reuse, recycle, and restore products that would otherwise be cast away while giving them a viable source of income. Urban homes usually generate a large amount of solid waste thanks to our excessive consumer-driven lifestyle. Thus, at Rimagined, it all starts with sourcing, sifting and sorting through heaps of different types of waste, which is then transformed into various products of utility.

Our Pick: Their home decor range has beautifully upcycled t-light holders, mason jars, cutlery holders and floral bottles.
Sutrakaar Creations
Sutrakaar Creations is weaving a sustainable future with yarn made from waste paper. Moreover all their products are handcrafted minimising the use of electrically operated machines. The weavers cut waste paper into strips of 2-4 mm, twist and hand-spin them over the charkha to make thread-like strings using adhesive. This is then used as the weft, the warp is either cotton or Ahimsa silk, both recycled industrial waste. Most raw material is sourced from kabadiwalas. The waste yarn is fashioned into accessories like pouches and handbags, gifting items such as diary covers and photo frames, and home decor accents such as lampshades and room dividers.

Our Pick: Handspun and handwoven newspaper fabric lampshades.
Ecowings
Ecowings, supports upcycling and saves resources by offering you bags and accessories made out of tyre tubes and fallen tree leaves. Their vegan leather alternative is sturdy, waterproof, robust and washable. You can choose from their fashionable range of laptop bags, backpacks, wallets, pouches, iPad cases, belts and other accessories. They have recently introduced an awesome new leaf fabric (Lamina) range which is entirely made out of dried Sal tree leaves bonded with a biodegradable material. Interestingly, every single leaf's unique texture is preserved while processing Lamina as a result of which each product has a different surface and feel. The best part? After natural wear and tear of the product if you wish to discard it, simply bury it underneath the land and it will degrade naturally.

Our Pick: Bruk leaf leather men's wallet from the Lamina collection that has the look and feel of a big dried leaf.
Goli Soda
Goli Soda can be your goto place for all things quirky and environment-friendly. Their mantra? When you can't beat them, melt them, join them and repurpose them! Think jewelry made from probiotic ceramic beads, purses made from discarded milk packets or tetra-packs, and notebooks made from cork. They curate awesome products that are fun and ethical to use. You will find: clocks, piggy banks, and stationery holders by Accidental Art. Get your paws on: albums, cards, door hangers, note books, magnets and gift tags by Haathi Chaap. Use bags and wallets made from tyres, milk and chips packets by Green The Gap.
Our Pick: The jungle jewels radiant red seeds and beads jewellery set that comes with a neck piece and matching earrings, made out of natural seeds.
Comments