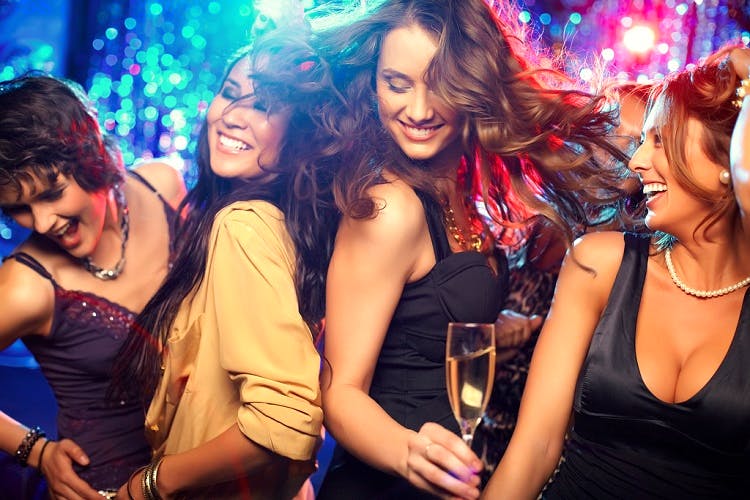 Gather the Squad: Hit Up These Places For Free Drinks On Ladies Nights
It can't get more 'noice' (it's the Jake Peralta nice, which is better than the usual nice!) when free drinks, awesome music and chill vibes are added to your plans of a girls night out or unwinding after work. With some of Kolkata's coolest pubs and bars making this real just for the ladies, it's time to bring out the sweetest heels and raciest LBDs for a 'diva night' with your girl gang!

Roxy
Roxy in Park Hotel is known for giving you the best party experiences, but that gets a whole lot better on Mondays for us ladies. KIll 'em Monday blues and kick start your week on a super fun note as Roxy offers unlimited drinks on the house for ladies till 2 in the morning. Bonus points for having an awesome DJ who will keep you on the dance floor the whole night. Chances are that the crowd will be very decent so you don't have to worry too much. You might want to order quickly and in bulk because the service tends to be on the slower side.
Gold
Kill your mid-week blues at Gold where every Wednesday till midnight, there's unlimited drinks on the house for the ladies. Added bonus, you get 1:1 on select beverages and BOGO on bottles! Located in Marriott, this plush nightclub is known to tow in some of the best DJs in the country from time to time, and host a decent crowd to party.
10 Downing Street
More of a pub, and less of a night club, Salt Lake's 10 Downing Street is another happening place that you must check out ladies. The beautiful wooden interiors and the upbeat house music makes for a great ambience to hang, and with unlimited drinks for ladies all night long on Wednesdays, things can get super fab here.

Five Mad Men
Salt Lake's newest gastro-play-pub, Five Mad Men (5MM) is another place to check if your girl gang likes a good night of free drinks and fun games. 5MM keeps aside Thursdays to treat us ladies with free Kamikaze shots and gift us with salon vouchers of Head Turners. Now, isn't that fab! A sprawling space with a humongous 200 sq.ft screen along with other small screens and sweet game tables of pool, air hockey, carom, Foosball and even darts - 5MM's artsy-industrial look and feel make it perfectly instagood for your squad and its small plates are just what we need for a night out!
Someplace Else
A high ground of good music, live gigs, chill vibe and potent drinks, Someplace Else (SPE) at The Park have been the go-to place for most who crave a relaxed chill atmosphere to unwind. A decent crowd puller, this pub is a cool place to hang with your girls, especially on Sunday evenings when they pour those drinks for free for the ladies! Take your gang and hit this pub as SPE props open their Glam Rock Sunday evenings from 7pm onwards.
Comments