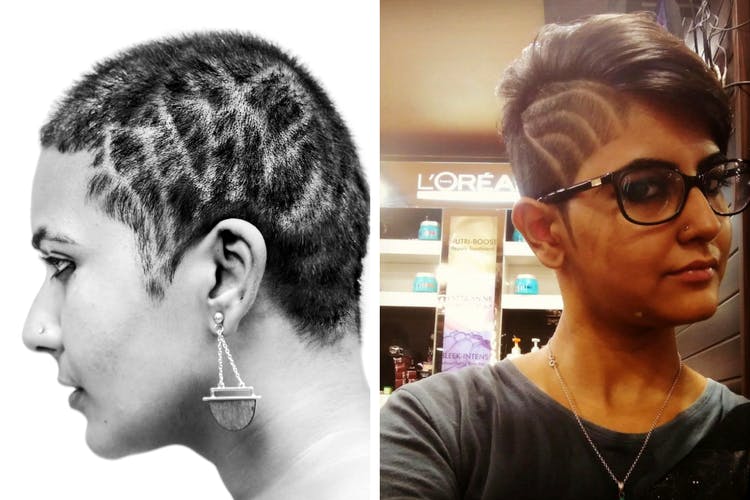 Take The Plunge: 6 Salons To Check Out if You Want to Go Short
Go for a new look this new year — a funky, short cut that will turn heads. We asked a few people with seriously edgy cuts to part with the names of the salons they visit.
Shrishti Nadhani, Fashion Stylist & Blogger
If quirky hair tattoos are your thing, Eye Catcher's (Gurusaday Road) and AN John's (Alipore) are the places to go. We are drooling over this haircut sported by stylist Shrishti Nadhani who felt that shoulder length hair was too mundane for her, switched over to this close-shaven, Bohemian look — and with such aplomb! Emulate this look for anything between INR 1.000 to INR 3.000.
Priyambada Datta, Law Student
If hair tattoos seem a tad too bold, why not take baby steps? Go for a change from shoulder to mid-length hair like Priyambada here did. Her closely cropped, symmetrical bob is a great option. She decided to go short because she got bored of her earlier look and wanted something low maintenance. Economical as well as trendy, this haircut came for INR 600 from Lusso Bella, Salt Lake.
Rajarshi Das, Musician
If you'd like more of a DIY look, rat-tails will always come to your rescue! This involves having shoulder to mid length hair and then chopping it off, leaving two to three sections of hair, ready for plaiting. Rajarshi attributes his look to a need for a change from long hair, coupled with the desire to do something interesting with the residual sections of hair. This standout unorthodox and cut came for INR 300 at Colors near Gariahat.
Shalini Biswas, English Lit Student
Sporting short hair almost throughout her college days, Shalini is no newcomer to the cropped look. Asymmetrical cuts are wonderful to look at and even easier to maintain, she claims and recommends oiling twice weekly and shampooing alternate days. A good bargain, she got her haircut for a cool INR 500 at Lake Road Serra.
Devanjali Banerjee, Law Student
That's me! Bored with the high maintenance quality of long hair with fringes, I was keen to go short with a side-shaven hair tattoo that I did some research on to pull off. I recommend getting hair tattoos primarily from stylists who specialise in men's haircuts as the shaping and razoring requires a skill that most women's stylists don't possess. Get this look for around INR 1,000 from Colors, Ho Chi Minh Sarani.
Comments