The information in this post might be outdated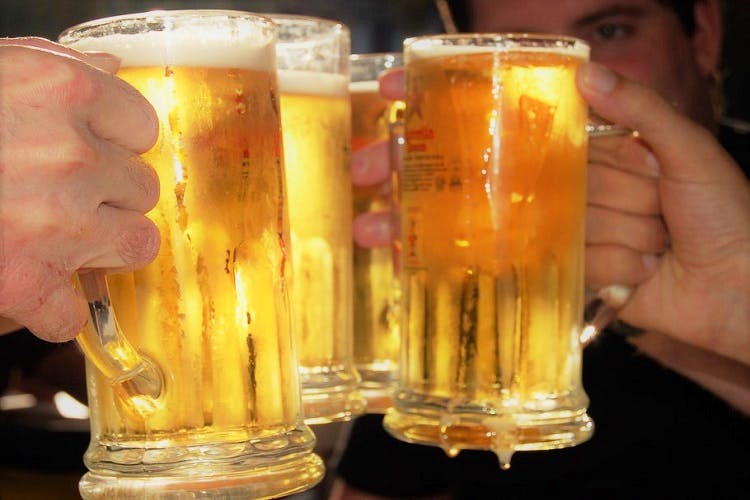 All The Happy Hour Deals In Kolkata You Have To Check Out Right Now
Ten-Second Takeaway
Every irresistible and pocket-friendly Happy Hours deal that will make your wallet happy and your liver not so much!
Bakstage
This huge wooden bar has great music and a pool table. Its Happy Hours are on from 3 to 10pm every day except Saturday – on all their alcohol except wine and imported beer. Catch Sufi music on Wednesdays, and drunken brunching on Sundays at hugely marked down prices.
Drunken Monkey
Running from noon to 8pm, this monkey themed bar's Happy Hours give you one for one on their drinks. We love the controllers on the table which allow you to increase and decrease the amount of light depending on your preference. Catch an evening of live music or ask the DJ to bust out your favourite tunes.
Wall Street Bar
Afternoon drinking sessions sorted at this centrally located Wall Street Bar. Happy Hours go on from 2 to 7 pm every day except Saturday. Plan your celebrations to make the most of their 2:1 deals which are great if you are going in a big group.
Chilis
All day 1 for 1 on domestic liquor on Mondays and Tuesdays makes your week get off to a flying start. All the Chilis outlets have this great offer. Order the pitchers so you get the most bang for your buck.
Brewmaster
All your cheat day temptations under one roof – enjoy not just 2:1 on beer and alcoholic drinks but also great offers on hookah from Tuesday to Sunday.
Haze
From 2:30 pm to 10pm, Haze offers 1:1 on your favourite liquor brands like Absolut and Black Label. For all the beer lovers, enjoy Kingfishers at 2:1 or go for the 1000 Combo Pack which gives you 4 Kingfishers and 1 hookah all for a steal!
#LBBTip
Don't drink and drive please. Book a cab home or assign a designated driver.