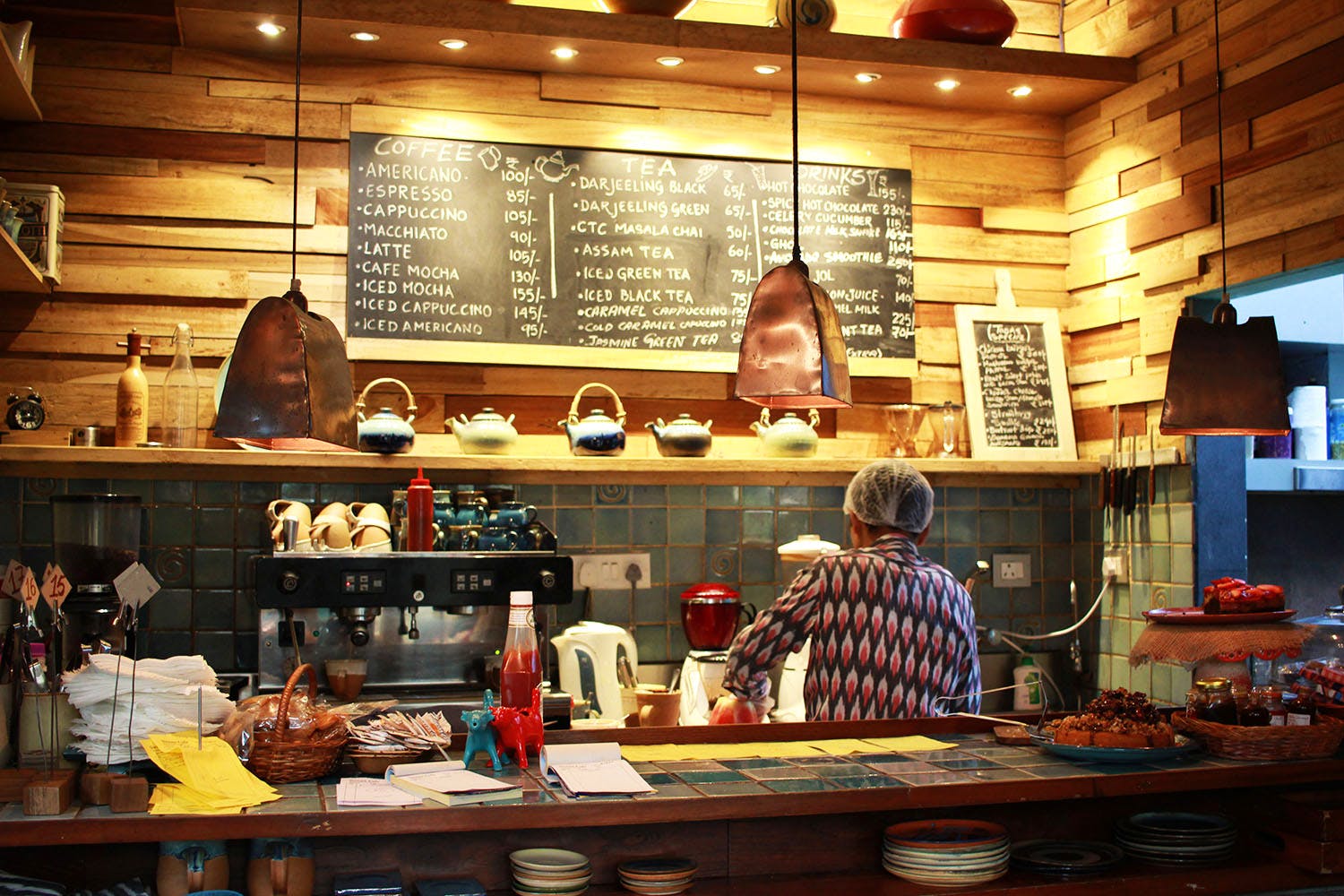 The Only Guide You Need To Kolkata's Newest & Coolest Food Hub
Pinterest-y cafes, old faves, quaint tea rooms, the best Bengali food — the Purna Das Road and Hindustan Park area is the numero uno foodie heaven in Kolkata.
The Tea Place By Manjushree
Delhi has had them for a long time, and now Kolkata does too. This delightful tea room will remind you of Alice In Wonderland and Jane Austen novels. The sun-lit section upstairs with comfy lounging chairs and books is one of our fave spaces in the city right now. It's perfect for some me time.
The menu lists so many different kinds of tea, it will have you scratching your head. Food-wise too, they are sorted — small bites like sandwiches, fries, wraps to big ones like roast chicken and grilled fish. Take a good look at this gorgeous tea room here.
8th Day Cafe
8th Day near Southern Avenue has its signature white store front and grey lettering, and a delightful outdoor seating arrangement (perfect for for the fall season that lies ahead!). Pop into the white-brick walled and dark-wood-furniture dotted cafe and the first thing that'll meet your eyes is the sleekly beautiful gold-and-black coffee machine that sits in the corner overlooking the street. Just like the first cafe, this too has board games, books and merchandise on its shelves. The place has new nibbles too and brews too (try the cold brew tonic). Pick the shredded Parmesan chicken or the shredded pesto chicken sandwich for a meal, but if you're craving for something sweet then give their new mochaccino cupcakes a try!

Wise Owl
This one's probably the oldest cafe in the area and still continues to be hugely popular with all age groups. The property has three things going on — the cafe on the ground floor, a guest house and a steakhouse on the terrace. You can spend hours sitting in the open seating area of the cafe (sporting a quaint white picket fence look). They allow you to smoke here. If you have an issue with that, move to the inside, closed space. They serve coffee and tea, shakes, salads and sandwiches, fries, pasta, Maggi, desserts and an all-day breakfast. The open-air steakhouse upstairs has some of the best, meatiest steaks and burgers and roasts. Read more about it here.
Mrs Magpie
Gooey hot chocolate, indulgent cupcakes, buttery scones — Mrs Magpie is high tea goals. One of the first entrants on the road, Mrs Magpie's adorable Pinterest-y pink and pastel interiors and superior tasteful baking set it a class apart. You must keep an eye out for their seasonal treats: they have special ones for every occasion and festivity.
Kaffiesta Steaks
This joint does a mean tenderloin steak — it's among the most tender and juicy we have had in the city. Unlike many places, this one was not chewy at all, not dry, not rubbery. They also do burgers, sandwiches, fish and chips and a great fondue. Read more about them here.
Black Candy
We found this hidden gem while walking around the area. Perfect for winter evenings, they have a simple outdoor seating (complete with fairy lights) in a garden-like atmosphere. This place only gets points for its ambiance, it doesn't have too much more to offer.
The Chaiwala
Tollygunge's popular cafe The Chaiwala has also joined this quintessential food hood. The Chaiwala's BLT sandwich will melt your heart with a generous dose of bacon, chicken and eggs. They've got good chai varities too. Try the sencha and lemongrass tea. Though the floor above with the heavy wooden interiors may seem a little holed in, we hang around quite a bit because the vibe is chilled out.
Tintin & Brussels Club
Tintin and Brussels Club will give you epic childhood feels with its Tintin-themed decor. Fairly new, this serves Belgian and other continental delicacies (including waffles). One corner of the restaurant also has a beautiful old piano and one can enjoy live piano sessions here from 8pm-10pm, every Saturday. Look out for the prints and posters of characters from Tintin comics and carry your love for the boy detective further with the TV that screens The Adventures of Tintin. One whole wall is covered with an image of Brussels at night.

Saptapadi
One of the coolest themed restaurants in town, Saptapadi is where every Bengali movie fan has to go for lunch. Based on the 1961 film featuring Uttam Kumar and Suchitra Sen, you will get major feels at this restaurant. From the softly playing background songs, traditional crockery and serving dishes and wooden furniture to the pictures from iconic Bengali movies that hang on the wall. The attention to detail is incredible.
Sienna Cafe
Sienna is where all the millennials are kicking it back and if you haven't been here yet, you're missing out on their insanely good cakes, fresh healthy mains and their gorgeous Insta-worthy decor. Probably Kolkata's most Instagrammed cafe, they keep it fresh by always adding new stuff to their menu. Our favourite? Pasta with Sienna's Signature Pesto.
Byloom Canteen
Order a cup of tea and work away to your heart's content at this cafe attached to the Byloom store. Beverage-wise, the Darjeeling tea here is refreshing and their dark coffee smells out of this world. They do Kolkata snack foods really well — chops, cutlets and fish fries, to name a few . You can also get cheese chilli toast, wraps and sandwiches, and tummy fillers like luchi and alur dom, and kosha mangsho. Their nolen gur ice cream and the caramel custard also cannot go unnoticed.
Mystic Yoga Cafe
This cafe, located diagonally opposite The Tea Place, reminds us of Tibetan eating joints in Dharamsala. It's an add-on to the Mystic Yoga chain which holds yoga classes around town at different locations. Expect lots of Buddhism motifs, Tibetan prayer flags and books on spirituality. You get healthy and good vegetarian food here — they have tulsi, ginger marigold and lotus leaf infusions, sprouted salads, thalis, wedges of toast with hummus and grilled tomatoes, one-pot meals like thukpa and much more. The cakes (banana, carrot, walnut etc.) here are delicious, as are the muesli drinks served in a glass.
Comments