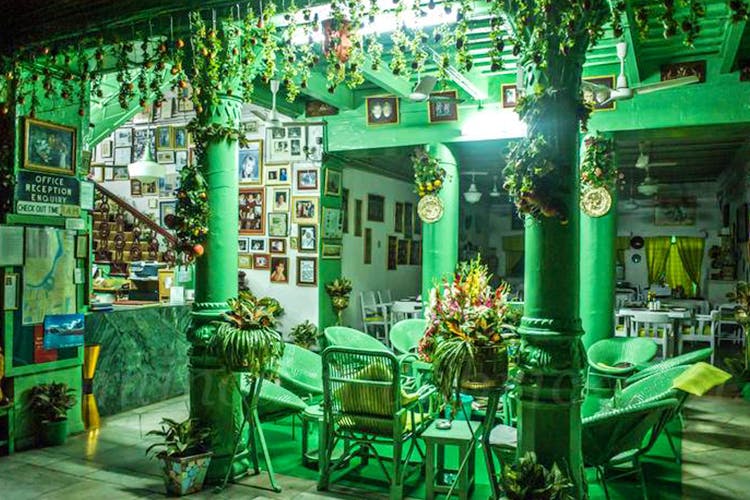 Hood Guide: Eat, Shop And More On Sudder Street, Every Bohemian's Paradise
Ten-Second Takeaway
Everyone deserves a bit of Sudder Street in their lives. It's a backpacker's spot, a hub for bohemian clothes and accessories, and it has so many beautiful restaurants. Here are five ways you can make a boring afternoon memorable on this bohemian street.
Shop Till You Drop At Sunshine
Looking for affordable clothing, accessories and pretty trinkets to bring out the latent bohemian in you? Trust us when we tell you Sunshine is the place you should turn to. Aztec print shirts and pretty kaftans, funky bandanas and smoking pipes, pretty notebooks and junk jewelry – they have it all. We are in love with their tie-dye palazzos in a variety of unique prints, and the handmade bags. Make sure you carry enough cash as they do not accept cards.
Eat Your Heart Out At Blue Sky And Raj's Spanish Café
Shopping will probably make you tired and hungry, so take your taste buds for a ride at the famous Blue Sky Café and Spanish Café. The latter has the best chocolate soufflé in town, and the tastiest pizzas ever. And we absolutely adore the delicious tiramisu that they serve. However if you are in the mood for a cuppa, head over to the neighbouring Blue Sky Café and have their creamy cappuccino. We also love their sandwiches, served fresh from the oven.
Admire The Graffiti At Hertford Lane
Sudder Street is famous for some of the most striking wall art in town, so after a satisfying lunch, go for a walk along the quaint Hertford Lane. We love how the boring walls have been transformed into pieces of public art.
Have A Blast From The Past At The Indian Museum
Wrap up the day with a visit to one of the most famous museums in the country. See what the world was like before any of us existed – take a walk down the Paleolithic and Neanderthal ages, followed by a date with the Mughal paintings, the skeletons of many creatures, and an Egyptian mummy. Ad then have a tryst with an impressive armoury collection.
Comments