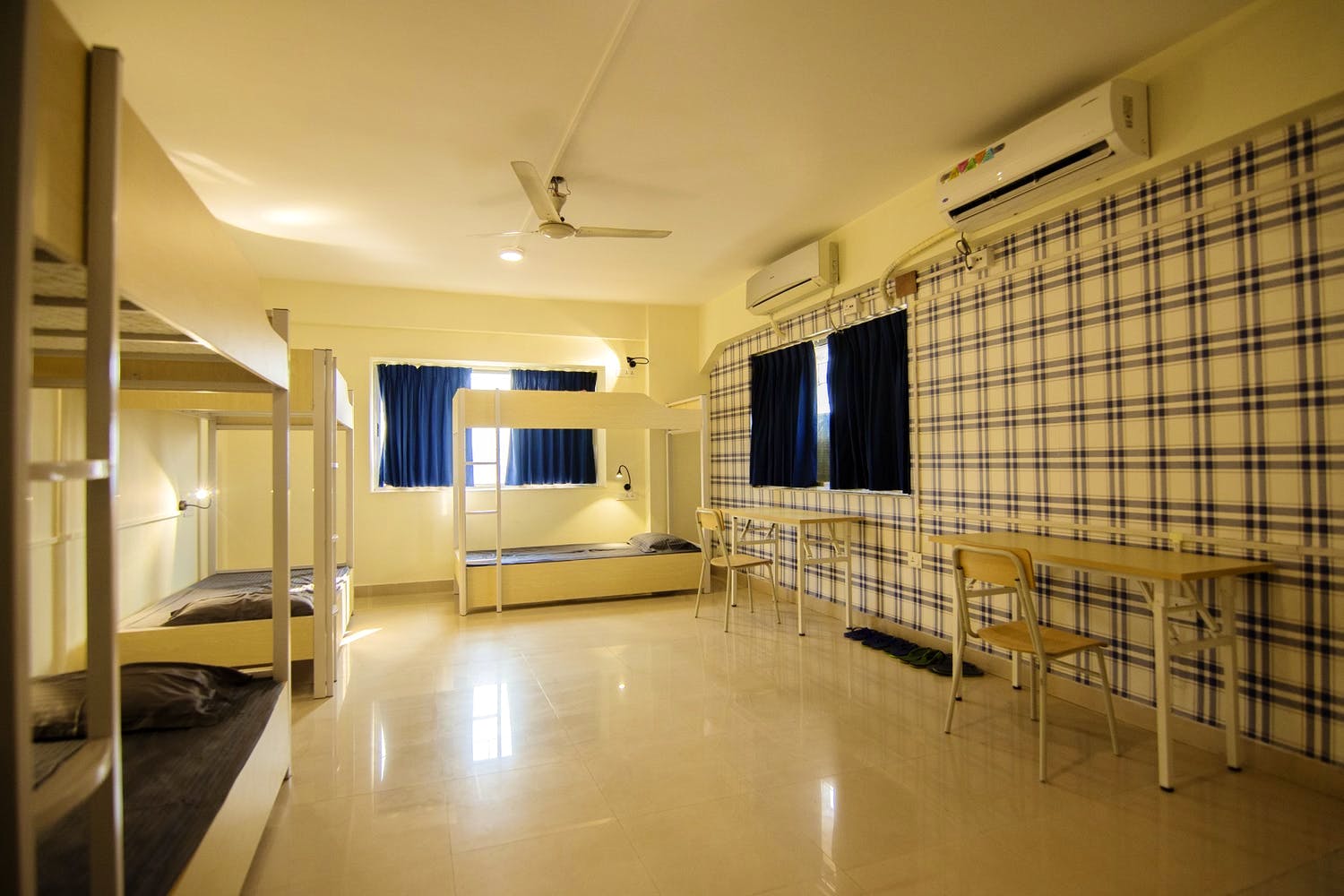 Attention Backpackers: These 5 Hostels In The City Serve As The Perfect Pitstop If You Are On A Budget
If you are looking for a home away from home, where you can enjoy decent comfort within your budget, eat homely meals, meet fellow travelers from across the world, revel in the fun of board games together, make new friends over a cup of coffee, or pick up a book from the shelf for company - your search ends here. Check out this list of popular hostels in the city.
Offbeat Bunkers
Offbeat Bunkers is a part of Offbeat CCU, an ecosystem which houses hospitality, education and entertainment under a single roof. It's plush, spacious, clean and ergonomically designed. Spread across three floors, Bunkers accommodate more than 150 travellers at any given time. Each floor is colour coded (red, green and blue) and each room comes with four bunker beds that are spacious enough to give you a good night's sleep. With minimalist Japanese designs and apple wood inlay work, the plush rooms sport two air cons, a fan and plenty breathing space to move around.
Don't worry about your luggage, you'll get two lockers (one big and one small) in the common room to keep your stuff. Got some serious study to do or some urgent work to finish? There're study tables and chairs in each room to take care of this. In fact, each of the beds come attached with flexi-neck study lamps that you can use for your late night reads without bothering your fellow roomies.
There are common rooms and community washrooms in every floor. All the stalls in the washroom come equipped with electric geysers and showers. So no worries on winter days! Best of all, you'll also have access to the other recreation sections - from the live music room to the fitness studio, arcade games section and lots more. Private rooms with twin beds are also available for stay.
Backpackers Park
Located in the heart of Park Street, Backpacker's Park is a pocket-friendly option with great facilities. With an open terrace area, this hostel is an ideal place for anyone aiming to experience Kolkata at its fullest. They have three private rooms with a television in each and four bunk-bedded dorms, one of which is an only-girls dorm (accommodates six).
Central air con, high-speed WiFi, complimentary breakfast, fully equipped kitchen (you can cook your own meals too), Playstation, foosball table, library (small yet full of surprises) and laundry services are some of the amenities available. You can book over the phone as well as through popular travel websites.
Kolkata Backpackers B&B Homestay
Comfy, cosy and peaceful, this quaint boutique hostel in Bhowanipore is a popular choice of backpackers. They have spacious rooms with single beds, ample space to keep luggage, great collection of books, travel maps and WiFi. This traditionally designed rooms will take you back in time with its intricately designed Burmese teak beds (almost 70 years old!) and other small elements which add to the feel of an era gone by.
They even offer private rooms (for two) with attached bathroom and a tiny enclosed balcony. The double bedded dorm is done up in a travel theme decorated with collectibles and souvenirs from all over the world, gifted by backpackers who have been here.
Gala Time Hostel
A perfect place for budget travelers or backpackers who would love to explore the city at their own pace and convenience without paying big bucks or compromising on the quality of stay.
They have AC/non-AC dormitories and private rooms. They even have an in-house cook, who will make your meals as per your request. Other amenities include safety lockers, complimentary breakfast, high-speed WiFi, purified drinking water, common kitchen, tea/coffee vending machine, laundry service, recreational area (filled with books & board games) and a city guide (on request). They also offer meet-up opportunities to travellers in the form of cooking classes, yoga sessions and barbeque parties, wherein you can bond with fellow travellers while learning something new.
Hotel Galaxy
One of the most popular spots for backpackers in Kolkata (its even got a mention in the Lonely Planet), Hotel Galaxy offers a range of dormitory and private rooms at very affordable prices. Located right in the heart of Kolkata, it is a stone's throw away from the historic New Market area. The property also has a mini-library, free WiFi, small front-porch sitting area and other quirkily decorated common spaces - like a wall that serves as a guest book, where you can leave your hand imprint.
Comments