The information in this post might be outdated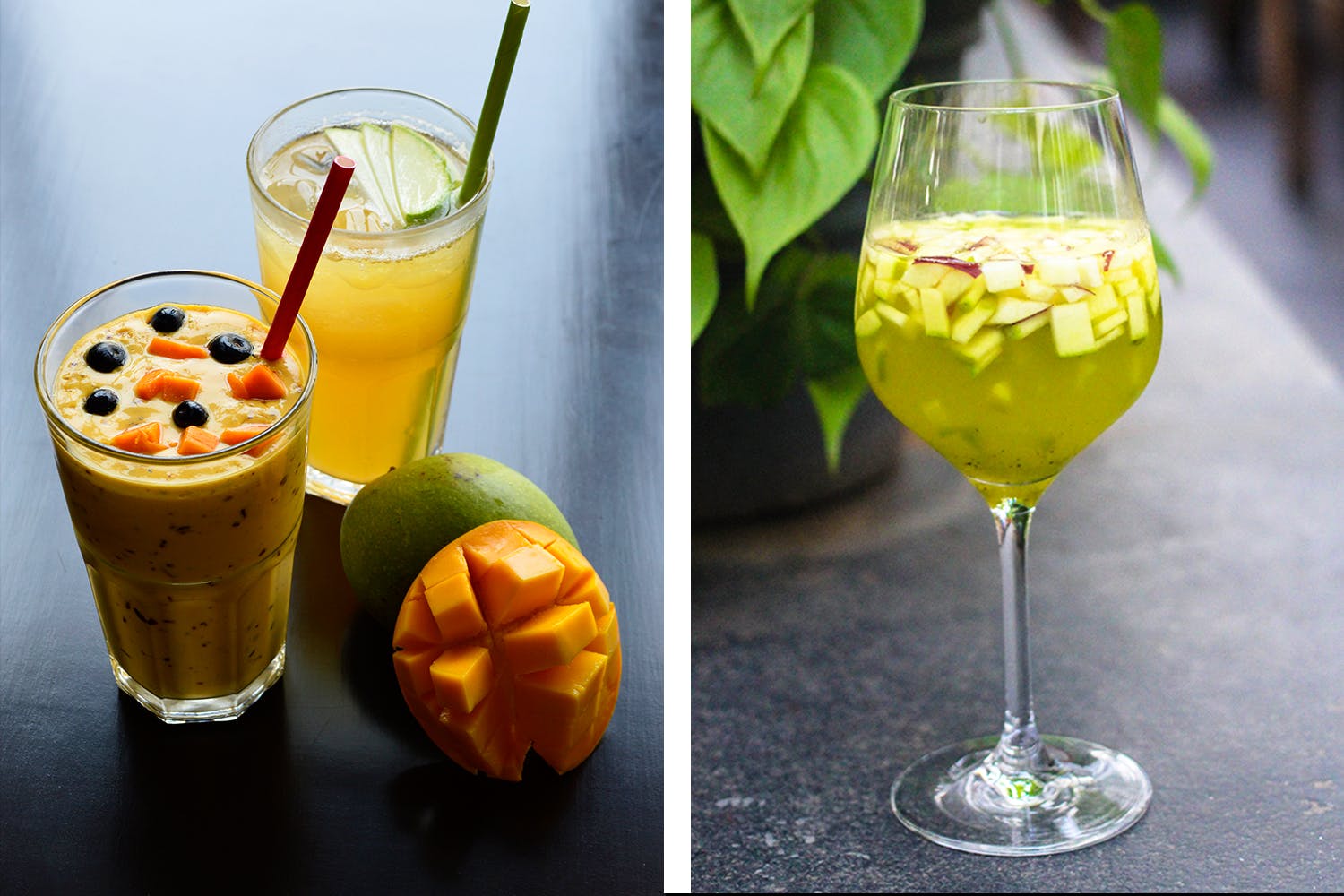 Cappuccinos, Smoothies & More: Check Out These 18 Mango Drinks Around The City
Summer time calls for all things mango, so why not your drinks too? So when you're done draining all the mangoes from your fruit basket, tick these mango-based tall glasses off your summer bucket list.
Mango Mastani @Kenilworth Hotel
Would you love your thick shake to not only be delish but look glamourously Insta-worthy? Try the Mango Mastani (INR 275) from the Kenilworth Hotel's summer special Mango Mania menu.
Mango Nutella Shake @Monkey Bar
You must try the Monkey Nutella Shake at this bar with a stunning view. It's made with fresh mango, Nutella and chocolate, whisked in a blender with chilled milk (INR 280). Voilà! Summer is sorted.
They also serve a mean Mango Chaas with mango juice, fresh curd, chaas masala, coriander and mint in a perfectly balanced sweet and herbaceous drink.
Fresh Mango Juice @Rallis Juice centre
This is one of those go-to places for juices and sherbats. Try their Mango Milk (INR 55) or have mango juice squeezed freshly right in front of you (INR 45).
Mango Raspberry Shake @Haagen Dazs
This is one helluva good mango milkshake shall have you shaking your booty like it's your first summer! If you're in the mood for a twist, try their mango raspberry flavour. Made with their signature in-house ice-cream and containing real mango chunks.
Aam Panna @ Cafe 4/1 & Keri Aam Panna @ Kenilworth Hotel
Made of green mangoes and just so soothing, say bye bye to scorching heat and cool yourself with aam panna. Cafe 4/1's glass is made with real mangoes and is perfectly sweet and sour (INR 150).The Kenilworth has a summer special keri aam panna with cumin masala (INR 225).
Creamy Mango Coconut Smoothie @ Artsy
This cafe's mango smoothies are coconut milk based with fresh mango pulp and bananas (INR 190). Imagine 0% added sugar and yummy pumpkin and flax seeds thrown in.
Chilli Mango Juice @ The Grid
Hot and spicy mangoes anyone? Your mango juice just got elevated to yet another level at The Grid. Their juice is blended with just the perfect amount of heat and spices and a dash of soda (INR 271).
Mango On The Rocks @Spice Klub
You will find yourself wondering whether you should eat, sip on, or keep taking pictures of this mocktail. Spice Klub converts mango pulp into rocks – little popcorn like things that will pop in your mouth as juicy mangoes –  using liquid nitrogen. Served alongside hot mango juice and at INR 289, this drink is truly fantastical.
Aam Panna Iced Tea @The Salt House
So obsessed with iced tea that you cannot abandon it for anything else? Just try it with fresh mangoes! The Salt House has a yummilicious aam panna flavoured iced tea that is tangy and so very rejuvenating (INR 150).
Mango Thandai @Wabi Sabi
Thandai with mangoes? It's a win-win as nothing beats the heat better than good old chilled thandai. Wabi Sabi is stirring up thandai syrup, fresh mangoes, and a touch of walnuts or almonds in this delicious chilled drink for INR 125.
Mango Duet @Desi Klub
Let's keep singing mangoes and add in some ice-cream soda too (remember that childhood obsession?). A yummy combination of mango syrup and ice cream soda forms a lovely duet at Desi Klub (INR 200).
Thickest Mango Shakes & Smoothies @The 8th Day Cafe
We are always suckers for a thick American-style shake. Using only the best blender and ingredients, one of our fav cafes is whipping up a storm this season with mango specials that will have you hooked. Their mango shake and smoothie are known for their thickness and dense consistency (with fresh mangoes, cream, milk or yoghurt creating foodie heaven for INR 199).
Mango Tango @Hard Rock Cafe
Tropical beach-y feels anyone? This summer-ready mocktail will rock a humid day with its concoction of mango puree and orange juice (INR 350).
Legendary Mango Lassi @ Esplanade
Punjabi or not, we desis love our lassi! Frothy and as creamy as it gets, the city has some iconic places that will make your palate break out into a bhangra, malai maarkey! For a quintessentially Kolkata experience, try the mango lassi stalls near the Esplanade crossing. Served up in beer mugs, the thick lassis are topped up with khoya and dry fruits.
Mango Vanilla Smoothie @Fatty Bao
Love yoghurt? Or would you rather go for vanilla ice cream? Add some mango fun and see your world go round. Fatty Bao has a summer special mango smoothie with fresh mangoes mixed with a choice of vanilla ice-cream or yoghurt (INR 250).
Alphonso Milkshake @Baskin Robbins
Mangoes are the king of fruits but what about the king of mangoes, alphonsos? Baskin Robbins is all set for summer with their alphonso-flavoured ice cream shake. Liquid gold for just INR 230.
Mango Beer @Wabi Sabi
Already a rage, you must try this mocktail made with mango juice, soda and fresh mangoes (INR 130) to know just what we're on about. Screaming out summer and vibrant colours, mango beer might just be the drink of the season!
Mango Cappuccino @ The Westin
The Westin is hosting a mango fest where one of the highlights is the Mango Cappuccino. Think diced fresh mangoes, orange juice, red bell peppers and a dash of pickled onion and jalapeno topped with coconut foam. Sounds awesome!
Comments