5 Stunning Jungle Lodges Near Kolkata That You Must Check Into For Your Next Holiday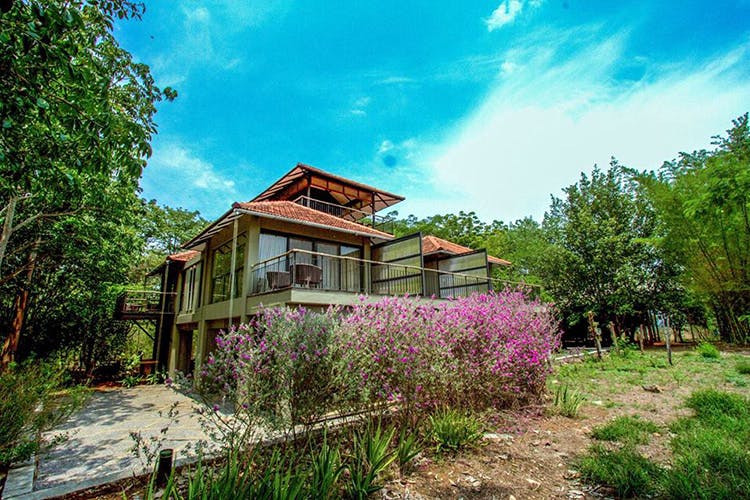 Get up close and personal with forests and wildlife at these atmospheric jungle lodges near Kolkata.

Wild Mahseer Resort, Assam
Check out what a tea planter's life would look like at the stunning Wild Mahseer resort in Assam. It's in the middle of a 22-acre certified organic sanctu­ary. You can choose from a room in the century-old heritage bungalow or in any one of the smaller tea bunga­lows. Wake up early and have a full English planter's breakfast, book a safari around UNESCO World Heritage Site - Kaziranga National Park. Or go bird watching. Or spot dolphins. And take the time out to take a trek in the Eastern Himalayan Botanic Ark.
Wild Grass Lodge, Kaziranga
This vintage lodge is a little more modest but really charming. On the outskirts of Kaziranga National Park, the original interiors are steeped in history. Their grounds have more than 40 species of trees. Choose from doubles or the two jungle lodges or tented Camp under a high thatched roof (they have attached bathroom and showers with hot and cold water). You can take a tour of nearby villages or visit tea gardens, take a jeep safari or go trekking.
Mathanguri Forest Lodge, Manas
There are two very good reasons to stay at the Mathanguri lodge (apart from the jungles and wildlife - the Inspection Bungalow that is run by the government at a stunning spot with hills of Bhutan nearby (and a river). And you can see the summer palace of the King of Bhutan (apparently it's haunted by rare golden langur). The second reason? You get to have your meals in a glassed-in dining room with stunning views.

Diphlu River Lodge, Kaziranga
The Diphlu River Lodge is an award-winning eco venture located at the boundary of a river on the fringes of the national park. We loved the cottages with traditional architectural style of Assam's Mishing tribe.

Zizina Resorts, Mayong
This place is located in the historically endowed Mayong, Morigaon where you will spot relics from the Neolithic age. Your acco will be in Swiss-style luxury tents, safari tents or mud huts. Food-wise you get to taste classic Assamese meals inside a bamboo-thatch air-cooled restaurant. Take a safari around the Pobitora Wildlife Sanctuary - and watch out for one-horned rhinos.

Comments