You Must Check Out Kalighat Temple, An Ode To A Feminist, Pre-Hindu Goddess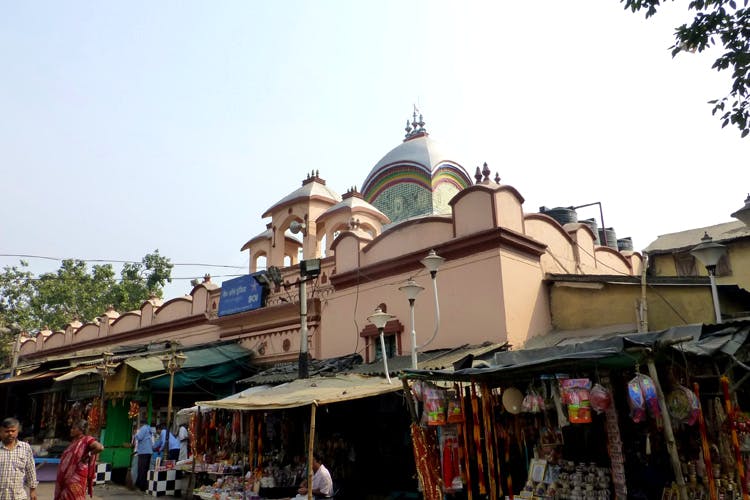 Shortcut
The famed Kalighat Temple of Kolkata is a testament to centuries of worshipping the divine feminine in the city.
What Is It?
Kolkata's Hindu population, unlike most parts of the country is very goddess-centric. Kalighat is a testament to centuries of worshipping the divine feminine in the city. Like Kali, who is said to be the embodiment of time and all creation, Kalighat has stood for centuries, having been built as a small hut in the 15th century; and reconstructed in its current form in 1809. It is also one of the 51 shakti peeths that are scattered across South Asian countries.
Why Should I Go?
This is a must-visit if you're invested in understanding Kolkata – there's a popular theory that says the city was named after Kali. Regardless of religious inclinations, this place feels like you're stuck in time, there are many people here that you can meet and talk to about the history of the city. Apart from this, Kali has been read as a feminist, pre-Hindu goddess, that is, she is one of the oldest gods in the world. Many theories suggest that she is a Dravidian god who was co-opted by the Aryans when they invaded India.
Tell Me More
The floors of Kalighat have anecdotes and quotes carved on marble, some of these look ancient while there are new ones inserted every year or so. There are a few smaller temples inside.  Look out for the colourful tiles depicting peacocks and flowers inside the main area. The Kali idol here doesn't follow the style of other depictions of the goddess – she has three big eyes, and a long tongue and four hands made of gold.
Right near the temple there is Sosthi Tala, a rectangular altar devoted to three goddesses who are considered to be a part of Kali. And, importantly, all priests here are women.
Anything Else?
You must visit the extraordinary bazaar around the temple filled with shops selling all kinds religious items made of brass and metal. A lot of homeless people seek refuge outside and within this temple, do carry some food or change with them to help them out.
#LBBTip
Tuesdays, Sundays and Saturdays tend to be rather crowded so you should make your visit preferably on a morning before 8 am. You can also visit at dawn, around 3 am if you make a group and plan it with a panda who can organise it for you. This is a good time, since the entire place is almost completely empty.