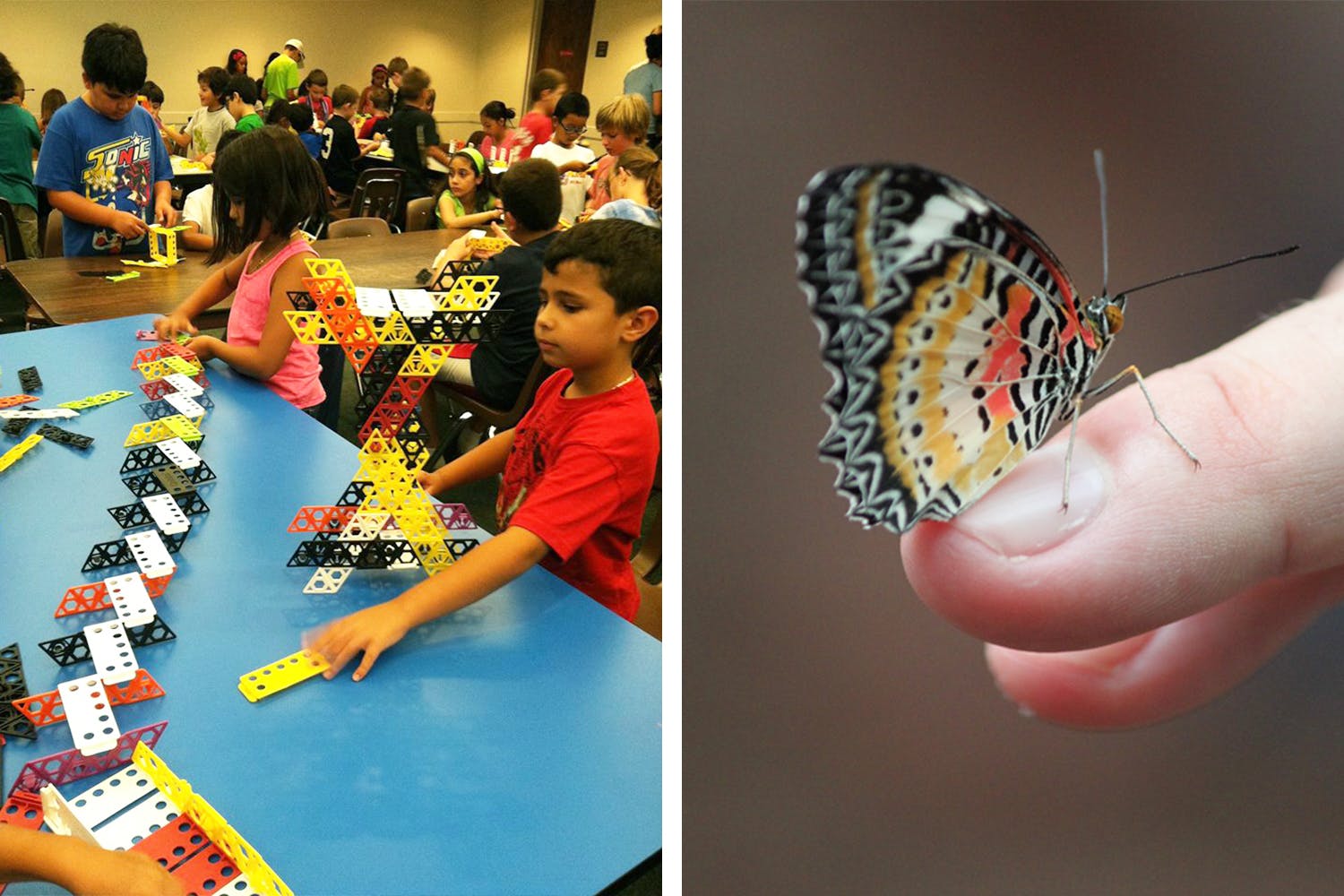 Babies' Day Out: 9 Fun Things To Do For Kids & Parents In The City
Amusement parks. Check. Malls. Check. Toy shops? Too many checks! If you are bored of taking your kids to humdrum hang-outs, then imagine your kids' plight. Enter LBB to the rescue. Here's our list of 9 not-so-mundane things to do for kids in the city.
Say Hello To A 4,000-Year-Old Egyptian Mummy
This fascinating museum is also known as Jadu Ghar ('house of magic') as it will instantly transport your little ones to a magical land with its surreal collection of artefacts. One of its most enduring attractions is a 4000-year-old Egyptian Mummy that had been shipped to Kolkata in 1882. As a matter of fact Egyptian Mummies are rarely found outside the native country and Indian Museum happens to be one of the very few museums in the world that has the honour of housing this special guest. If your kiddo is a movie buff, then watch him gape at the mammoth, saber tooth and much more from the Ice Age days. Jurassic Park fans can explore dinosaur skeletons and remains of their eggs. While exhibits of giant crocodiles and scary-looking creatures long extinct will leave them rapt.
Make Butterfly Homes & Rescue Snakes
Butterflies are great indicators of a healthy ecosystem. If butterflies dwindle, mankind will be the worst hit. Luckily, our city is still a rich haven for butterflies with an impressive 120 to 150 species. You can have your kids volunteer with Nature Mates over weekends to set up homes for butterflies at the Banabitan Butterfly Garden in Salt Lake's central park. They will revel in the sight of pretty colourful maze of butterflies happily frolicking about sweet scented nectar plants like lantana, periwinkle, cosmos and hibiscus. The more adventurous souls can accompany the group on their missions to rescue snakes, monitor lizards, turtles, civets, jungle cats, mongoose, and even birds such as vultures, kites, barn owls, sparrows and crows. Read more about them here.
Make A Robot At MakersLoft
Making a robot from scratch, without a manual, where learning is as natural as breathing in air and not made out to be some rocket science – sounds too good to be true? Welcome to MakersLoft. Enrol your genius into a Lego Robotics Training course and watch them apply their imagination in creating a full-fledged robot, which is a combination of software programming and mechanical designing. Get more information here.
Check Out A 255-Year-Old Tree That Walks At The Botanical Gardens
If your tiny tots haven't seen the grand old banyan tree at the Indian Botanical Garden then they ain't seen nothing yet. Considered to be the oldest citizen of the city, this tree has been in the Guinness Book of World Records for having the largest canopy and covering the widest circumference. And it keeps walking! (Er, growing!). With the prop roots as its legs, the Great Banyan Tree is heading eastward and always threatening to cross fences built around it. It's like a miniature forest in itself with a thick canopy overhead and ferns and orchids growing on its branches. Many a fauna, including mongoose, jackals and birds, have made the tree their home. Your little ones would love to stand under its shade and experience its enormity.
Take A Dark Ride Into The Jurassic World
Fancy walking amidst giant dinosaurs and mammoths, the kinds you have witnessed in the movie Jurassic World? Now you can do that at Science City's 'Evolution of Life' gallery. With special effects, simulations and a voice over, the technologically advanced 3D models of the giant beasts which had gone extinct around 66 million years ago will leave your bubs thrilled to bits. As they go further they can identify different types of dinosaurs like Velociraptor, Stegosaurus, Tyrannosaurus, etc surrounded with special effects such as animal breathings, Sun set scenes, volcanoes, sounds of tropical forests, coldness of ice age along with Charles Darwin's introduction to each period for further infotainment.
Make Friends With Dolls From 92 Countries
Very unlike the insanely creepy Annabelle or Chucky, the display of dolls showing different cultures from across the globe at the famous doll gallery in Nehru Museum are aww-worthy. India gets a place at the centre of the room in a huge glass enclosure, showcasing the different states and their attire, through mini dolls. The Ramayana and Mahabharata in miniature models create a wonderful mythical world for your children where they can learn about the epics through visual stimulation.
Take Selfies With Famous People At Mother's Wax Museum
From eminent historical personalities to Bollywood and Hollywood bigwigs to Chhota Bheem and his friends, Kolkata's very own wax museum offers a lot to go clicking about. Arm your children with a cell phone camera and watch them get up close and personal taking selfies with the who's who. While at it, play a little game of Who Am I? with them to help them identify the famous people. High on entertainment and knowledge, this is one place you should not miss on taking your bubs to.
Go Zorbing in Eco Park
Let them run amok in the most child-friendly open space in the city – Eco Park. There are lots of activities there to keep your free-spirited souls occupied like cycling, zorbing, kayaking, shooting, darts, and many more. Different sections in the park like Butterfly Park, Swampy Areas and Musical Fountain make for an enjoyable outing.
Take An Early Morning Tram Joyride
Kolkata Tram, the only tram system in India, is the oldest tram network in the world. In the earlier days, trams were driven by horses, which were then replaced by steam engines. Now, single coach cars are plying the streets of Kolkata. Ditch that fancy drive and take the kids on a Sunday morning tram ride through the Esplanade-Khidderpore route. Give them a taste of a change in scenery and a lazy mode of commute in an otherwise fast-paced world.
Comments