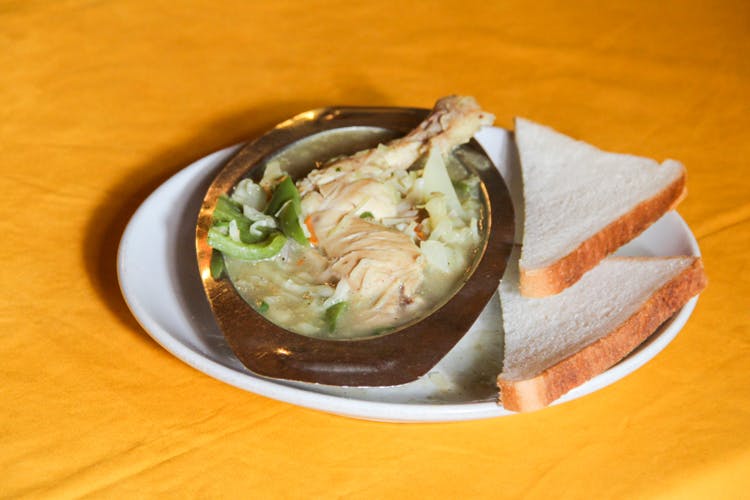 Feeling The Chill In The Air? Get Your Fix Of Authentic Kolkata Ishtew At These Places
The Kolkata 'ishtew' (that's stew in local parlance) is a household favourite rustled up for some comfort eating in the winter. Here's a list of places that make the best ones – these are sure to throw you into childhood nostalgia mode.
Chitto Babur Dokan
Chitto Babur Dokan brings you 80-year-old recipes that are city favourites. We recommend you try the chicken stew which is has a nice taste of pepper and cinnamon and serve with fresh vegetables. The mutton stew is also great but comparatively bland but overall it's delicious and tender. Make sure to reach before 6pm if you want to try the mutton stew. It is open from 10am to 9pm.
Dhiren Cabin
Tucked away in Sova Bazaar this cabin might not be as famous as the nearby Mitra Cafe but its chicken stew is a favourite among locals and all those who have stepped in here at some point. It's a nice broth with pepper and vegetables. It is open from 4pm to 10pm.
Broadway
With two pieces of buttered toast, Broadway's serving of chicken and fish stew is a generous one. The broth is delicious and filled with a variety of vegetables. The pieces of chicken and fish are equally tasty, and well marinated.
Chittodar Suruchee Restaurant
The chicken stew here is a meal by itself! And the helpings are generous with large leg pieces of chicken served with a really tasty broth and vegetables which melt in your mouth. Be sure to check this place at Esplanade out on your next visit here.
Maidan Tents
The centuries-old sports test and clubs at Maidan have been serving up delicious in-house food for decades. These are a few you should try out:
Calcutta Referee Association Club Canteen: This club is different from your usual Park Street and Maidan bars with blasting music and alcohol. Ideal for afternoon adda culture, the Association canteen serves a killer vegetable stew with buttered toast prepared with soya chunks, carrots, papayas, onions and a piece of potato. Make sure to ask for a extra pepper before you start gorging! Regular attendees will tell you that this is bound to give you a foodgasm and bring back some really fond memories.
Deepak Ghosh's Stall: The vegetable stew here is very popular here among the office goers who flock here for lunch. Their chicken stew is also great but the gravy is comparatively thinner. Make sure to visit here on a cold winter day for breakfast!
Central Excise Tent: Frequented by office goers and club members in Maidan, the Central Excise Tent serves delicious, tender mutton stew with small mutton pieces served in a vegetable stew. This has a dollop of butter and the vegetables melt in your mouth when you try them. A must visit, the stew here is very cheap.
Comments