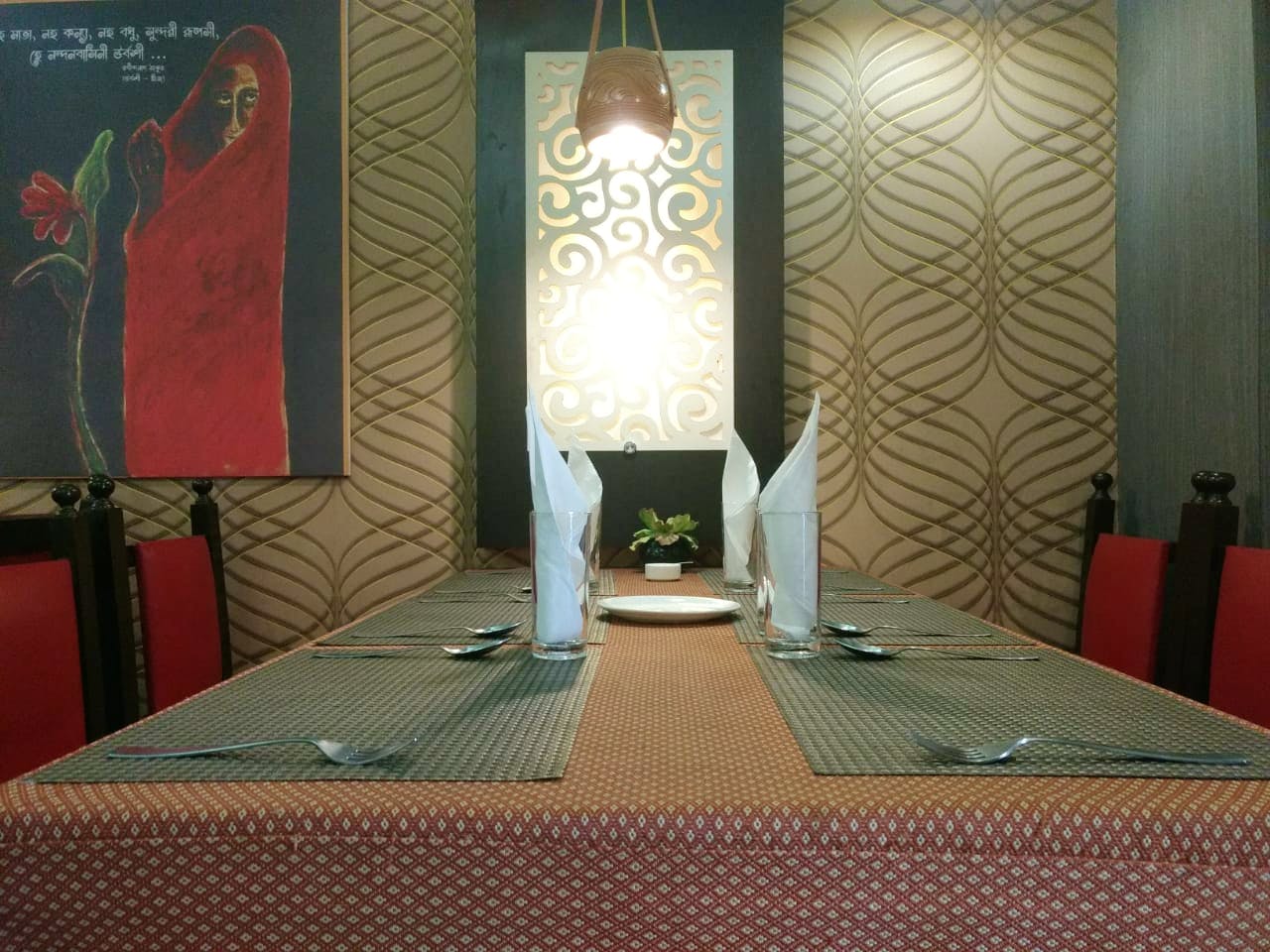 We Found This Restaurant Near Southern Avenue Which Oozes Bangaliyaana From All Corners
Shortcut
The presence of a Bengali restaurant in the town is reason enough for Kolkata people to go there and address their hunger calls. We found one in the form of Kopai just beside Share Chuattor on Raja Basanta Roy Road.
What Makes It Awesome
Named after one of the most popular rivers of West Bengal, Kopai emanates that quintessential Bengali feel the moment you enter the restaurant. This 38-seater is decorated with ektara (a musical instrument associated richly with Bengal's Baul genre) as bulb holders along with huge posters of Rabindranath Thakur's quotes taken from his writings. The tone of the restaurant is an amalgamation of red and golden interplaying with each other.
Kopai prides itself in serving thakurbari Bengali food (their motto is shaade thakurbari), one that was served at the zamindar households. We indulged in their chitol maccher muitha which came with four boneless succulent pieces of fish balls and gravy. Having it steamed bhaat was nothing short of home-cooked food. The food is more on the sweeter side as is found in most Bengali households. What is unique about their daab chingri is that they cook the preparation in the coconut shell itself, that's why when it's brought, the shell has a roasted texture. The quantity of food is sufficient for a person with a considerable amount of appetite. The muitha can be finished by one person with rice.
One of their specialities include dudh kankra (a preparation of crab) which should be on your checklist when you visit the place. To end things on a sweet note, we ordered another of their specialities called Chhanar Ballabi, which came in piping hot and is basically squared shaped gulab jamuns. The the dish was cooked till the point it became as soft as cotton and we enjoyed every bite of it. To top it all off, the staff behaviour was very courteous and pleasing.
Pro-Tip
Vegetarians have a special dish they can try called mochar (plaintain flower)shammi kebab, an appetiser, which is a very popular vegetable used in Bengali cuisine.

Comments