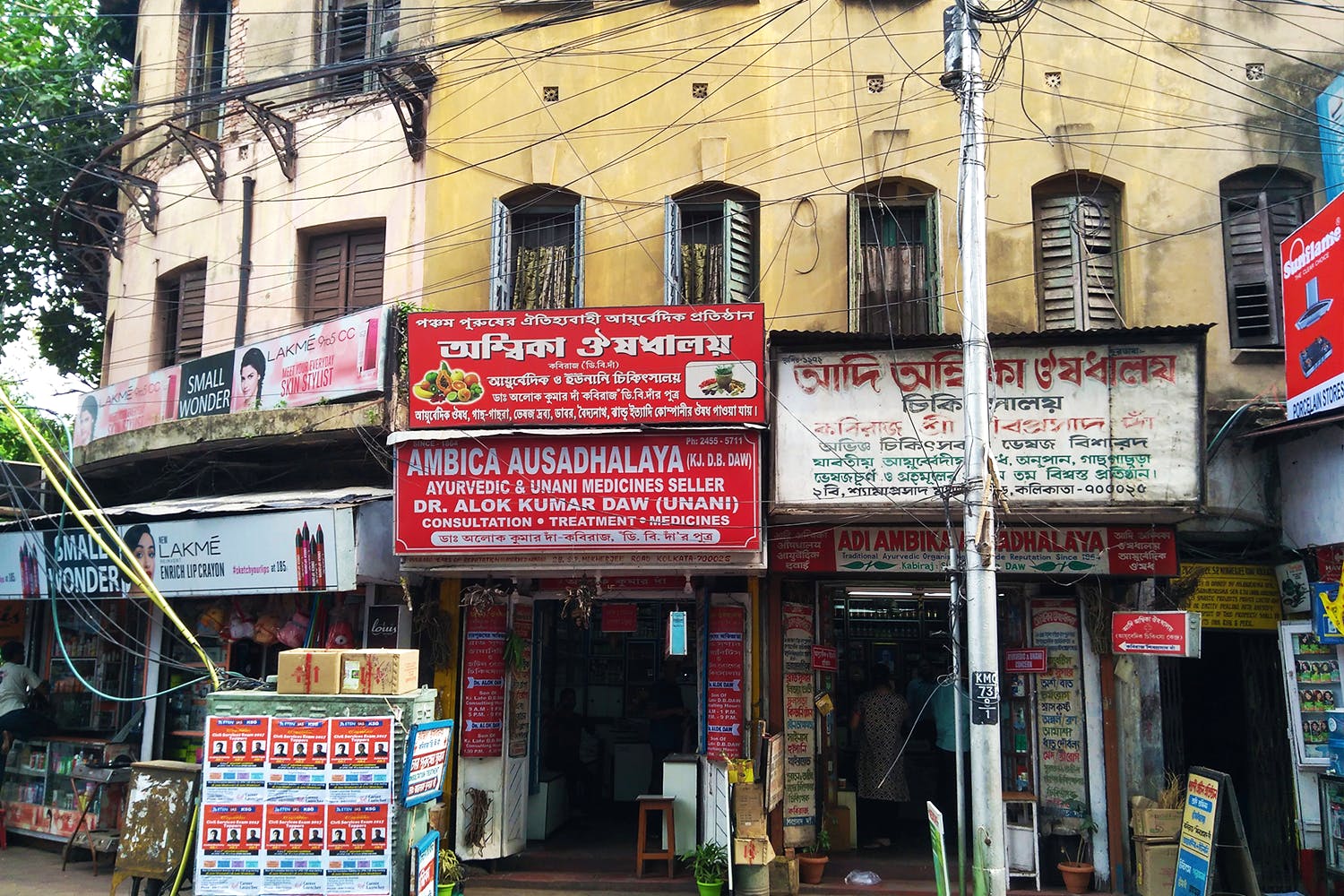 This Small Lane Near Purna Cinema Is Full Of Ayurvedic Shops Selling Herbs & More
Shortcut
We went exploring and we found this lane in Bhowanipore that has a host of generations old Ayurvedic shops. From roots and leaves to herbs, all kinds of barks of medicinal trees, powders, different kinds of clay for your face and hair, oils and what not- they have it all.
Great For
Traditional Herbal Concoctions, Ayurvedic Formulations, Skin & Hair Care, Ayurvedic Consultants
What Makes It Awesome
Ayurvedic practices have been around since forever and these shops believe that it is one of the best forms of healing. Close to Kali Sports and Samur Sports on Bhowanipore, you will find several shops selling Ayurvedic and Unani herbs, medicines and products. Look out for the shops – Adi Ambica, Ambica and great Ambica – most of them are generations old and have been around since before Independence. In those days, the doctors here were called kabiraj. Even today, you will find in-house Ayurveda doctors offering consultations for every kind of body state. Ayurvedic herbs have proved to be helpful in a lot of cases. Want to take care of your hair and keep it lustrous and shining, you could buy their herbal shampoos or their herbal concoctions or just go purchase some amla, shikakai and ritha to make your own mix. The rate differs according to the herbs you are buying. They range from INR 100 – INR 300 for a 100gm packet. Acne-prone skin? Irritation because of the heat? Fret not, they have a lot of herbal skin care products as well. From Ayurvedic facewashes and face scrubs to herbal lotions. You could even consult them and use neem, manjistha, chiratha to make your own concoction. They even have kukumadi oil- and at a much more reasonable rate than the pre-packed ones sold under big brands. Dealing with digestion problems? Use amla or ajwain or the all-time favourite pudina. Pick up their mixes to pamper yourselves or pick up herbs to make your own. Or if you have blood pressure, gout, liver issues etc, they have something for every malady.
Pro Tip
The shopkeepers are extremely helpful and will answer all your questions willingly and sometimes dive into Ayurvedic history as well. So if you are a newbie to Ayurvedic herbs, ask away!

Comments