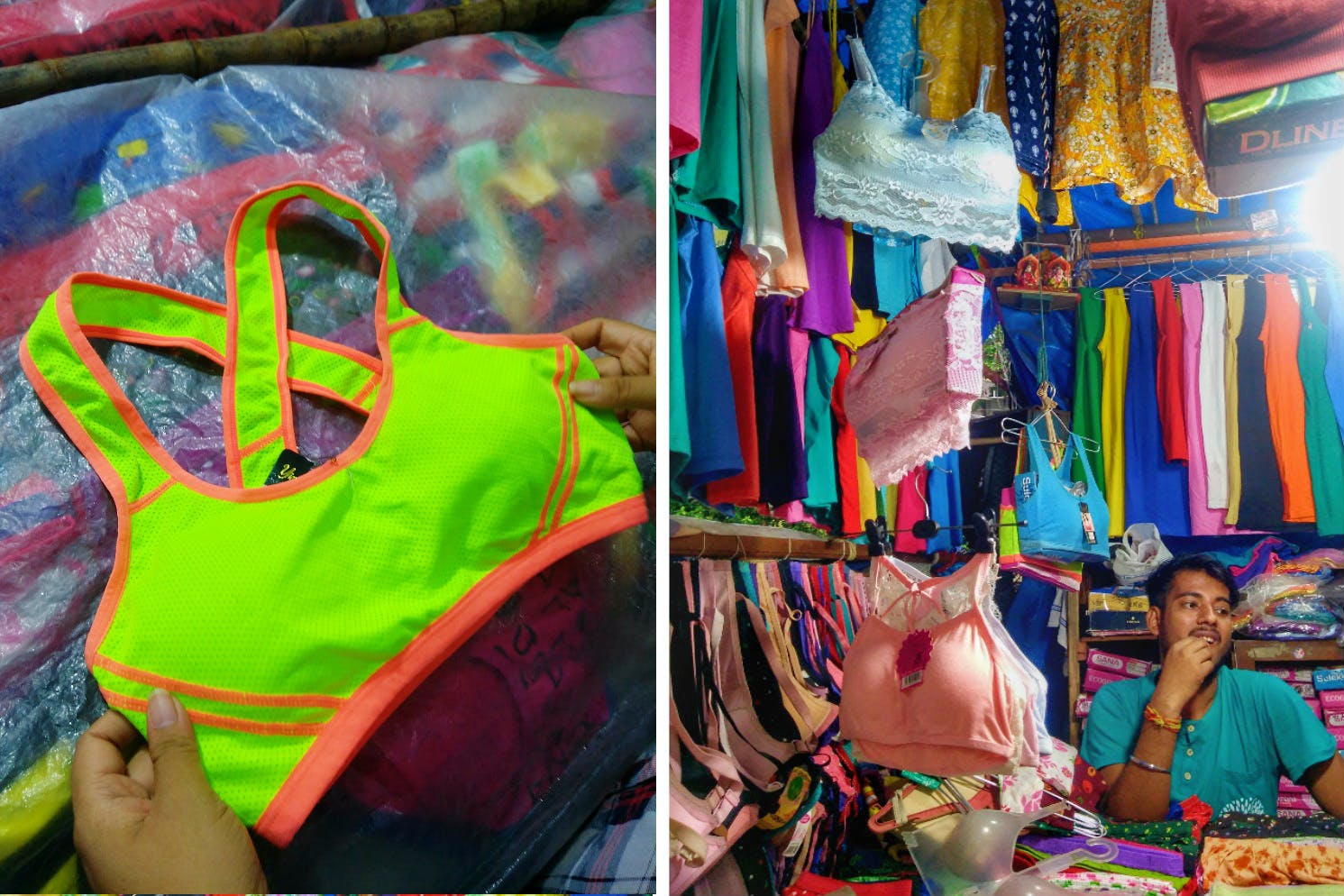 We Went Lingerie Shopping In Gariahat's Street Markets And Here's Our Loot
Good feels and good lingerie are quite a team. We generally hit up malls or branded shops to buy good ones but we got our snobby nose snubbed when we checked out Gariahat's street stalls. From bikinis to sports bras, multiways and bralettes, the stalls had it all.
Wired Bras
Wired bras are essential for giving that much-needed support throgh the day. We got super stoked to find a whole range of sturdy wired bras in seamless designs, and pretty prints (some in trippy neons and some with lace). Most of them come with detachable straps and start at a reasonable INR 200.
Sports Bras
Yoga to jogging or a gruelling session of excersise, a good sports bra made of breathy material is an essential. We found a variety of styles here – from padded to crossbacks and keyhole styled sports bras in Lycra. The (rather grouchy) Gariahat sellers asked for INR 250 but don't hesitate to bargain. They always slash the price.
Lacy Bralettes
We fell in love with these and got a few for ourselves! Sporting pretty lace or intricate lycra patchwork, the bralettes come in many colours and designs like pinks, blues, whites, blacks. And they are available in different lengths – a few also come with multiway straps. Prices start from INR 150.
Front Open Bras
We didn't expect to find them in Gariahat, tbh. Surprisingly enough we found some real pretty ones! Mostly in bright colours and pretty pastels, some had pretty halter backs that make them perfect for beach wear. Prices quoted was INR 250, but like we said, bargain.
Bikini Bras
Gariahat has an awesome collection of bikini bras that are perfect for that pool party or the beach holiday that you've been planning for. Mostly in halter tie-ups, you'll find both padded and non-padded varities here. They start at INR 250.
No Back Bras
These are an absolute must-buy and are perfect for that backless dress you've kept stashed away somewhere in your wardrobe. These no-back bras come with a super sturdy transparent belt that goes on your back and attaches the two ends of your bra with a broad buckle. Wired bras and broad buckles give you much-needed support and confidence to pull off a sexy no back dress. These start at INR 300.
Tube Bras
Gariahat also has a good collection of different types of tube bras that works well for those pretty off-shoulder tops or dresses. Available in solid or mesh Lycra, these come in both padded and non-padded variety. They start from INR 200.
Boy Shorts & Pretty Panties
With the upper taken care off, we went hunting for bottoms and found some very pretty ones with lace details and little bows. Available in cotton and synthetic blends these start from INR 100.
Bra Straps and Stockings
Besides the essential bras, we also found important accessories like bra straps and stockings. The straps start at a low INR 30, and the stockings start at INR 150.
Comments