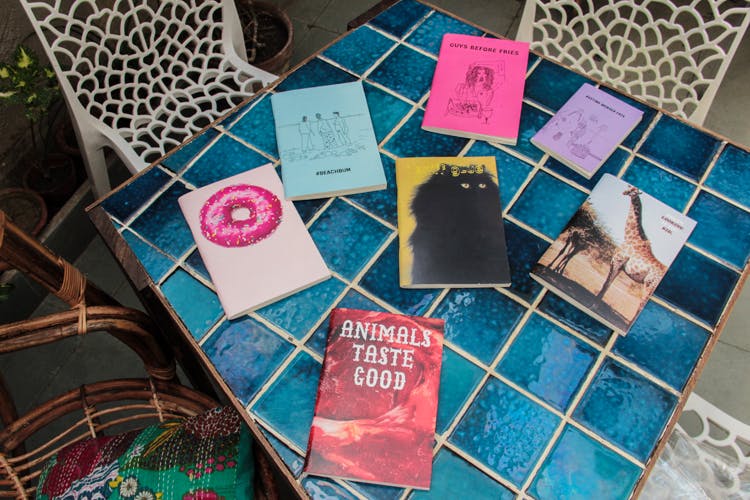 Got A Stationery Fetish? These 7 Cafes In Kolkata Have The Best Cuppas & Notebooks
Love to hang out at cafes with a cuppa and friends? And adore notebooks and notepads and other miscellaneous stationery? Then you'll love this bit of news. Some of Kolkata's best indie cafes have started stocking some really cool stationery, many of them created by local artists.
Sienna Cafe
One of our absolutely fave places to hang out, this cosy cafe not only has good coffee but also stocks some of the best local stationery brands. Every time we go here. we leave with our purses lighter and our bags full of stacks of different-sized notebooks. Doodle and jot down your ideas in the handcrafted notebooks (with sketches of sea creatures in black on single-tone colours) by Shantiniketan-based artist Sucharita. You can also pick up postcards of the sketches. Then there's the cheeky and sassy notebooks and postcards by Kolkata's Curry Mag. They also stock an interesting range of notebooks and postcards whose cover art is from old Jatra (Bengal's folk theatre) posters. And we just added a whole lot of the gaamcha-covered notebooks in bright checks and stripes to our collection.
The Lighthouse
A visual arts space centred mostly on photography, The Lighthouse is tucked away in one of the narrow lanes off Prince Anwar Shah. Walk through the large gates and you'll come to the black wooden deck of the cafe-cum-bookstore that's an extension of the visual arts school (running workshops, residencies and exhibitions) that stands on the first floor. The cafe also houses a tiny bookstore, not your regular fiction or non-fiction though. You can pick up Tara Publishing's excellently produced 'flukebooks' - which are notebooks and diaries with adivasi cover art from all over India. They are as unique on the outside as whatever you choose to scribble inside, and each is covered with a fusion of eclectic prints and colours, totally original and knock-out gorgeous.
Abar Baithak
This cosy Feluda-themed cafe in Jodhpur Park stocks notepads and notebooks with art by Charbak Dipta, a Kolkata-based illustrator and graphic storyteller. We particularly loved the ones with detailed illustrations of the crowd in a London tube and the one on Jadavpur University. Also look out for his alien series - especially the one with Che Guevara! If you are a Satyajit Ray fan, and have fond memories of Feuda & Co, you will love this cafe.
Byloom
This popular store-cum-cafe stocks a range of good quality notebooks and notepads including flukebooks by Tara Publishing. The must-buys here are the exquisite handbound notebooks in different sizes with handmade paper inside. Perfect for writing in, sketching or for creating a unique photo album. Navigating Kolkata can be a challenge and Byloom stocks a series of notebooks, notepads (and even mugs and coasters) with playful depictions of chaotic scenes around Kolkata.

Oxford Cha Bar
This cafe on the top floor of Oxford Bookstore on Park Street has one of the best selections of tea in the city. Order up a pot of genmaicha and pick up their range of letter writing pads with exquisite black and white sketches and watercolours of Kolkata by Samir Biswas. They also stock postcards of the same.
Artsy Cafe
If you like a dose of humour with your stationery, then we suggest you hit up Artsy cafe and pick up Kolkata-based Nukkad Printer's notebook series. Need quirky business cards made? Check. Need personalised invitation cards? Check. Looking for unusual ID cards? Check. Funky notepads? Double check. It is indeed, a one stop for all your printing solutions. The prints showcase sentiments that are quintessentially Kolkata: Memorable icons of the city splashed in pink and yellow, a familiar song remixed with a bold font, an old superstition revived, turning favourite objects of the city into characters. They showcase what Kolkata celebrates over the canvas of a coffee mug, a tote bag, a mouse pad and more. We fell in love with these notebooks which poke some gentle fun at the Bongness of Bengalis. For instance, a clay pot full of roshogollas says "Aar Ekta Hobe Ki?" ("How about one more?"), a close-up of a guy's torso with trademark golden chains and double chins says "Shona Baby" (referring to musician Bappida or Bappi Lahiri) and a monkey cap that says "Khoob Thanda".
The Chaiwala
This cosy wood-panelled cafe (with outlets in Tollygunge and near Vivekananda Park) has great sandwiches and a good stock of stationery. We love the cool posters and couldn't keep ourselves from grabbing the kitschy Papercup and The Bong Sense notebooks, calendars, and coasters.

Comments