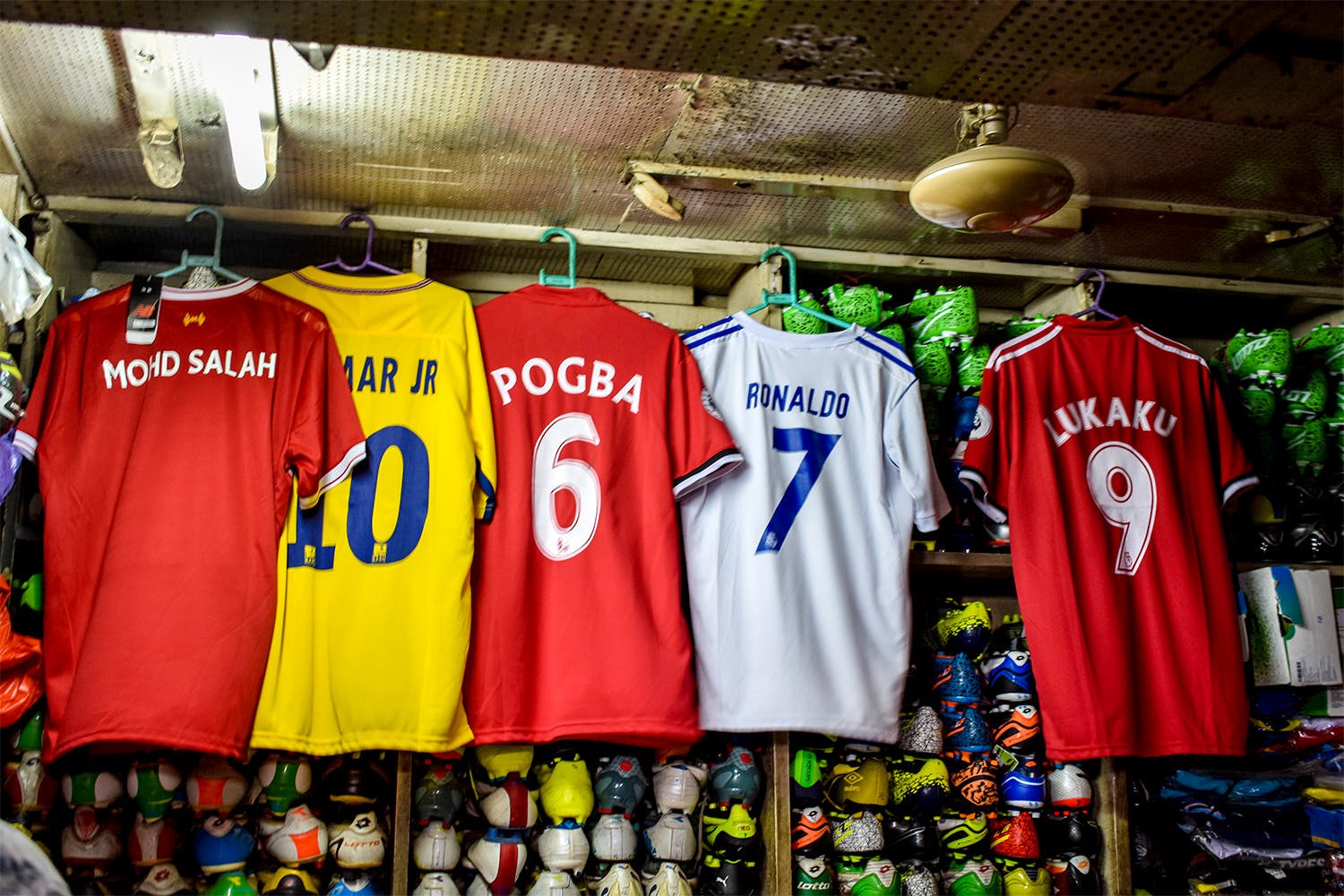 Jerseys, Flags & Others: Get All Your Football Fandom Merch At This Market
If you're wondering where to pick up a football jersey or flag and bandana of your fave teams, head to Maidan market. They've got every kind of outfit and cheerleading gear.
Your Fave Team's Jersey
Nothing speaks more of your loyalty than donning the jersey of your fave team. Of the 400 or so shops in Maidan market, more than half stock sports gear, and almost all of them have team jerseys for the World Cup season.
Now, before you get lost in a bad bargain ask around and head to Jacky's, Kolkata's go-to jersey man who's known to cater to everyone — from fans to national and state level football players. he's supposed to have the best stock. Pick your jersey sets from INR 350 onwards here.
You can also ask around for Sardarji's jersey stall to lay your hands on single jerseys. And of course there are the other stores where you'll find plenty jerseys at an even lower price.
Flags
The next best thing to show allegiance to your fave team is to pick a good flag. Head over to the tiny stall of Unique Sports Tailor to pick your team flag. Tell them the size you want it in and they'll stitch it up for you. Prices depend on the size – a regular 3ft by 1.5 ft flag will cost you around INR 90. Alternately, you can check out Nagraj Sports and a few other stores for readymade flags. The market is also strewn with plastic flags for decorations if a live match party is on the cards.
Headbands, Scarves, Banners & More
These are essential if you take your cheerleading seriously! Unique Sports Tailor has the best merch. You can also find them at Jacky's, Rehman's and Nagraj Sports. Prices vary between INR 40 – 200.
Sports Shoes To Complete The Look
You may not be going to the actual stadium to catch the match, but hey you can play a game of football too with your squad in Maidan! And complete your look with proper cleat shoes that're available in plenty. At Jacky's we spotted national-level player Eugeneson Lyngdoh buying his shoes! Rahman's is the next best place to check for good quality imported ones. Prices of the imported varieties start at INR 2,000 and the domestic ones at INR 700.
Pro Tip
You've got the skills to dribble and kick, but being a part of a club squad is quite a deal. We think fantasy football squad is the best! You can personalise your jerseys with your names- printers will print out your name on your jersey in half-an-hour, and voila, you're ready to be a fantasy player! Charges for each letter varies between INR 3 to INR 5.
Comments