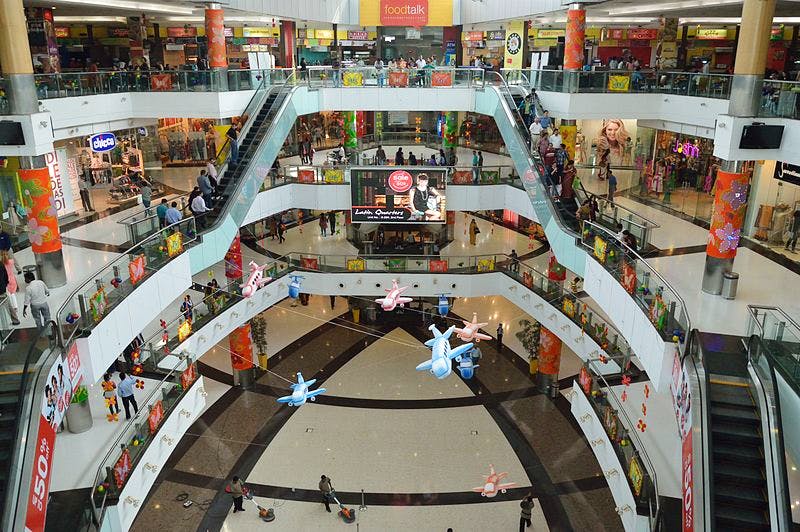 Mall Hopping? Here's Our List Of The Best Ones In Town
If you thought malls are getting painfully boring, maybe it's time for you to think again. On hot summer days when the great outdoors is not an option, the cool and hip ambience of a mall seems very appealing. Whoever said malls are only for shopping didn't know which ones to go to. Films, shopping, eating out, fun with kids, spooky adventure or a spa date - whatever rocks your boat, modern malls have a fix for all of it. Check out our list of the best malls in the city where you can have a field day of fun and enjoyment.

Quest Mall
Hands down one of the best malls in Kolkata, Quest is also quite beautiful in terms of its interiors, which explains why you're bound to see tons of people clicking selfies inside. Food, movies, shopping – Quest offers it all. You will find some of the most premium brands here, including Burberry, Gucci, Michael Kors, Jimmy Choo and Steve Maden. And, you'll also find an assorted variety of food options for every budget range from Pizza Hut, KFC and The Coffee Bean & Tea Leaf to Yauatcha, The Irish House, Chili's, Bombay Brasserie and Serafina. With recent additions like Millie's Cookies (London) and Yoku Moku (Japanese Cookies), there's a lot to get your (sugar) high on. Most importantly, if you love watching Hollywood films, INOX here tends to screen Hollywood releases, which most other theatres within Kolkata do not.
Acropolis Mall
Unlike Quest Mall, which showcases more premium brands, Acropolis offers a decent selection of affordable brands ranging from ONLY, Vero Moda, Global Desi and Jack & Jones to Marks & Spencer, AND, Shoppers Stop and Prapti. You'll also find options for little ones, such as Giny & Jony and Little Shop as well as ALL for special sizes. You can easily spend an entire rainy day at Acropolis – if you get tired with shopping, head to Timezone for some games, or Cinepolis for a movie or Hoppipola for a few drinks. In terms of food options, there's Asia Kitchen, Chili's, 6 Ballygunge, Domino's, KFC, Subway, Vaango, and our absolute favourite – Auntie Anne's and Cinnabon!
Mani Square Mall
Mani Square is a nice, cosy mall with select options. Want to shop? They've got Westside, Metro, Bata, Planet Sports, Little Shop, Fooba Wooba, Cott Counter, Toy Planet, Giny & Jony, Arrow, Blackberrys, Van Heusen, Chemistry, AND, W, FBB, Fab India, Prapti, ALL, Ethnicity, eZone, Apple – Sysme, The Body Shop and more (phew!). Want to chill and read books? They've got Starmark. Looking to catch a movie? There's Cinemax and a 7D theatre. Looking for some fun and games? There is Scary House (only one in the city) & Demon Jungle and Amoeba. Want to catch up with pals over drinks? There's Hoppipola. Post-shopping hunger pangs? There are options like Hakka, Flame N Grill, Chapter 2 and a Jungle Safari themed restaurant to take care of that.
Forum Courtyard
It was one of the first malls in the city, housed the city's first Inox, had the first top-end luxury brands and was everyone's go-to shopping destination for a long time. It completely revolutionised the shopping experience in the city. What's nice about Forum Courtyard is that it is quite peaceful compared to other malls. You'll find a nice mix of brands not available at many other places within Kolkata, such as Cottonworld, Promod, Kazo, Vero Moda, Only, Charles & Keith, Shoppers Stop, Aldo and Bombay Dyeing. The newly launched Usupso has joined the club too. And, INOX is here to the rescue, when all fails and you want to recline back and see a film. Food options are a handful – but you can try Oh! Calcutta, Cafe Mezzuna, TGIF, Biscotti, Pizza Hut and Subway when the munchies strike!
South City Mall
South City is one of Kolkata's fave hangouts for mall rats. After a complete revamp in 2018, it's become even better. It is now a self-contained space where you can find a good mix of clothing stores to fit, different budgets, a food court, a bookstore, restaurants, a multiplex and grocery stores to take care of all your all your needs in one shot. Sephora, Zara, Forever 21, Vero Moda, Hunkemoller, Starbucks, Sotch & Soda, Nautica, Chumbak, Harley Davidson - the list of our favorites is long, and there's plenty more coming up. There's Eye Catchers for a session of pampering, and Starmark to binge on books and craft supplies.
City Centre 1 (Salt Lake)
This is one of few finely designed malls with lots of outdoor space for your endless adda sessions. It has a vast multi-stepped plaza designed with a central waterbody and a fountain that lights up at sundown. You can just sit here for hours soaking in the atmosphere. With all kinds of categories under its umbrella, City Centre 1 reduces the distance between mid-market and up-market segments. The KFC outlet here is the oldest in the city (over 10 years old!) Food is the buzz word here as lots of food kiosks dot the area namely Tea Junction, The Noodle Story, Wow Momo, Konetto Pizza, Keventers, Pabrai's and more. The Inox here is one of the best performing with a four-screen multiplex. From latest blockbuster to ethnic stores, from lip-smacking food to great adda joints, this mall has a lot to offer.
City Centre 2 (Rajarhat)
Call it an eat-shop-hangout destination, City Centre 2 offers a more elaborate and richer experience. It is a fusion of a mall and street bazaar with a balanced mix of major brands, local retailers, kiosks and boutiques. Divided into different sections which include, a shopping plaza, an entertainment zone, food court, cineplex, and different other 240 stores. There's something to suit every kind of shopper in you. Some of the brands/shops you will find here include Pantaloons, McDonalds, Afraa, Pizza Hut, KFC, Lifestyle Max, Archies, Adidas, Apple Store, Biba, Carbon, Crocodile etc. Gaming Zone & Entertainment. Not so gung-ho about brands? Well, shop without guilt at the spine plaza (central area of the mall), which is often occupied by tiny stalls selling junk jewellery, kitschy jholas and comfy kurtas & tunics.
Avani Riverside Mall
Spending some time on the other side of the river? Check out Howrah's first mega mall, Avani Riverside. This mall has almost all major shopping brands under one roof - from international brands like U.S Polo Association, Flying Machine and United Colors of Benetton to dometic brands like Pantaloons, Reliance Trends and Prapti. Avani's PVR is your best bet to catch good flicks at reasonable rates. And if by the end of the movie you're tummy starts growling with hunger then head to Avani's food court Treat. Find a slew of eateries there including Mainland China. Kids getting too jumpy sitting in one spot? Check them into the main attraction there - the kids zone. While you check out the Wellness Thai Spa for an indulgent spa ritual or get adventurous with a foot spa at the Fish Fun Spa.
Comments