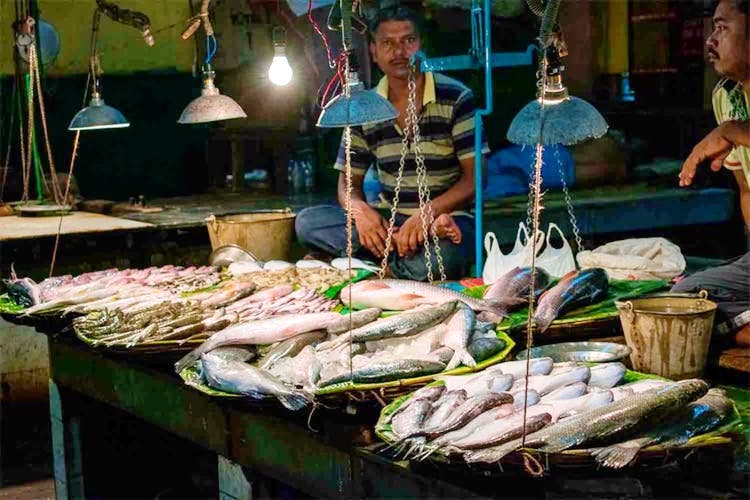 Craving Ilish? Check Out These Markets To Get Some Good Quality Hilsa
Monsoon is not far, and rains in Kolkata spell every Bengali's favourite fish – Ilish! So we have charted out the best markets where you can get that perfect quality of Ilish.

Lake Market
"A fish to a Bengali is his soul," said celebrity Indian chef Gaggan Anand. We can't emphasize enough how true that statement is. And Lake Market is one place where people go to for that top quality Hilsa variety for your kalo jirer jhol (curry made with black cumin seeds). Be prepared to bargain heavily because the sellers are not going to let you get away that easily!
Southern Market
One of the oldest markets in south Kolkata, located in Mudiali, this entire complex was a residential area, which is now an old, decrepit building. Breathe in the smell of fresh vegetables the moment you step in, and then gradually move to the section where the fishes are being sold. During season, almost all the fish sellers stock Ilish, so you might want to explore a few shops first and then go for your buy.
Address: 184, Shyama Prasad Mukherjee Road, Sahanagar
Gariahat Market
Gariahat market is the biggest market in south Kolkata and it is a thoroughfare every day. This is one of the very few markets in the city that has the largest area designated to the fish section. So you are sure to get hold of the freshest variety in all of Kolkata here. So much so that people travel from different areas of the city just to get their ilish from Gariahat market.

Ballygunge Market
There's a saying in West Bengal, that if you are not a fish eater, then you are not a Bengali. Ballygunge market defines this very essence, wherein people flock in numbers every day to make sure they have got the right buy. But when it's the season of Hilsa, all we know for sure is that those numbers go up because Ballygunge has one of the largest stocks of sweet variety of Ilish in south Kolkata.
Address: 3, KN Sen Ln, New Ballygunge, Kasba

Jadavpur Market
This may not be one of the biggest ones, but Jadavpur market is popular among the locals. There are people who even come from Baghajatin and Jodhpur Park to buy fish from here. Jadavpur has a small of number of shops selling fish, and you won't find Ilish in all the shops. But the ones which keep them are real gems. So you won't have a tough time to choose here.
Address: Central Road, 8b, C.I.T., Bidhanpally, Jadavpur
Ask Neel a question