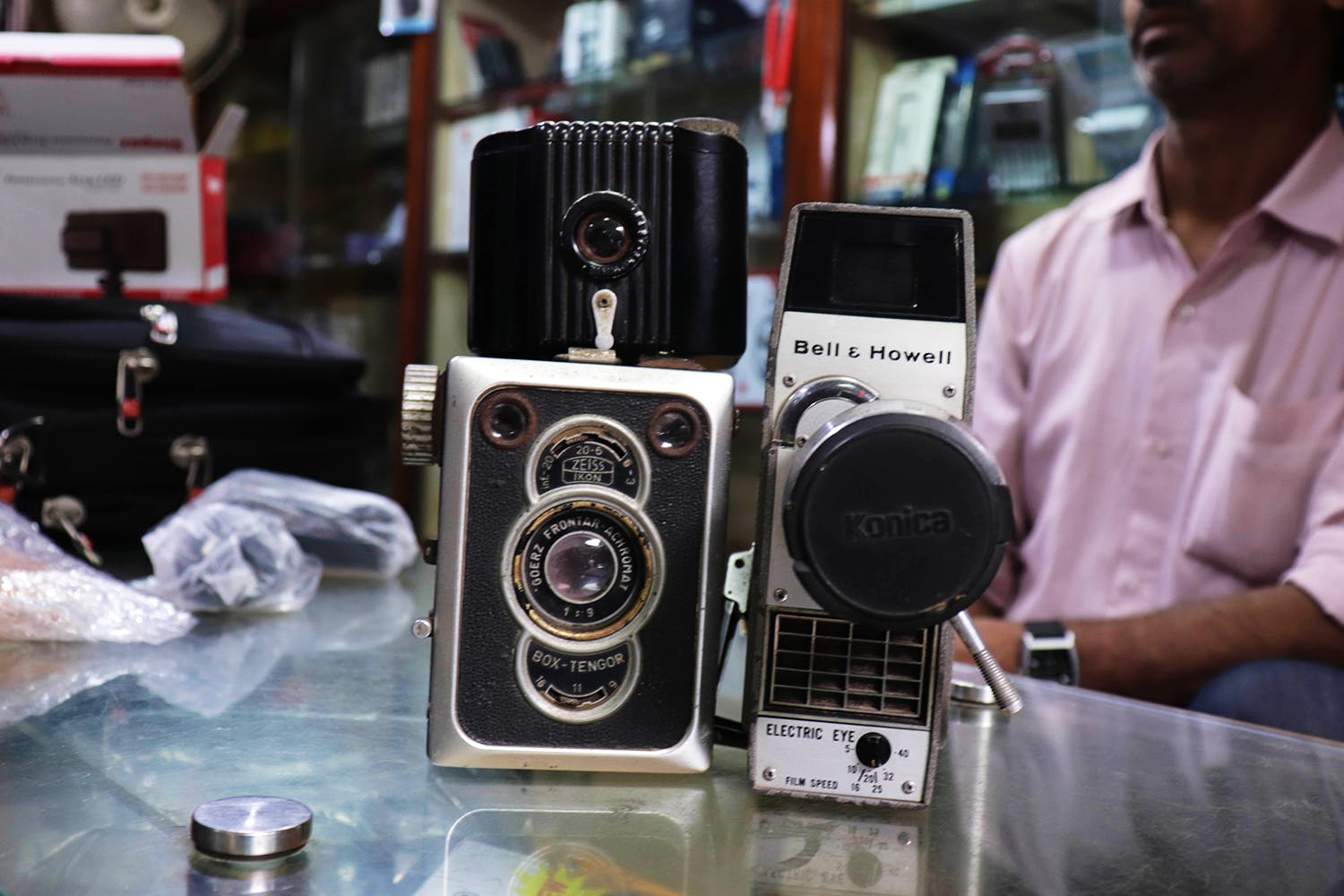 We Found A Secret Galli Where You Can Score New And Vintage Cameras At A Steal
Got your heart set on a camera but don't have the money to get it? Head over to Metro Gali in Dharmatala and find cameras and more.
Central Kolkata is famous for its many market hubs – there are entire lanes devoted to only one product like bicycles, scientific instruments, clothes, flowers. You name it, they have it. Metro Gali is another name you can add to your list. A narrow lane bustling with shops, this is the place all camera aficionados head to for secondhand film and DSLR cameras in working conditions, and to get the latest digital models at discounted rates.
You can also find camera equipment like lights, tripods, batteries, bags, microphones, memory cards, and even lenses of all kinds, standard or professional. Whether you're just starting out or have been in the photography business for years, you can find all your need right here. And if you don't find anything in stock, don't fret! – you can always place an order with them.
The lane is also known for skillful camera repairs – walk in for any kind of damage your camera has suffered and watch these pros work their magic.
This Shop Is Special
A small shop close to the opening of the lane, M.A. Photographers has been open for nearly 22 years now. You will find all things camera-related here, as well as good quality inks and papers. You can spot tripods for as low as INR 550 to as high as INR 25,000 (upon order) just as you enter. The shelves are stacked with cameras of all types including old film cameras with prices starting from just INR 1,000. They sell secondhand camera models in excellent conditions. Oh, we spotted an age-old Bell and Howell Movie Camera, a Zeiss Ikon Box and the Kodak Baby Brownie on the shelves, waiting to be picked up. They also stock the latest DSLR models like the Canon Mark II, but discounted rates.
Print Your Photos
How can a camera lane be complete without printing stores? Walk into the Star Albums store right opposite to M.A. Photographers to get good quality prints of your favourite photographs. Other trusty stores here are Aziz Photographic Studios, N.S. Electronic Centre, Samir Photographers, Top-10 Camera Repair, and International Photographics. You can also find mobile-repair shops alongside.
So, We're Saying...
Metro Gali is your one-stop destination if you are into photography. And the best part is it's for every kind of budget. Teens with meagre pocket money come here to pick up excellent secondhand cameras to hone their skills as do pros who still want to shoot on film.
Comments